Conrad Tao on Subverting Sonic Expectations
Mixtapes Streams Wednesdays at 3 pm on Q2 Music
Wednesday, June 26, 2013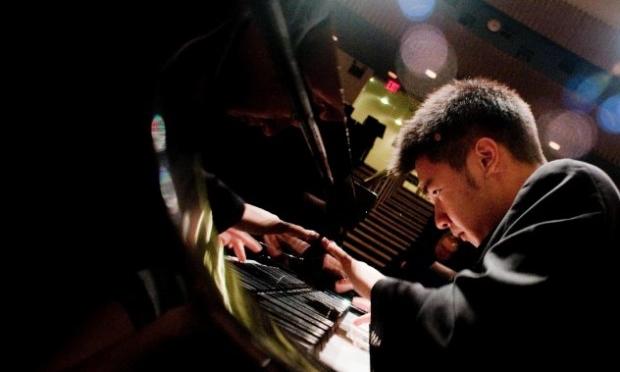 (Vanessa Briceno)
At only 19, composer-pianist Conrad Tao already has an enviable career. The winner of eight consecutive Morton Gould Young Composer Awards, Tao is currently working on a joint degree from Columbia and Juilliard and new a commission for the Dallas Symphony commemorating the 50th anniversary of President John F. Kennedy's assassination. He recently released his debut album "Voyages" and, earlier this month, curated UNPLAY, a three-day new-music festival.
Conrad Tao writes the following of his Mixtape:
Living Music. Living Composers.

More

"

All of the works on this mixtape extend or subvert the sonic capabilities and/or expectations of preëxisting musical forms...

— Conrad Tao
I love mixtapes – or, at least, their digital counterpart. I have never had to master cassette recorders in order to avoid the dreaded clicking sound between tracks, nor have I ever really burned a mix for somebody. I have, however, stayed up unreasonably late many a night just rearranging playlists in iTunes or Spotify, thinking about the best way to share them with people, or spent hours crafting a seamless 70-minute mix in Ableton or GarageBand and debating whether or not to split it into individual tracks.
All of the works on this mixtape extend or subvert the sonic capabilities and/or expectations of preëxisting musical forms, notions, or techniques. Richard D. James mines John Cage's prepared piano for exquisite, miniature beauty in the harmonically frank "Jynweythek". Tujiko Noriko and Tatsuya Yamada take the cyclical melodism of J-pop into luxuriously free structures, while Laurel Halo reduces pop songs to their barest components and rearranges them to hypnotic effect.
Michael Gordon's Instrumental sounds like several broken radios all tuned into the classical station playing Vivaldi, their speeds adjusted. Nick Zammuto offers an ingenious take on the "field recording." Arnold Dreyblatt, Phyllis Chen, Meredith Monk, and John Luther Adams use 21-tone scales, mixing bowls, wine glasses, and speaker feedback experimentation, respectively, to counter the rigidity of Western tonality. Colin Stetson and Björk both use technological wizardry to summon unexpected timbres and sounds from their instruments – he on the saxophone, she with the human voice.
On 1972's amazing The Electronic Spirit of Erik Satie, the Camarata Contemporary Chamber Orchestra mixes Satie's considerable wit with the familiar sound of a Moog synthesizer. And, last but not least, Canadian avant-pop wizard d'Eon crafts a delicate "music for keyboards" out of chintzy synth presets.
Playlist
Aphex Twin - jynweythek (Aphex Twin)
Arnold Dreyblatt - Lapse (The Orchestra of Excited Strings)
Phyllis Chen - Colure
Nick Zammuto - Fast Pasture
Colin Stetson - The End of Your Suffering
Michael Gordon - Instrumental (Todd Reynolds, violin; Wendy Sutter, cello)
Bjork - Mouth's Cradle
Erik Satie/Camarata - Croquis et Agaceries d'un Bonhomme en Bois
Meredith Monk - Waltz
John Luther Adams - In a Room
Tyme. X Tujiko - Slow Motion
Laurel Halo - Morcom
d'Eon - #118
The WQXR e-newsletter. Show highlights, links to music news, on-demand concerts, events from The Greene Space and more.