Wagner Week: The Composer's Innovations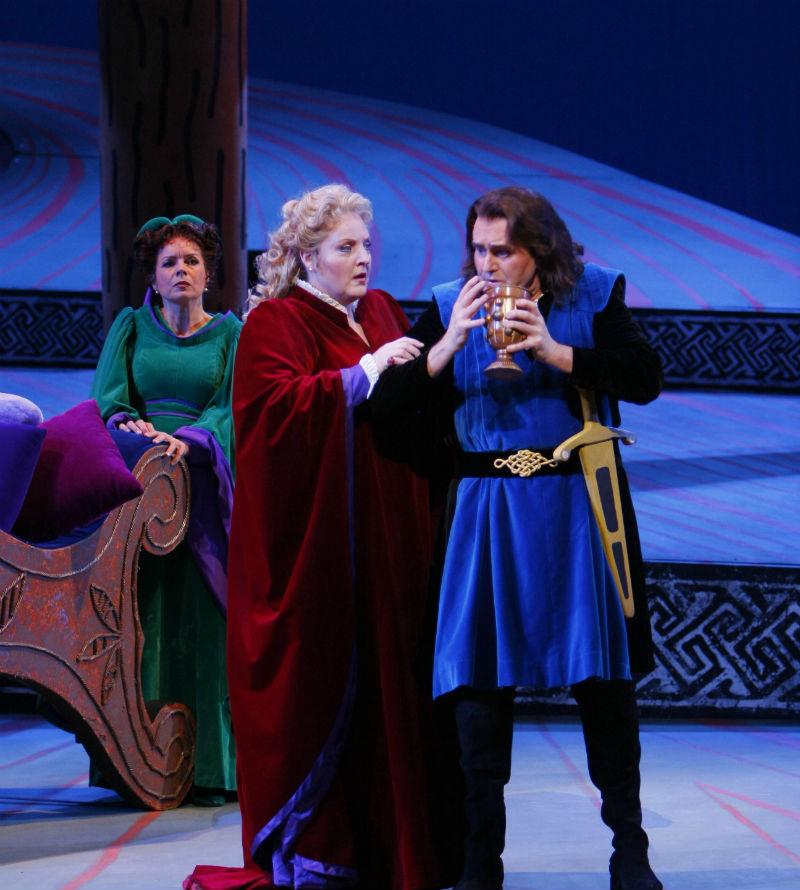 For the second day of Wagner Week, we turn our focus to Richard Wagner's musical innovations.
Wagner's advancements in opera are numerous and include the expansion of the genre's forms to unprecedented degrees; the development of a complex system of leitmotifs (melodic phrases associated with ideas, people or situations); the use of increasingly complex, chromatic harmonies; and the deployment of immense performing forces. Die Meistersinger von Nürnberg, for instance, called for choruses in each act, a group of 17 principals and hundreds of extras.
Tristan und Isolde merits special attention. This work helped precipitate classical music's move away from conventional harmony, laying the groundwork for atonality and serialism in the 20th century. The Liebestod (Love-death) from Tristan is arguably the most erotically charged moment in all of opera: it has twice been named the second most sensual piece of classical music by WQXR listeners in our annual Valentine's Day surveys. Tune in with your loved one tonight at 9 pm and tell us whether that really holds true.
Programming Highlights
7am  Die Walkure: Wotan's Farewell and Magic Fire Music  (Klaus Tennstedt)
9am  The Flying Dutchman: Overture  (Giuseppe Sinopoli)
11am Die Meistersinger von Nuremburg: Morgenlich leuchtend (Jonas Kaufmann)
1pm  Parsifal: Hochsten Heiles Wunder (Pierre Boulez/Bayreuth Chorus/Orch)
3pm Tannhauser: Overture and Venusberg Music  (Riccardo Chailly)
5pm Die Walkure: Wintersturme wichen dem Wonnemond  (Ben Heppner)
7pm Das Rheingold: End of Scene 4  (James Levine/Metropolitan Opera)
9pm Tristan and Isolde: Prelude and Liebestod  (Herbert von Karajan)
Operavore Stream Highlights
All Wagner, all week… opera start times are approximate. (Launch the Operavore stream)
8 am Lohengrin (Boston Symphony Orchestra/Erich Leinsdorf)
11:30 am Die Feen (BBC Northern Symphony Orchestra/Sir Edward Downes)
3 pm Tannhauser (Staatskapelle Berlin/Barenboim)
6 pm The Flying Dutchman (ROH Orchestra/Antal Dorati)
8:30 pm Rienzi (Staatskapelle Dresden/Heinrich Hollreiser)

Tristan Trivia: Did you know?
Claude Debussy's popular piano piece Golliwog's Cakewalk quotes the "Tristan Chord."
The music publishing firm Breitkopf & Härtel insisted that Wagner write each act of Tristan to completion before beginning the next, so they could release it more quickly to the public.
Giacomo Puccini made a strange personal note in his sketches for the final duet in Turandot: "then Tristan." Nobody knows what he had in mind (he died before finishing it).
Bernard Herrmann's score for Alfred Hitchcock's Vertigo is directly inspired by Isolde's famous "Liebestod," which ends Wagner's opera.
T. S. Eliot uses direct quotes from Tristan und Isolde in his epic poem The Waste Land.