Wagner Week: Bayreuth Remains a Colorful, Controversial Mecca
Thursday, July 25, 2013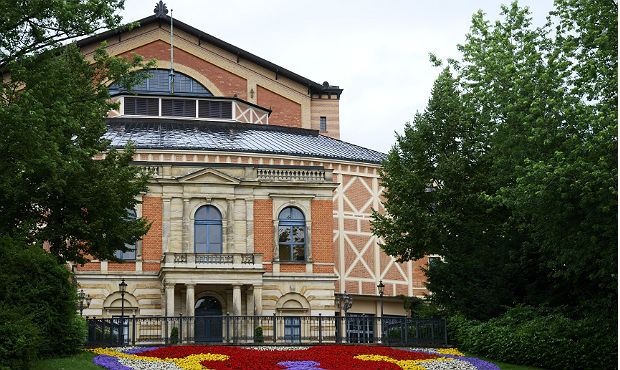 (manfredxy/Shutterstock)
The 2013 edition of the Bayreuth Festival opens on Thursday, led by a new production of the Ring Cycle that's expected to be as colorful and contentious as anything this German celebration of Richard Wagner's music has seen.
To mark the bicentennial of Richard Wagner's birth, WQXR offers a week of music and commentary on his life and works.

More
The annual summer festival, which Wagner himself created in order to perform his four-opera Der Ring des Nibelungen, has served as a site of a pilgrimage for his fans since 1876. Bayreuth is also, as New Yorker critic Alex Ross wrote in 2011, an "eternal artistic battleground." Administered by the composer's descendents since his death in 1883, it has been a hub for provocative stage directors and a magnet for on- and off-stage debate.
Last year, Evgeny Nikitin, the baritone hired to sing in The Flying Dutchman, had to resign when it was revealed he had an apparent swastika tattooed on his chest. This year, festival directors Katharina Wagner and Eva Wagner-Pasquier – the great-granddaughters of the composer – have hired German stage director Frank Castorf to create a new Ring for the composer's bicentenary. Early reports indicate that the Castorf Ring will open in the defeated Germany of 1945 and contain a heavy subtext on the modern oil-based economy.
The Castorf Ring may echo another famous staging in the festival's history: the 1976 Patrice Chéreau Ring, which made Wagner's Rhine Maidens prostitutes and turned the whole thing into a critique of capitalism. While it was vociferously booed at the time, it was later hailed as a masterpiece.
Bayreuth also remains a place where tradition runs deep, right down to the armless, wooden seats in the non-air-conditioned hall (so as not to hurt its superb acoustics). The festival is notoriously difficult to attend; the average wait for tickets is eight years. Thursday's opening is expected to be accompanied by a customary red-carpet procession of celebrities and politicians, including Chancellor Angela Merkel.
With the bicentenary year, Wagner's former residence, Wahnfried (now a museum), has been undergoing extensive renovations. There has also been heavy pressure on Bayreuth to open its archives and shed light on its ties with the Nazis during the 1930s and '40s. Recently, Katarina Wagner told the Tagesspiegel newspaper that she intends to hand over letters between Adolf Hitler and the Wagner family, but getting family members on the same page is proving difficult.
"It's very difficult to make all the widely dispersed documents available to the public, because they are owned in part by all four branches" of the sprawling Wagner dynasty, she told the newspaper. "And all of their heirs must be in agreement. If even just one says 'No', then I can't do anything about it, no matter how outrageous I might find it," she said.
Leading up to World War II, Hitler was a frequent visitor to the festival and a close friend of the Wagner family, in particular the composer's British-born daughter-in-law Winifred Wagner who ran the festival from 1930 until 1945.
AUDIO: a 1965 edition of WNYC's 'Opera Topics' features bass Lorenzo Alvary interviewing Friedelind Wagner, the composer's granddaughter. The two discuss audiences at Bayreuth and its importance to Wagner performance.

Program Highlights for Thursday, July 25
Each hour will have a piece by a composer who attended the Bayreuth Festival in its earliest years.
7 am  Die Meistersinger von Nurnberg: Overture and Opening Chorale (Daniel Barenboim)
9 am Tannhauser: Entry of the Guests (Eugene Ormandy)
*Near the end of 9-10 am hour: the Adagio molto movement from an arrangement Wagner made as a teenager of Beethoven's Symphony No. 9.
11 am Parsifal: Prelude, Act I (James Levine)
1 pm Lohengrin: Prelude to Act I (Eugen Jochum)
3 pm Tannhauser: Geliebter, komm!  Sieh dort die Grotte! (Grace Bumbry)
      Die Walkure: Nun zaume dein Ross...Ho-jo-to-ho! Birgit Nilsson
5 pm Lohengrin: Act III Prelude (Wilhelm Furtwaengler)
7 pm David Dubal on Wagner Transcriptions
Program for the Operavore Stream: Thursday, July 25

PARSIFAL
Richard Wagner
 
Amfortas – Simon Estes
Titurel – Matti Salminen
Gurnemanz – Hans Sotin
Parsifal – Peter Hofmann
Klingsor – Franz Mazura
Kundry – Waltraud Meier
 
Chor und Orchestra der Bayreuther Festspiele
Norbert Balatsch, chorus master
James Levine, conductor
Phillips –  416842-2
 
DER FLIEGENDE HOLLANDER
Richard Wagner
 
Daland – Matti Salminen
Senta – Lisbeth Balslev
Erik – Robert Schunk
Mary – Anny Schlemm
Der Steuermann – Graham Clark
Der Hollander – Simon Estes
 
Chor und Sonderchor der Bayreuther Festspiele
Norbert Balatsch, chorus master
Orchester der Bayreuther Festpiele
Woldemar Nelsson, conductor
Phillips – 434599-2
 
TRISTAN UND ISOLDE
Richard Wagner
 
Tristan – Wolfgang Windgassen
Konig Marke – Martti Talvela
Isolde – Birgit Nilsson
Kurwenal – Eberhard Waechter
Melot – Claude Heater
Brangane – Christa Ludwig
Ein Hirt – Erwin Wohlfahrt
Ein Steuermann – Gerd Nienstedt
Ein junger Seemann – Peter Schreier
 
Chor und Orchestra der Bayreuther Festspiele
Karl Bohm, conductor
Deutsche Grammophon –  449772-2
 
DIE MEISTERSINGER VON NURNBERG
Richard Wagner
 
Hans Sachs – Robert Holl
Sixtus Beckmesser – Andreas Schmidt
Walther von Stolzing – Peter Seiffert
Eva – Emily Magee
David – Endrik Wottrich
Magdalene – Birgitta Svenden
Veit Pogner – Matthias Holle
 
Chor und Orchestra der Bayreuther Festspiele
Norbert Balatsch, chorus master
Daniel Barenboim, conductor
Teldec –  3984-29333-2
 
 
LOHENGRIN
Richard Wagner
 
Heinrich der Vogler – Franz Crass
Lohengrin – Jess Thomas
Elsa von Brabant – Anja Silja
Friedrich von Telramund – Ramon Vinay
Ortrud – Astrid Varnay
Der Heerrufer des Konigs – Tom Krause
 
Chor und Orchestra der Bayreuther Festspiele
Wolfgang Sawallisch, conductor
Decca – 470592-2
More in:
The WQXR e-newsletter. Show highlights, links to music news, on-demand concerts, events from The Greene Space and more.