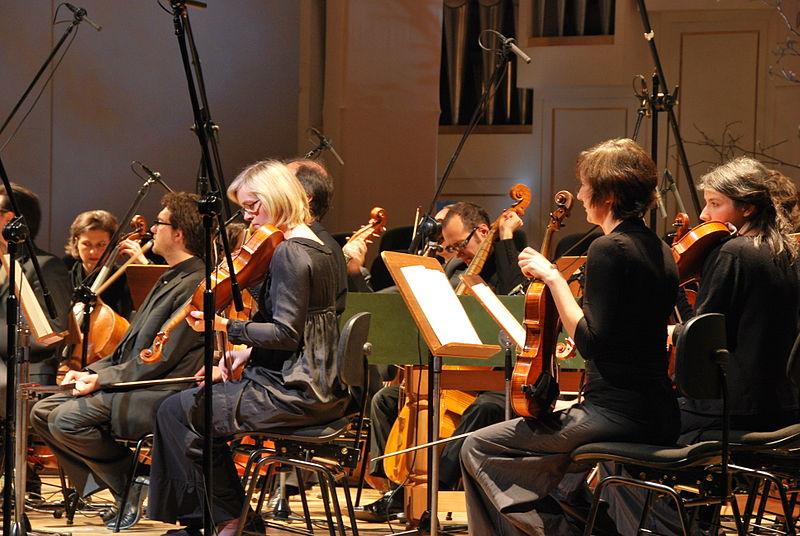 You'll find all kinds of characters in the opera house: the Prima Donna diva, the heroic tenor, the menacing bad-guy bass. But, what about the peasants, prisoners, orphans, soldiers and slaves? That's where you'll find the chorus members.
Those poorly lit, scruffily-costumed, and usually unnamed characters create some of the most magical music that's ever graced the stage. This time, it's the Chorus at the Opera House. Featuring some great choral moments from Monteverdi all the way to the "Moonrise Kingdom" music of Benjamin Britten. 
Program Details:
Claudio Monteverdi: L'Orfeo: Choruses from Act I: "Lasciate i Monti," "Vienni Imeno & "Ecco Orfeo,"
-Le Concert d'Astree; European Voices, Emmanuelle Haim
Wolfgang Amadeus Mozart: "Basse Selem Lebe Lang" (Janissary Chorus) from The Abductoin from the Seraglio
-Vienne State Opera Choir; Vienna Philharmonic, Josef Krips
Wolfgang Amadeus Mozart: "Bella vita militar" from Cosi Fan Tutte
-London Voices; Chamber Orchestra of Europe, George Solti
Charles Gounod: "Gloire immortelle de nos aieux" (Soldier's Chorus) from Faust
-Choir and Orchestra of the National Capitol of Toulouse, Michel Plasson
Georges Bizet: "Avec la garde montant" from Carmen
-Petit Chanteurs de Versailles, French National Radio & TV Orchestra, Sir Thomas Beecham
Ludwig van Beethoven: "O welche Lust" (Prisoner's Chorus) from Fidelio
-Arnold Schoenberg Choir, Chamber Orchestra of Europe, Nikolaus Harnoncourt
Giuseppe Verdi: "Va Pensiero" (Chorus of the Hebrew Slaves) from Nabucco
-Ambrosian Opera Chorus, Philharmonia Orchestra, Riccardo Muti
Carl Maria von Weber: "Was gleicht wahl auf Erden" (Huntsmen's Chorus) from Der Freischuetz
-Royal Opera House Orchestra and Chorus, Bernard Haitink
Alfred Lortzing: "Seht dort den muntern Jaeger" from Der Wildschuetz
-Bavarian State Oper and Chorus, Robert Heger
Richard Wagner: "Steuermann, lass die Wacht" (Sailors' Chorus) from The Flying Dutchman
-Vienna State Opera Choir; Berlin Philharmonic, Herbert von Karajan
Richard Wagner: "Summ' und brumm'" (Spinning Chorus) from The Flying Dutchman
-Vienna State Opera Choir; Berlin Philharmonic, Herbert von Karajan
Richard Wagner: "Treulich gefuerht" (Bridal Chorus) from Lohengrin
-Deutsch Oper Berlin, Berlin Philharmonic, Herbert von Karajan
Benjamin Britten: "The Spacious Firmament on High" from Noye's Fludde
-Schools from Salisbury and Chester, Coull String Quartet, Endymion Ensemble, Richard Hickox
Giacomo Puccini: Humming Chorus from Madame Butterfly
-Choir and Orchestra of the Rome Opera, John Barbirolli