Jerusalem, City of Heavenly and Earthly Peace
Jerusalem, City of Heavenly and Earthly Peace, from Catalan early music director and performer Jordi Savall, is a performance of religious songs, texts, chants and instrumental arrangements used to explore the way cultural traditions of the three major religions have shaped the history of Jerusalem, from biblical times to the present day. On Monday, May 3 at 7:00pm, WQXR presents a live broadcast hosted by Fred Child  and Terrance McKnight.
Listen to WQXR's Jeff Spurgeon interview religion scholar Karen Armstrong about the importance of the city of Jerusalem and the Jerusalem project.
Ancient Music Meets Today's Headlines:
The Spanish viola da gamba virtuoso Jordi Savall has spent a lifetime discovering common roots between Muslim, Jewish and Christian musical cultures. But Jerusalem is perhaps his most ambitious project to date, and it is seemingly ripped from today's headlines.
Joined by his wife and collaborator, soprano Montserrat Figueras, as well as the musicians of his own ensembles, Hesperion XXI and La Capella Reial de Catalunya, Savall charts Jerusalem's history from 1200 BC to the present day. Jews, Arabs, Christians, Turks and Armenians are all given a musical voice at various points in the program. The evening begins with the sound of the shofars in the Jericho fanfare, and ends with a series of songs, laments and instrumental works from the numerous traditions that have defined the cultural fabric of Jerusalem in the last 500 years.
The performance comes at a time when Israelis and Palestinians are at deep odds over political borders and settlement activities in East Jerusalem. But as the liner notes to the lavish 2008 recording of Jerusalem explain, etymologists have translated the Hebrew name Jerusalem as "the city of the two peaces," a reference to both "heavenly peace" and "earthly peace." The former was proclaimed by the prophets who lived in or visited the city, while the latter was sought by the political leaders who have governed the city throughout its five thousand years of documented existence.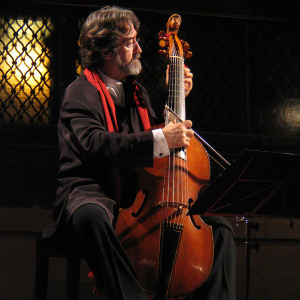 The Musicians:
Jordi Savall, director, vièle, lira d'arco, and rebab
Montserrat Figueras, soprano
La Capella Reial de Catalunya
Hespèrion XXI
Trumpets of Jericho 
with guest musicians:
Al-Darwish
Lior Elmalich and Amyan Razmyk, vocalists
Yair Dalal andOmar Bashir, oud
Gaguik Mouradian, kamancha
Haig Sarikouyoumdjian, duduk
Erez Shamuel Monk and Dimitri Psonis, percussion
Yagel Harel, schofar