NYPD Investigates Failed Times Square Car Bomb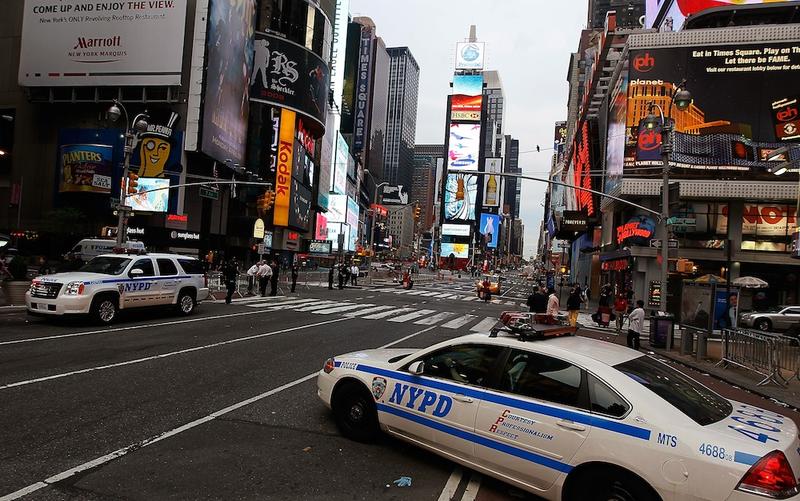 Authorities are continuing their investigation after New York City police found what's being called an "amateurish" but potentially powerful bomb in a sport utility vehicle in Times Square.
A T-shirt vendor and a handbag vendor alerted police at about 6:30 p.m Saturday, pointing out that smoke was coming from the back of the dark-colored Nissan Pathfinder.
NYPD officer Wayne Rhatigan, with the mounted unit, noticed a plume of smoke that smelled of gunpowder coming from the Pathfinder that was parked on 45th Street just off of Broadway. Officers evacuated the immediate area, including the South tower of Marriott Marquis Hotel. Thousands of tourists were cleared from the streets for 10 hours. The Nissan was reportedly removed from the area at around 6 a.m. Police say they believe that they have video of the Nissan moving in traffic earlier in the day.
The device apparently began to detonate but did not explode, according to Police Commissioner Ray Kelly, who says police found "three propane tanks, consumer-grade fireworks, two five-gallon gasoline containers, filled, and two clocks, along with with batteries in each of the clocks, electrical wire, and other components stored in the rear of the vehicle." Police also found eight bags of an unknown substance in a gun locker that was in the smoking SUV, Kelly said. The substance "looks and feels" like fertilizer, he said, but tests were pending.
Mayor Michael Bloomberg says the city avoided what we could have been a deadly event.
"It certainly could have exploded and had a pretty big fire and a decent amount of explosive impact," Bloomberg said.
FBI agent George Venizelos says that was prevented by quick action from the police and fire departments. "I want to thank and commend the NYPD and FDNY for their quick response to Times Square. A lot of lives were probably saved with that response," Venizelos says.
No suspects are in custody, but a surveillance video shows the car driving west on 45th Street before it parked between Seventh and Eighth avenues. Police are also looking for a white man in his 40s who was recorded on surveillance video in Shubert Alley, near where the car was, looking back and taking off a dark-colored shirt to reveal a red one underneath. Commissioner Kelly also says officers are on their way to a town in Pennsylvania to talk to a man who believes he may have recorded a suspect on his video camera.
A Connecticut license plate on the vehicle did not match up, officials say. Officials also say that the VIN number had been removed from the Pathfinder. The SUV was towed early Sunday to a forensic lab in Queens, where it was being checked for prints, hairs, and fibers.
U.S. Homeland Security Secretary Janet Napolitano told NBC's "Meet the Press" that officials are treating the incident as a potential terrorist attack.
President Barack Obama is also praising the quick response by the NYPD. He has also directed his homeland security and counterterrorism adviser, John Brennan, to advise New York officials that the federal government is prepared to provide support.
Police are asking the public to provide any information that may help identify the suspects behind the attempted car bombing. Anyone with information should call 1-800-577-TIPS.
The Associated Press reports that Sunday evening, the a group calling itself the Pakistani Taliban claimed responsibility for the attack in three separate videos that were released over the weekend.
UPDATE SINCE THIS STORY FIRST WAS POSTED: This story was updated to include new information about the investigation and word that a group called the Pakistani Taliban took responsibility for the attack.