Music in the Works of Bill T. Jones
Bill T. Jones has been tackling thorny, complex subjects for more than 35 years, most visibly with the Bill T. Jones / Arnie Zane Dance Company since 1982. Social politics, gender, race and religion -- no issue has been too divisive or too difficult to dance about. And as a special edition of Q2 reveals, musical values often take center stage in Jones's work, often in surprising ways.
If there's one particular musical trait found in Jones' work, it would be eclecticism. In Another Evening: I Bow Down, an abstract full-evening dance-drama about living through turbulent times, Jones' former musical director, Daniel Bernard Roumain, mixes recordings of Wagner and the Russian composer Anton Bagatov with the uncompromising sound of the young Bronx-based hardcore band Regain The Heart Condemned. The work is an attempt to find redemption in disaster – be it civil unrest, religious conflict, and natural calamity.
Similarly, in Blind Date, a sprawling 90-minute work that grapples with the issue of patriotism, Bach violin sonatas converge with national anthems from several countries and the beat-box vocal sounds of Zimbabwean-bred musician Akim "Funk" Buddha. Roumain plays several instruments including violin and laptop computer.
Classical music – sometimes performed live – has been at the center of many of Jones's works. The 2003 solo Chaconne features the violinist Nurit Pacht performing Bach's haunting D Minor Partita for solo violin. The work is in some ways a meditation on the past and memory. In Black Suzanne, Shostakovich's Prelude and Scherzo for String Octet, Opus 11 accompanies jousting dancers in red gym suits on a red gym mat. And with World II (18 Movements to Kurtag), Jones breaks a barrier: The Orion String Quartet, clad in white tuxedos and with bare feet, are taken inside the action onstage as they perform Gyorgy Kurtag's String Quartet, Opus 1.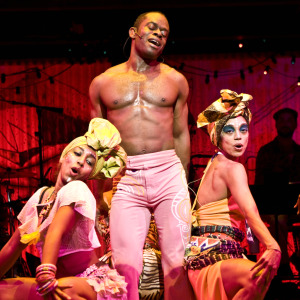 In his most recent works, Jones has worked with a team of musicians including the cellist and composer Christopher Antonio William Lancaster, keyboardist/composer Jerome Begin, and multi-instrumentalist and singer George Lewis Jr. Music is often developed in conjunction with the choreography, as in Fondly Do We Hope...Fervently Do We Pray, an ambitious piece that explores Abraham Lincoln's life and policies on slavery and the Civil War. The chamber-sized score by Lancaster blends snippets of Civil War-era folk songs, quotations of Mendelssohn's oratorio St. Paul (played at Lincoln's funeral), and texts by Lincoln and Walt Whitman (it comes to the Lincoln Center Festival July 15-17).
Of course, music plays a particularly key role in Fela!, Jones's kinetic musical biography of the Nigerian bandleader and political rebel Fela Anikulapo Kuti. That show, which opened on Broadway in November 2009 and which was recently nominated for eleven Tony Awards, including best score, is rich in the music that Fela invented, Afrobeat. The performances feature the Brooklyn-based Antibalas Afrobeat Orchestra and the show boasts an unusually high pedigree of celebrity producers including Will Smith, Jay-Z and Alicia Keys. Jones, who is currently staging the London version of the show, received Tony nominations for directing, choreography and book.
The Tony Awards Ceremony will be held on June 13, 2010. For more backround, listen to an interview with Jones about Fela! on WNYC's Soundcheck. For more about the Bill T. Jones/Arnie Zane Dance Company productions visit their web site.