Israel Defends Actions in Deadly Raid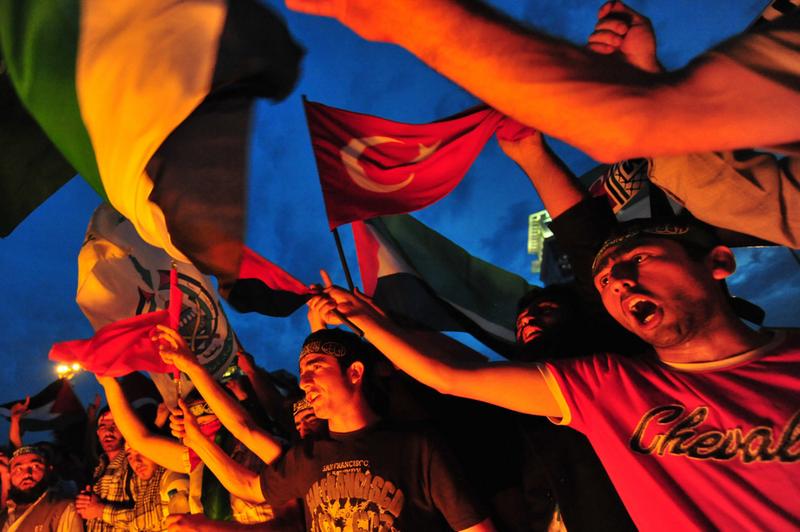 In a statement today, Israeli Prime Minister Benjamin Netanyahu rejected criticism related to Monday's deadly raid on a Gaza-bound aid flotilla, saying Israel has the right to inspect ships bound for Gaza.
The statement was broadcast from Prime Minister Netanyahu's office after approximately 600 pro-Palestinian activists from the flotilla were sent to Israel's Ben Gurion airport for deportation. The New York Times reports all but about ten activists have been released.  Funeral processions for the nine dead are taking place in Istanbul Thursday amidst continued public anger for Israel.  One of the deceased is a US citizen of Turkish descent.
The AP reports that Israel has come under harsh criticism since Monday morning's raid in international waters. Nicaraguan President Daniel Ortega announced his country is breaking diplomatic relations with Israel and British Prime Minister David Cameron has called for Israel to lift the Gaza blockade.
The United States expressed regret for Monday's incident but has not condemned Israel for the flotilla raid. According to the AP, White House Spokesman Robert Gibbs pointed out in a briefing yesterday that the U.S. is "working to improve the humanitarian conditions" in Gaza and that the administration was "greatly supportive" of Israel's security.
Israel's attorney general Yehuda Weinstein says Israel will not prosecute any of the activists who were taken into custody after Monday's attack, despite earlier consideration. According to the Associated Press, officials say the decision not to prosecute was an attempt to temper damage to their relationship with Turkey. But Turkish Foreign Minister Ahmet Davutoglu said Israel agreed to the activists' release after Turkey applied diplomatic pressure. Turkish lawmakers, amidst their country's celebration, are now calling on the government to reconsider their ties to Israel.
UPDATE SINCE THIS STORY WAS FIRST POSTED: This story has been updated to include news from Thursday.  The New York Times reports that most of the activists have arrived in Turkey and funeral processions for the deceased are taking place amidst continued public anger for Israel.
For more WQXR coverage click here.