The Stimulus and NYC Schools
Where did the money go?
New York is a city of tremendous disparities. There are schools where almost all of the students are poor enough to get free lunch. But there are others where hardly any students are eligible. Yet, an investigation by WNYC found the schools with the greatest needs got less stimulus money on aggregate than those with wealthier students. But schools with poor students actually had more resources to fall back upon during last year's budget cuts.
Middle School 328 in Washington Heights is typical of a school with high needs. More than 90 percent of its students are poor enough to receive free or reduced lunch. And half of them speak a native language other than English. To make up for these disadvantages, class sizes are kept as small as possible. Instead of 28 or 30 students to a class, as in many middle schools, sixth grade social studies teacher Alejandra Benavides has just 24.
"It makes everything easier," she says, while teaching the class to write diary entries as though they were in ancient Athens. "It's easier to be on top of the students. It's easier to help the ones that need help."
The school is able to do this because it gets extra state and federal money for low-income students. When the city cut the budgets for all schools last fall, M.S. 328 got extra stimulus money, specifically for poor children, to fill some of the gap. Principal Jorge Estrella says he received $315,000 -- enough to keep five teachers.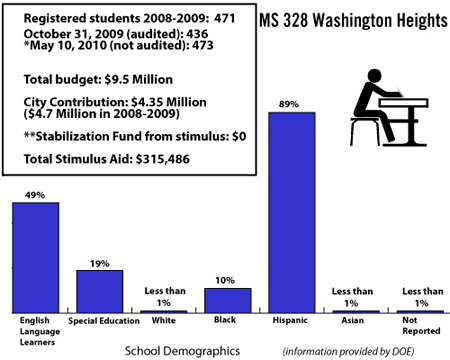 "The stimulus was great," he says. "I believe without the stimulus we would not be able to have all the small class sizes."
But there's a twist. The city expected the number of students at M.S. 328 would decline, based on previous enrollment patterns. It didn't, though. New students continued to register throughout the year. Estrella took one boy at the end of May who had transferred from another school where he said he didn't feel safe.
Estrella claims he now has 473 students, about 20 more than projected and two more than last year. But he wasn't compensated for them because the change happened too late in the school year. Estrella reduced after-school tutoring in order to sock away money for next year, because the city is now cutting another 4 percent from all schools.
"It's very tricky the way the transition works in the building," he explains. "It's a lot of transition and students in and out."
It's even trickier when you look across all schools. Although it sounds counter-intuitive, schools like M.S. 328 actually got less stimulus money in total than schools with wealthier students. About $68 less per pupil, according to WNYC's analysis. We compared schools where 90 percent or more of their students received free or reduced lunch to schools where fewer than 20 percent were eligible. These high poverty schools also had many more special education students and English Language Learners -- in other words, kids with the greatest needs. What happened?
"Last year we were trying to get all schools to have the same reduction to their total budget," explains Photeine Anagnostopoulos, deputy chancellor for finance. The Department of Education cut city money to all schools by about 5 percent. But schools without a lot of poor and needy students didn't have extra state and federal money to cushion the blow. So the city used part of the stimulus to level the playing field.
When asked if needier schools should take a smaller cut because their populations are so different, Anagnostopoulos says that's complicated.
"Some of the schools in the highest need areas with the highest need students, they actually are fairly well funded," she says. "Some of the schools with the highest needs students in the highest needs areas are not as well funded. It is very much dependent upon what happened historically and I can show you there is no rhyme or reason to what happened historically."
She says the city's been adjusting for those discrepancies while giving principals more control over their budgets than they had before the mayor took over the school system. But that responsibility entails a lot of juggling for principals, regardless of a school's population.
Close in miles, disparate in funding
P.S. 40 is seven miles south of M.S. 328 and a world away from Washington Heights. Located near Gramercy Park, it's one of the most desirable elementary schools in Manhattan. Last year, P.S. 40 had a waiting list for kindergarten and needed to add an extra class in the fall. Without the funds to hire a new teacher, though, the principal reassigned her reading specialist, Karl Smith.
"I love teaching kindergarten and I'm having a great time but it's disappointing that there's no reading intervention," Smith says about his new job. "Well, there is, but not in quite the same as it was last year."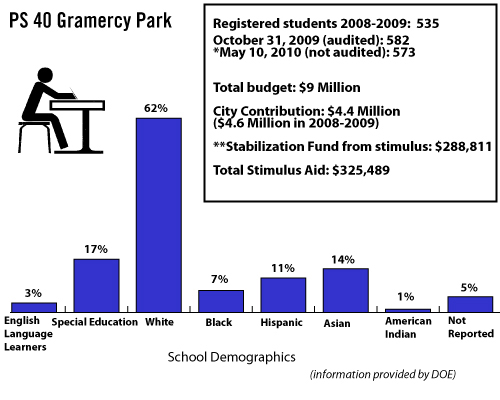 In Smith's classroom, 21 students are making tie-dyed shirts for a science project and learning about geometry with blocks. A teaching aide helps the different groups. The PTA raised about $40,000 this year to hire aides for every kindergarten.
Susan Felder, the principal of P.S. 40, says parents didn't want students to get less personal attention because of budget cuts. "Unfortunately, we aren't entitled to as much money based upon some of the figures, but we do then have the PTA's support," she says.
Because just 11 percent of her students qualified for subsidized meals last year, P.S. 40 got none of the extra stimulus money for poor children that M.S. 328 received. To compensate, the city gave the school $325,000 from a different pot of stimulus money to reduce its budget gap. Felder bristles at the suggestion that schools like hers deserve less stimulus money because their students aren't as needy.
"It's not true, because our enrollment increased," she says. "You have to look at not just the dollar numbers but also the number of children."
In fact, Felder's school wound up with about the same amount of city money as M.S. 328 – even though she has 100 more students. She says stimulus funds kept four teachers. But she still cut back on professional development and new books.
P.S. 40 Principal Susan Felder, with kindergarten teacher Karl Smith. He was a first grade reading specialist until this year, when enrollment grew and he was needed to teach an extra kindergarten class. (Photo by Beth Fertig)
When asked if he thinks the stimulus was spread fairly, Principal Jorge Estrella of M.S. 328 takes a broad view.
"It's hard for me to say, because I'm at the end of losing," he says, referring to schools like P.S. 40. "But somehow it's fair as a system, because otherwise they would lose the teachers."
But he says he wishes the city could compensate schools that get more students near the end of the school year. At P.S. 40, Principal Susan Felder sympathizes. Like Estrella, she's constantly trying to maximize scarce resources. Recently, a student asked her what she likes least about her job.
"I said that I'm the type of person who wants to make everyone happy and in this job you can't always do that, so that's a really hard part of the job."
And it gets harder. Principals are planning more budget cuts next fall. And stimulus funds will run out completely in 2011.
---
Click here for a map of the neediest and least needy schools.
*Principals claimed these latest numbers to be their registers in late May, but the official enrollment data that's audited by the state is taken from October 31, 2009. Budgets are adjusted if this October enrollment is bigger or less than what was projected. But budgets are not adjusted if the register changes after that date. P.S. 40 got some money for growing because its budget was based on a projected enrollment of 534, but M.S. 328 did not because its projected enrollment was 452.
** Stabilization funds are stimulus funds that can be used to cover budget cuts. There are other categories of stimulus aid, however, which are intended specifically for disadvantaged students (Title 1) and students with disabilities. M.S. 328 qualified. P.S. 40 got no stimulus money for low-income pupils but it got about $37,000 for special education students.