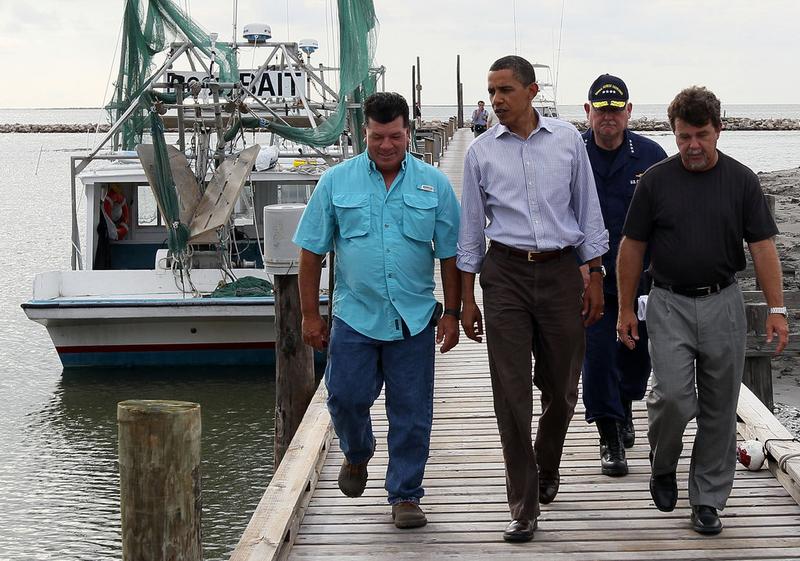 BP shares fell on Thursday, after the company announced that it may have to suspend shareholder dividends to pay for cleanup costs, penalties, damage claims and lawsuits in relation to the Deepwater Horizon spill.
The Associated Press reports that Gulf fishermen, property owners and businesspeople who have filed damage claims with BP are complaining of delays, excessive paperwork and skimpy payments that are putting their budgets in the red.
"If BP doesn't pay us within two months, we'll be out of business," said Regina Shipp, who has filed $33,000 in claims for business she says he's lost at her Alabama restaurant. "We've got two kids."
Coast Guard Adm. Thad Allen, who is overseeing the cleanup efforts, has said he's trying to find out how BP plans to get area residents their settlement money.

"We need complete, ongoing transparency into BP's claims process including detailed information on how claims are being evaluated, how payment amounts are being calculated and how quickly claims are being processed," Adm. Allen told The AP.
BP is still trying to capture all the oil leaking from Deepwater Horizon, and on Thursday the company called for more heavy equipment in its continuing cleanup operation.
Separately, President Barack Obama is expected to meet with the families of the 11 workers who died in the Gulf of Mexico oil rig explosion on April 20. The president invited them to visit the White House, and asked for the relatives' thoughts on how to better protect rig workers in the future.
Congressional leaders have stepped up the pressure on BP to pay up when it comes to economic victims of the Gulf of Mexico oil spill.  The Associated Press reports that House Speaker Nancy Pelosi said "every taxpayer in America must know that BP will be held accountable for what is owed." She spoke at the White House after Obama met with congressional leaders of both parties.  According to the Associated Press Congress has also freed up money for the Coast Guard to spend beyond their 100 million dollar cap to pay clean up costs. Lawmakers say BP will be required to reimburse these costs. 
The Associated Press reports the daily oil flow may have been as high as 2.1 million gallons prior to the cut and capping of a riser on June 3rd.  This is nearly twice as much oil as was previously thought to be spewing into the sea. 

THIS ARTICLE HAS BEEN UPDATED TO REFLECT TODAY'S NEWS:  New estimates say the amount of oil spewing into the ocean is double the earlier estimates, according to Researchers.