Ojai, CA —
Summer has not yet officially arrived, but classical music is already decamping from the cities and heading for more bucolic settings. Getting an early start, the 64th annual Ojai Music Festival concluded on Sunday night in this picturesque town of 8,000 people some 90 miles north of Los Angeles.
Tucked in a deep valley sheltered beneath the majestic Topa Topa Mountains, Ojai doesn't look like a prime destination for classical music's movers and shakers. Groves of orange trees and avocados dot the rural landscape, cars religiously stop for pedestrians and the modest downtown has a handful of restaurants, galleries and coffee shops but no chain stores or parking meters. This is, after all, the setting filmmaker Frank Capra used for the mythical paradise Shangri-La in his 1937 film Lost Horizon.
Yet since its modest beginnings, the Ojai Music Festival has played host to--and been shaped by such prominent composers as--Igor Stravinsky, Aaron Copland, Olivier Messiaen, John Adams and Pierre Boulez. Music doesn't come too modern or too offbeat here.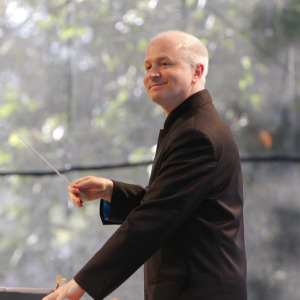 The festival also keeps its agenda fresh by turning over the programming reins to a different music director every year. This year brought George Benjamin, the British composer and conductor. At 50, Benjamin isn't a known quantity among most American audiences, but he's built a sizeable reputation abroad. Major European ensembles have played his music, this year's Aldeburgh Festival is honoring him with a residency and King's College, London, named him the Henry Purcell Professor of Composition.
Born in 1960, Benjamin (right - photo by Robert Millard) is of the generation exposed to rock music but unlike many of his peers who soaked up trends like minimalism, neo-romanticism and various noisy hybrids, his chief interests lie in the ascetic modernism of an older post-Schoenberg generation. He's a master orchestrator who can tease out fascinating sounds from a full orchestra or even two violas. His programs went beyond that particular corner of contemporary music, however, thanks in part to a visit by the groundbreaking German group Ensemble Modern. This is an ensemble skilled in a wide swath of modern music, from Schoenberg and Stravinsky to Varèse and Frank Zappa. The main events all took place in the Libbey Bowl, a rustic (and soon to be rebuilt) venue set amid the sycamore trees of a downtown park. If the scenery wasn't dazzling enough, there were many other points of light during the four-day event:
An evening devoted to Frank Zappa and Edgar Varèse. For anyone raised on Zappa's outrageous progressive rock albums, his hyper-sophisticated classical works show another, equally iconoclastic side to the musician who died in 1993. Ensemble Modern drove the audience into a frenzy with its bracing performances of arrangements of Dog Breath Variations, Night School and Peaches and Regalia, among others. In the piece Welcome to the United States, pianist Hermann Kretzschmar appeared on stage in a zany Uncle Sam outfit berating the audience while the orchestra added noises of every sort.
A twist on Sunday morning Baroque. Henry Purcell's spellbinding Fantasias for Viols were performed by the fantastic San Francisco period-instrument group Wildcat Viols on a double bill with a set of North Indian ragas, led by the sarod player Aashish Khan (pictured - photo by Robert Millard)
Olivier Messiaen's Vingt Regards sur l'Enfant Jésus ("20 Glances at the Child Jesus"). This complex, visionary, two-hour-plus composition was played by the young New York pianist Eric Heubner and dedicated to Yvonne Loriod, the French pianist who premiered the work and who died last month at 86. Messiaen's evocations of birdsongs vied with the real thing perched in the leafy trees above.
Benjamin's own work made several appearances as well, including a West Coast premiere of his opera, Into the Little Hill. With his hyper-refined sense of color and detail--and largely dissonant tonal framework–his is a kind of music you find less and less among mainstream presenters. Yet a festival may be just the environment for such challenging work. There was something enjoyably incongruous about seeing audiences sprawled out on a lawn with elaborate picnics while music by Boulez, Knussen and Schoenberg played. Next year's music director will be the soprano Dawn Upshaw, a match that should be no less fascinating to watch.