An Analysis of the Empire State's Towering Debt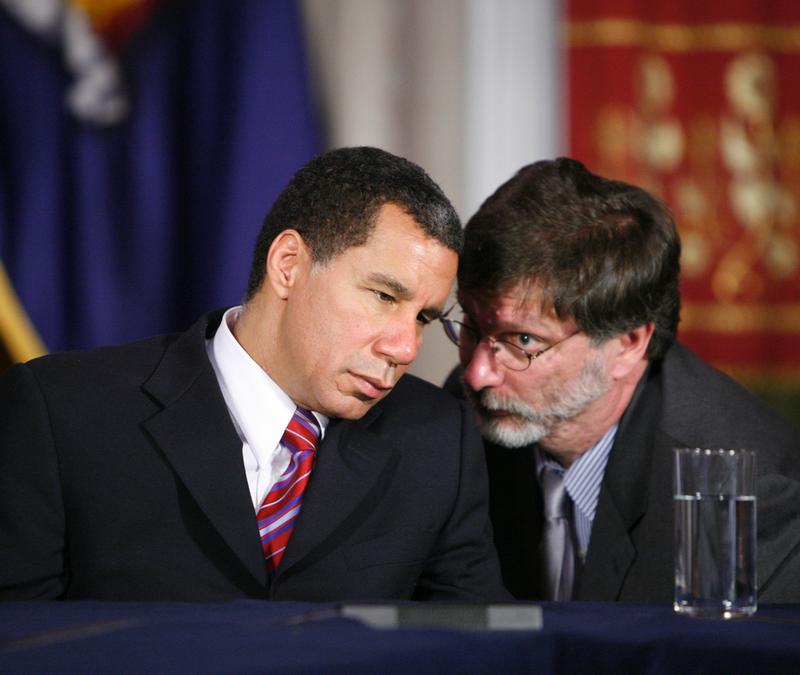 This week Governor David Paterson imposed a June 28 deadline on the legislature to come up with a budget deal.
But whether there is a deal or not, New York State's long-term balance sheet remains mired in mind-boggling debt.
This week the daily news out of Albany focuses on the drama and personalities involved in closing this year's budget gap. But according to Manhattan Institute Senior Fellow for Tax and Budgetary Studies EJ McMahon, that reporting does not give voters and taxpayers the truly grim big picture. Even if Albany passes a budget McMahon says the perrennial causes of the budget crisis will remain. "When you hear," says McMahon, "that there is good news out of Albany supposedly -- they have finally settled on a new state budget and closed a gap estimated at $9 billion, I can guarantee you that virtually none of the things they have done to close that gap will address the systemic problem."
The systemic problem? Tens of billions of dollars in debt, some of it, says McMahon, dating back to New York City's fiscal meltdown in the 1970's. He says the state has operated as a prolific debt machine for a long time. In terms of what's called state-funded debt, that totals about $60 billion. "The State of New York is one of the most heavily indebted major states in the country," says McMahon. "We are more heavily indebted than any major industrial state except New Jersey, which is a fiscal basket case."
And than there's the accumulated debt from the state's hundreds of public authorities that adds more than $50 billion to the tab. The state's Dormitory Authority, which has financed all of the state's higher education construction, has racked up $38 billion in debt alone, more debt than most states, according to McMahon.
"That is a total of a $114 billion in total state debt," says McMahon. "It is only a few billion dollars less than the total state debt of California, which is two thirds larger than New York."
Also pressing on Albany's ledger: what McMahon calls unfunded liabilities -- that's stuff like the future health care costs of all public employees for the rest of their lives after they retire. "The state government, local governments and New York City have collectively committed themselves to paying out roughly $200 billion in retiree health benefits to their employees," says McMahon.
ONE GUY GETS IT
Nobody gets the big picture like Lt. Gov. Richard Ravitch, who has recently fallen out of favor with his boss, Governor Paterson. Ravitch was the public balance sheet turnaround guy who helped get the city out of the fiscal crisis of the 1970's. At a recent Association for a Better New York Breakfast he recounted how he was called into a hastily convened meeting back in 1975 with Gov. Hugh Carey.
"Three bankers walked in the room and they announced to the governor that, unfortunately, the financial community had decided they would no longer underwrite the notes and bonds of the City of New York. And I asked them when that decision was effective. They told me immediately."
Ravitch said that prospect of actual municipal insolvency inspired a broad-based community response -- a kind of urban barn raising that engaged labor, the banks and even the city's wealthiest. All stepped up in a big way to prevent the city from going bankrupt.
"Including prepaying taxes six or nine months before they were due," recalls Ravitch. "The financial community took risks. Labor made an heroic effort all to avoid going into bankruptcy."
THE DEBT MACHINE
Ravitch says the state's situation now is actually more dire than the city's was in the 1970's. "First of all, states can't go into bankruptcy," he says. "They are not included in the bankruptcy code so there is no event again which people can measure the alternatives to doing the things necessary to restore fiscal sanity to the State of New York."
Ravitch says that all the income and sales tax revenues from the state are already tied up in a lockbox, out of which the state makes sure the billions in debt service on the state's mountain of debt get paid before any other expense.
Manhattan Institute's McMahon estimates all told the state and its authorities pay close to $10 billion just in annual debt service for past borrowing. So with the growing annual debt service, other spending priorities -- like education, or health care -- get squeezed out.
SO WHO BENEFITS?
Carol Kellerman is with the Citizens Budget Commission, founded during the Great Depression as a watchdog on the public balance sheet. She says in the financial sector, Albany can find any number of enablers to help it paper over tough choices. So what's the bottom line -- and who benefits?
"More fees and interest for people who are engaged in municipal finance," Kellerman says. "They don't have any incentive to stop loaning money."

Kellerman says the latest example of Albany kicking the debt can down the road is a plan getting traction with budget makers to let the state forgo making some of its pension payments. She says of course the state will pay the whole amount eventually -- with interest.