General McChrystal Called to White House Over Comments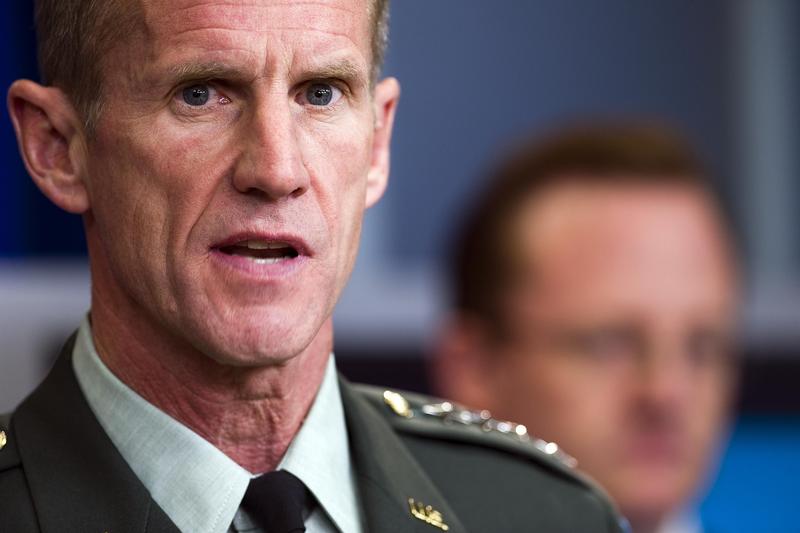 Top U.S. commander in Afghanistan, General Stanley McChrystal, has been called on the carpet to explain his controversial statements in a recent magazine article. The White House says "all options are on the table" with regards to McChrystal's job.
Speaking on Tuesday afternoon, President Barack Obama would not say whether he's going to fire McChrystal. The president said McChrystal showed poor judgment, adding that he wanted to talk to the general directly before making any final decisions.
According to the Associated Press, McChrystal has been asked to attend the monthly White House meeting on Afghanistan and Pakistan in person Wednesday rather than over a secure video teleconference, so he can discuss his comments with the president and top Pentagon officials.
McChrystal has issued an apology for comments made in a profile in Rolling Stone magazine, titled "The Runaway General." The report, which emerged from several weeks of interviews and travel with McChrystal's tight circle of aides this spring, was released to reporters on Monday ahead of publication. It was also posted on Rolling Stone's website.
The article, written by freelance reporter Michael Hastings, depicts McChrystal as a lone wolf on the outs with many important figures in the Obama administration and unable to persuade even some of his own soldiers that his strategy can win the war. It includes a list of administration figures said to back McChrystal, including Defense Secretary Robert Gates and Secretary of State Hillary Rodham Clinton, and puts Vice President Joe Biden at the top of a list of those who don't. The article claims McChrystal has seized control of the war "by never taking his eye off the real enemy: The wimps in the White House."
An aide interviewed by the magazine describes McChrystal in the article as "disappointed" in his first Oval Office meeting with president Obama. Obama called McChrystal on the carpet last fall for speaking too bluntly about his desire for more troops.
"I found that time painful," McChrystal is quoted as saying in the article. "I was selling an unsellable position."
In an interview with The Takeaway, Rolling Stone freelance reporter Michael Hastings said his article showed that President Obama has "lost control of the Afghanistan war policy".
Obama agreed to dispatch an additional 30,000 U.S. troops to Afghanistan after months of study that many in the military found frustrating. The White House's troop commitment was coupled with a pledge to begin bringing troops home in July 2011. Counterinsurgency strategists advising McChrystal regarded this as an arbitrary deadline. Hastings said in the interview with The Takeaway that while President Obama a year ago seemed to imply the U.S. is not in Afghanistan to nation-build, that is the strategy Commander McChyrstal is implementing.
"The aim [Obama] set out to fulfill has not been fulfilled by the general he put in charge," Hastings said, speaking from Kandahar.
McChrystal is quoted by Hastings as saying he felt "betrayed" by his diplomatic partner in Afghanistan, Ambassador Karl Eikenberry. In a leaked internal document, Eikenberry said Afghan President Hamid Karzai was not a reliable partner for McChrystal's counterinsurgency strategy and questioned the strategy altogether. According to The Wall Street Journal, McChrystal said in the article, "Here's one that covers his flank for the history books. Now if we fail, they can say, 'I told you so.'"
Hastings said the tensions between the military and civilian officials is putting the mission in Afghanistan at risk.
"The whole point of the strategy is to have both a military and diplomatic track. When your top military leader, General McChrystal, is clearly not getting along with your ambassador or with your special representative or with your national security advisor, obviously you are never going to get on the same page. The whole strategy is based on diplomats and military working together. That is obviously not happening," Hastings said on The Takeaway.
McChrystal released a statement Tuesday extending an apology for the profile, calling it a "mistake reflecting poor judgement."
"I have enormous respect and admiration for President Obama and his national security team, and for the civilian leaders and troops fighting this war," McChrystal said in the statement. "I remain committed to ensuring its successful outcome."
UPDATE: This article has been updated to include comments by President Obama on Tuesday afternoon, Rolling Stone's freelance reporter Michael Hastings and by White House press secretary Robert Gibbs.