Russian President Tours Silicon Valley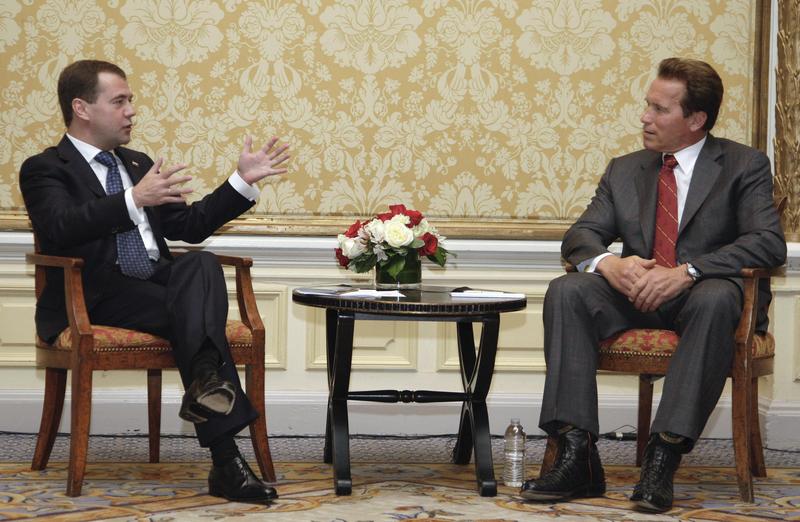 Before heading to the White House, Russian President Dmitry Medvedev is visiting California's Silicon Valley, on the lookout for talent and money to reinvigorate the Russian economy.
As part of his tour around the San Francisco area today, Medvedev plans to visit the founders of Twitter, stop at Cisco Systems, give a speech at Stanford University and have a chat with Google CEO Eric Schmidt, according to a report in the San Francisco Chronicle.
Medvedev wants to shift Russia's economy from a dependence on oil revenue to innovation. The creation of Russia's own high-tech, innovation center - an innograd - in a Moscow suburb called Skolkovo has been one of Medvedev's pet projects to this aim. So far, the government has already allocated $500 million dollars to the project, but is still looking to attract more venture capital and woo talented Russian technologists back home to make it work.
"The future of our country, and its competitiveness on international markets, to a large degree depends upon the results of cooperating with foreign countries and universities," Medvedev told an international business forum in St. Petersburg last week, the Associated Press reports.
However, potential investors are wary of the project, fearing that despite huge tax breaks and government investments, that Skolkovo - which also houses a new international business school - will become little more than a real estate venture, with little technological innovation attached.
In an op-ed in The Moscow Times, Vladislav Inozemtsev, professor of economics and editor of the Russian edition of Le Monde Diplomatique, writes that for the project to work, it must be seen as a first step in a long journey and not a quick "get-rich scheme". Inozemtsev says Russia must "open its doors to the world" and not use the project "as an excuse to pump enormous sums into pork barrel projects".
The Russian president met on Wednesday with California Governor Arnold Schwarzenegger. He will head to Washington to meet with President Barack Obama on Thursday, before the two travel on to Toronto for the G-8 and G-20 summits.