Getting Schooled at Governor's Island: Summer School on Water
Fifteen year-old Gabriela Molina's 45-minute commute to summer school begins on the L train in Brooklyn. One subway connection later she's now on a ferry to Governor's Island. "When they first tell you that you have to take a lot of transportation you say 'it's difficult.' But once you take it, it's okay," she says, as a ferry pulls away from the Manhattan dock, blasting its deep horn.
Since opening to the public in 2004, Governor's Island has become an urban playground. There are art exhibits, bicycles, concerts and circus games. Now, the tear-shaped island at the tip of Lower Manhattan is home to a public school.
It's hard to imagine a more surreal location for a New York City high school. The Urban Assembly New York Harbor School is part of a National Historic District. It's surrounded by parklands and 19th century houses once occupied by Army and Coast Guard officers.
"The concept of the school is to engage students in education by using the greatest resource that New York City has, which is its harbor," says Nate Dudley, the school's founding principal. The Harbor School actually opened in 2003. But with no space available near any waterfront, it had to share the campus of Bushwick High. So it scheduled a lot of field trips. The city eventually gave the school its own space on Governor's Island, in a renovated Coast Guard hospital across from the Statue of Liberty. Dudley says the school can now make the most of its maritime theme.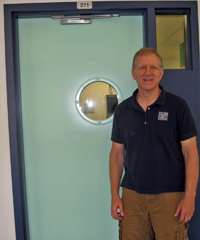 "We sail, row, swim, boat, build boats, do water quality testing, scuba," Dudley says. "Anything and everything we can do to be out above and under the water in order to really understand what is happening with the science and the history, the writing, the literature of New York City. That's what we do."
About 120 students are getting their first chance to experience the school in its new surroundings this summer. On Pier 101, those in a boating class zip lifevests over their navy blue Harbor High School T-shirts. They step into long rowboats under the careful eyes of instructors.
"Hello Destiny! Put your freaking thing in the water," 16-year-old Jasmine Williams yells to a fellow student at the other end of her boat, who's not holding her oar the right way. 
"Starboard side, when you have room set up your oar," says their instructor, Hector Acevedo. There are four other students in the row boat with Williams in the captain seat, giving commands.
"Hello, whoa Destiny!" Williams shouts, as the kids get into position to leave the dock. They can see Lower Manhattan straight ahead and Brooklyn to their right. Williams says she likes rowing, but adds, "it's kind of good until you row too much and then you get tired." Many of the kids say they find sailing less strenuous.
While most of these students are coming to summer school because they failed a class, some incoming ninth-graders are also here to earn extra credit. Maleek Poole, of Harlem, is one of those who wanted an early start.
"I like science a lot," Poole says, explaining why he chose the school. "I just thought it was a good school and since it was moving to Governor's Island I signed up."
Science lessons can get up close and personal in a school on the harbor. Over on the dock, Pete Malinowski, the aquaculture teacher, shows the students his oyster farm. Students helped him start it last summer with juvenile oysters, only 2 millimeters long. They've since grown to 1-2 inches. He tells the students this is a good sign that they can grow again in these waters, which had become too polluted for the native mollusks. Malinowski takes out a bucket of oysters for the kids to sort by size but one boy doesn't want to get that close.
"I'm really mad right now," he says, stepping away from the bucket.
"The oysters are bothering you?" asks Malinowski.
"Yes very much," he replies.
"OK let's get to know them a little better before you judge them like that," Malinowski says. He places an oyster on the dock just for him, but the boy looks disgusted and keeps his distance.
This is, after all, a regular public high school. The city's matching system doesn't give every kid his or her top choice. Principal Dudley says most students come from families living below the poverty line, and that many students enter with low test scores. He says the goal is to get them all ready for college, regardless of whether they're interested in maritime careers.
"Students who have come in at low level have latched on, in part, because of what we do on and about the water," he says. "And that that has translated over into some of their academic achievement."
About 63 percent graduated on time last year, a few points ahead of the citywide average. The new $34 million site includes a fish farm for raising tilapia, a gym with rowing machines and a giant tank at the entrance, which will eventually be filled with a cross section of life from the Hudson River. The new classrooms all have round, nautical windows.
The school raises private money, too, though a network of donors. Boat rentals are expensive and extra staffers are needed to supervise any activities on the harbor. The school is in the midst of a fundraiser to make a shop where kids can build their own boats, just like they did in Brooklyn. And it's looking for a pool to use in Lower Manhattan or downtown Brooklyn because ninth graders are required to take swimming lessons.
Harbor High School is part of a network of small schools founded by the Urban Assembly, a non-profit that's helped start more than 20 schools around the city. Many small schools have themes such as law and justice, sports and the environment. But teachers say the Harbor School's maritime theme is much deeper now because of its location on Governor's Island.
"For instance, I'm doing a lesson about what are the organisms from here," says science teacher Gijon Polite. "I did that at the old campus, too. Here they say gulls, terns, swallows... At the old campus kids said cockroaches, second was rats and third was pigeons." He laughs, knowing it sounds like an urban stereotype.
Polite also notes that there are no neighborhood distractions; no shops where kids can hang out and no gangs. Kids who wander will be easily spotted by police. "It's the safest place in New York City," he says, adding that he's noticed how the location has already relieved some of the tension and posturing of the students.
"This is like the most fun summer school I've ever been in," says 15-year-old Karon White, who's going into his sophomore year. "We get to row, draw, play basketball. It's not like a regular summer school." Students are taking global history, math and English, though. And they have to leave the island in time for the last ferry at 6 p.m.
Out on the dock, sophomore Dante Rivera helps Pete Malinowski sort the oysters. Rivera says the school isn't just about science and water but about taking care of the environment, with projects like the oyster farm. The goal is to plant oyster reefs that can eventually make the water cleaner.
"They can filter 50 gallons -- about up to 50 gallons of water in a day. Just from just like one oyster!" Rivera says "That's the goal of the Harbor School, too. To clean the Hudson."
The school's backers hope Rivera and his summer classmates will pass on that lesson in September. That's when all 400 students will get to learn what high school is like on Governor's Island.