9 Ways to Stream Beethoven During His Birthday Week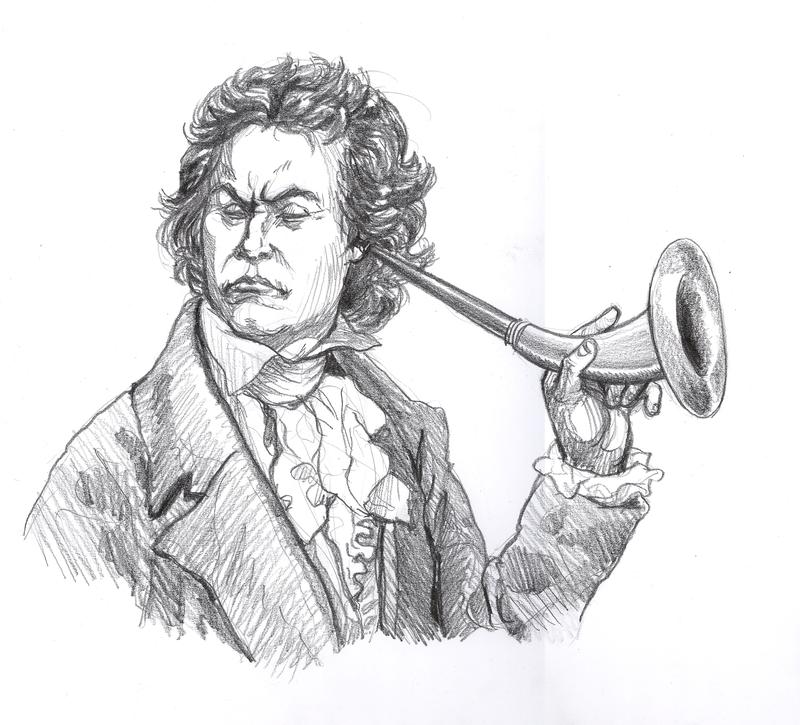 Though the exact date of his birthday is unknown, Ludwig van Beethoven was born 245 years ago on or around Dec. 1. Over those two and a half centuries, the composer has profoundly shaped worldwide culture and his enormous influence is particularly apparent online with videos, documentaries, podcasts and even a miniseries devoted to his legacy, including the following nine:
1. "In Search of Beethoven"
Director Phil Grabsky interviewed numerous musicologists and performers, including Emmanuel Ax, Gianandrea Noseda, Louis Langree, Lars Vogt, and others to piece together a cohesive biography of the composer primarily through his musical output. The film is neither too academic nor simplistic, and it skillfully weaves the composer's music into his narrative. The entire movie is available on YouTube:
2. Digital Concert Hall
Just off its complete cycle of Beethoven Symphonies, the Berlin Philharmonic is offering videos of the performances conducted by Simon Rattle on its virtual hub (week-, month- and year-long subscriptions are available). Beyond these recent concerts, the site also has a good inventory of Beethoven favorites, including Isabel Faust performing his violin concerto, as well as Hélène Grimaud and Rudolf Buchbinder in the third and fifth piano concertos, respectively. Below is a video trailer of the Berlin Philharmonic rehearsing before a unique 360-degree camera set up.
3. Medici TV
The Paris-based streaming service has a large store of Beethoven performances, dating to the mid-1980s, available for subscribers. However, a pair of concerts from the 2015 Summer Festivals in Quebec are available for free: Jean-Philippe Tremblay conducting Beethoven's Fourth Symphony and pianist Martin Helmchen playing the Diabelli Variations.
4. Amazon
For those who don't subscribe to Medici TV, Amazon Prime also offers a number of the European distributor's recordings on its streaming service. The selection of Beethoven performances is particularly deep. One gem from the bunch is Claudio Abbado and Maurizio Pollini performing the Choral Fantasy for Piano Choir and Orchestra with the Berlin Philharmonic.
5. "The Genius of Beethoven"
Produced by the BBC and conductor Charles Hazlewood, though not available on its site, this three-part miniseries, which aired in 2005, is part documentary, part biopic. A narrator tells the story of Beethoven's life, while Paul Rhys embodies the composer on the screen.
6. BBC: Discovering Beethoven
The British broadcaster has assembled a valuable archive of recordings of Beethoven works and commentary about his output. Most of the podcasts examine either a period of the composer's life or a specific work. Guardian critic Tom Service also contributed a playlist of essential works available to stream. Below is a sample of the podcasts available:
7. Keeping Score
San Francisco Symphony's ongoing educational program delving into classical music masterworks, examines Beethoven's great third symphony, Eroica. Along with biographical and historical information, the interactive feature shows a video of Michael Tilson Thomson conducting the symphony as a digital score displays the notes in real time. A graphic keeps track of the key, and running commentary describes the composer's intent behind the music.
8. WQXR Sonata Marathon
In 2011 and again in 2015, WQXR presented all of Beethoven's piano sonatas in consecutive order. All 32 of those performances have been archived and are available on the website to listen to in order from Steven Beck's presentation of the first through Jeremy Denk's rendition of No. 32 or skip around at one's pleasure.
9. Fidelio
Watch Beethoven's only opera, which took him 10 years to complete, that honors heroism and triumph over tyranny as well as the sanctity of marriage. This 2004 production from the Zurich Opera House features Camilla Nyland in the title role and tenor Jonas Kaufman as her imprisoned husband whom she rescues.