U.S. Employers Cut More Jobs Than Expected in July
Employers cut more jobs than expected in July as the government reported that the nation's payrolls shrunk by 131,000 jobs. That's another troubling sign that the recent economic recovery could be stalling.
"The July employment report was disappointing," said Sophia Koropeckyj, managing director at Moody's Economy.com.
While job losses were greater due to 143,000 temporary U.S. Census 2010 jobs that were eliminated, the private sector added just 71,000 positions in July.
That's anemic at best, and not sustainable for an economy that, prior to the recession, needed an average of 150,000 jobs a month to be created. In 2010, only 93,000 jobs have been created on average each month.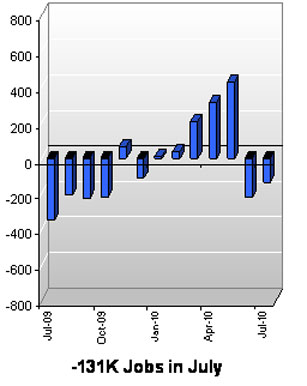 "The best that can be said is it does tell us the economy continues to move forward," said Joel Naroff, president of Naroff Economic Advisers. "Unfortunately, the pace is subpar."
The nation's unemployment rate--measured in a separate survey--remained unchanged at 9.5 percent. Currently, 14.6 million people are unemployed in the country.
A broader measure of unemployment which includes people who worked part-time while seeking full-time jobs and those too discouraged to even look for work was 16.5 percent.
Those looking for work continue to be unemployed for extended periods of time. Nearly half (44.9 percent) have been without work for more than six months.
And, in another possibly troubling sign, the number of temporary workers hired in July actually fell by 6,000. Employers often bring on temporary workers before hiring full-time employees and, up until July, the number had been positive.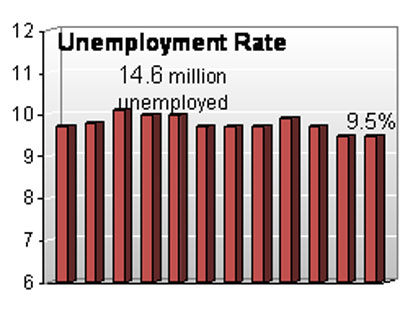 The number of hours worked per week remains basically unchanged. Employers often pay overtime and increase hours for current employees before hiring. As the increase was only 0.1 hours a week, companies may not be seeing enough business to warrant bringing on new employees.
There were some positive figures in the jobs report. The healthcare sector added 27,000 jobs in July, as did manufacturing, which added 183,000 jobs since December. Manufacturing is often a leading indicator for future economic growth.