Style or Substance? Famed Piano Personalities
The exuberant Lang Lang is the latest in a long line of pianists known for their flamboyance. Here are four other examples.
Franz Liszt  (1811-1886): Lang Lang's earliest precursor may be Franz Liszt, a dashing Hungarian prodigy who gave his first recital at 11 in Vienna and in his teens became the darling of Paris salons. Known for his exaggerated poses at the piano, Liszt let his eyes wander as he played, winking and nodding at his friends in the boxes. While women swooned and threw jewels at him traditionalists condemned him as a show-off. After a Berlin concert, he was transported by a carriage drawn by six white horses.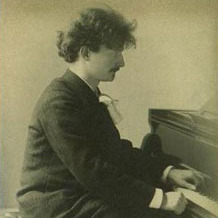 Ignacy Jan Paderewski (1860-1941): The Polish pianist (right) inherited Liszt's matinee-idol mantle in the 1890s and was followed by mobs of adoring young women. His rapturous, hypnotic presence brought him on tours around the world but the classical music establishment expressed its severe disapproval. George Bernard Shaw declared that Paderewski was a harmonious blacksmith who laid a concerto upon the piano as upon an anvil and then hammered it out with pleasure. Eventually, Paderewski's fame catapulted him to Prime Minister of Poland.
Leopold Godowsky (1870-1938): One of the most astonishing piano virtuosos of all time, Godowsky was also the highest-paid solo instrumentalist in the world for a period, giving concerts in Europe, Asia, North and South America. He was known for his fantastically over-the-top transcriptions of Chopin's works, and for even combining two Chopin pieces at once, as he did with the so-called Black Key and Butterfly studies. Purists condemed these as examples of overkill and bad taste.
Vladimir Horowitz (1904-1989): Coming from the Russian Romantic school, his performances were frequently criticized for their willfulness and self-indulgent nature, despite the undeniable charisma he achieved. The composer and critic Virgil Thomson dismissed him as a "master of distortion and exaggeration." And yet, Horowitz was widely beloved even despite his long absences from the concert stage, his popularity largely sustained by his recordings.