California Residents Return Home After Pipeline Explosion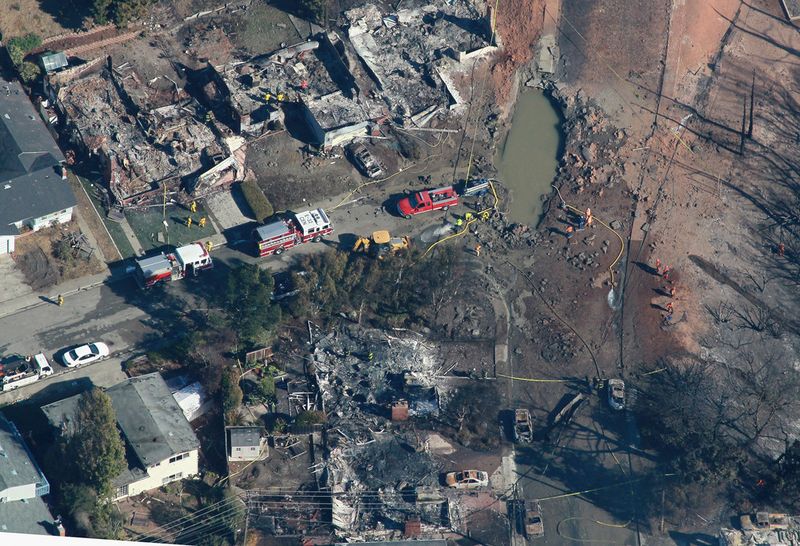 Residents in San Bruno, California have been allowed to return home after a natural gas pipeline explosion and subsequent fire on Thursday that killed at least four people, injured 50 and destroyed at least 50 homes. California regulators are telling Pacific Gas and Electric to survey all of its natural gas lines in the state, in hopes of heading off another disaster.
Local and federal officials are probing the cause of the explosion that blew a segment of pipe 28 feet long onto the street some 100 feet away, creating a crater 167 feet long and 26 feet wide. A risky segment of the transmission gas line was due to be replaced, the utility responsible, Pacific Gas and Electric has said because it ran through a heavily urbanized area and the likelihood of failure was "unacceptably high." That 30-inch diameter pipe a few miles north was installed in 1948 and slated to be swapped for new, smaller pipe.
Federal regulations passed in 2002 require that around 7 percent of the over 2.3 million miles of pipeline running underground throughout the country be inspected. Of that pipeline, roughly 300,000 miles is transmission pipeline like the kind in San Bruno, that transports oil and natural gas longer distances.
Carl Weimer of the watchdog group Pipeline Safety Trust says that despite the government regulations, many companies have yet to use computer technology to scan their pipelines for cracks and fissures.
"Companies were given 10 years to complete their inspections, so they have until 2012," Weimer said. "But only pipelines in high density areas need to be inspected. And there have been a number of pipeline incidents recently - in Chicago, in Michigan, in Texas. Energy demand is increasing, and more and more miles of pipeline is being laid, most of it within city limits."
Weimer's group, Pipeline Safety Trust, was established in Bellingham, Washington after a pipeline burst and subsequent explosion killed two boys and a young man in a nearby stream.
Bill Boone, a resident in San Bruno, said he thought something had crashed in the neighborhood when the pipeline exploded Thursday night.
"I heard a high-pitched sound, and then the house started rumbling and shaking from the ground up," Boone said. "When I went outside, I saw a fireball down the street. I thought it was an airplane."
Boone said he didn't even know a pipeline existed beneath his home.
"Living in an earthquake zone, I always try to find out what kind of substrate my homes are built on - I want to be on granite to survive a quake. I knew we are on solid ground here, but I never thought to ask about pipelines."
This year Washington will have to reauthorize the Pipeline and Hazardous Materials Safety Administration this year. Carl Weimer says that tougher regulations and more oversight that companies are complying with the laws already in existence, is necessary.
"Federal regulations require that people know where there are pipelines," he said. "Local governments should be informed so that they can keep certain types of buildings away from the pipelines."
Crews on Sunday packed into a crate the 28-foot section of ruptured natural gas pipeline blown out of the ground and hurled 100 feet in the explosion, said Christopher Hart, National Transportation Safety Board vice chairman. Investigators were to ship the pipeline to the NTSB's metallurgy lab in Washington, D.C., for intensive examination, he said. Also being shipped were two 10-foot sections of pipe removed from the crater Sunday from either side of where the ruptured section had been.
Investigators were still trying to confirm how many people died in the blast and fire. The remains of at least four people have been found, and authorities have said four are missing and at least 60 injured, some critically. Two people reported missing after the blast were located Sunday, city spokeswoman Robyn Thaw said. San Mateo County Coroner Robert Foucrault said they're still trying to confirm whether some of the remains are human and identify victims.
As for the residents, only those wearing wristbands showing police they live in the area have been allowed to enter the accident zone. And they can only return to homes with green tags. Those with yellow or red-tags have extensive damage and will require closer inspection before authorities can declare them safe.