Genius Within Probes the Life of Glenn Gould
Classical music has always had its share of egomaniacal divas and temperamental conductors, but for the most part the field is fairly genteel and well-mannered. There's no hotel smashing and not much in the way of overdoses. Evening gowns and tuxedos are still the rule.
In a world in which performance etiquette, and even the limits of interpretation, are still tightly delineated, Glenn Gould stands out. The pianist, who would have been 78 on Saturday, was an eccentric in his personal habits (he was a hypochondriac who wore heavy coats and scarves in July, and had a fascination with the singer Petula Clark) and in his artistic choices (he sat on a special piano chair, 14 inches high, and played with extremely fast or slow tempos).
Apart from the clarity and precision of his playing, you can recognize a Gould recording by the frequent humming when he played. The most celebrated quirk of all came in 1964 when he abandoned the concert platform altogether; until his death in 1982, at the age of 50, he concentrated on studio recording and other projects.
For all the fans and music critics who admired the idiosyncratic freshness of Gould's performances of Bach, Beethoven and Mozart, there were others who attacked him for what they considered his perverse self-indulgence. His 1955 recording of Bach's Goldberg Variations received critical praise and made the 23-year-old the second most popular pianist in the U.S. after Jerry Lee Lewis. Yet his own compositions often received a drubbing in the press, and in a review of his 1981 recording of the Goldberg Variations, a critic for The New Penguin Guide wrote that many listeners would "find the groans and croons intolerable."
Twenty-eight years after his death, Gould still inspires, or provokes, interest. He is the subject of new biographies including Partita for Glenn Gould: An Inquiry into the Nature of Genius by George Leroux (due out in November) and A Romance on Three Legs: Glenn Gould's Obsessive Quest for the Perfect Piano, by Kate Hafner. And now there's Genius Within, a film documentary that presents his life in linear fashion.
Directed by Michèle Hozer and Peter Raymont, the film is told through many interviews with Gould's close friends, ex-lovers, biographers, and fellow musicians, each of whom experienced a different side to the musician's phobic, closely guarded personality. There is archival footage from late-night recording sessions as well as some dramatized pieces of an actor in a long coat and cap wandering around New York, Toronto and the Canadian woods.
"Gould is quite an icon here in Canada," Hozer explained from her home near Toronto. "He's a fascinating sort of hero for us. He's also a musical character, being such a recluse and having such odd eccentric behavior. The mythical character is what a lot of people know and there's a mystery behind this."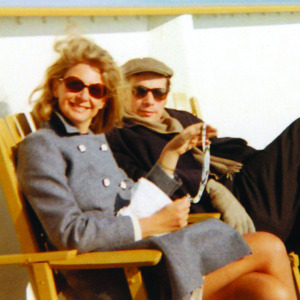 Hozer and co-director Raymont were also interested in getting beyond the accumulated mythology in order to grasp how his personal relationships fired his creativity. A substantial portion of the film explores his mysterious, long-rumored affair with visual artist Cornelia Foss, wife of the late composer-conductor Lukas Foss. A blonde beauty with a straightforward demeanor, she left her husband and moved to Toronto from 1968 to 1972, bringing her two young children, who as adults are also interviewed in the film. They ultimately left, fleeing Gould's growing hypochondria and appetite for prescription drugs.
"She never really hid the affair but it was never really public," said Hozer of Foss. "In one sense, Gould was so private and a lot of his friends wanted to keep his private live amongst themselves. But 27 years after his death, they realized that Gould's image is well protected and he's going to live on quite well."
The first half of the film shows the charmingly messy twenty-something who toured Russia in 1957 at the height of the Cold War, playing Bach to sold-out houses who had previously given little attention to the composer. It depicts the famous 1962 dust-up with Leonard Bernstein and the New York Philharmonic, where before a performance of a Brahms concerto, Bernstein announced to the audience that he and Gould were in major disagreement over their approaches to the concerto. The concert went on, despite Bernstein's unusual disclaimer, and critics were scandalized by the results.
Two years later, Gould stopped performing in public. He retreated to a lakeside home in Canada, making recordings, radio documentaries about life in the Canadian wilderness, and the occasional home movie (Genius Within includes amusing footage of the pianist clowning with friends on a beach in the Bahamas). "The interesting thing is people thought he'd be finished when he stopped giving concerts," said Hozer. "Well, he wasn't. He made 79 recordings. He did radio documentaries. I wouldn't be surprised if he had become a filmmaker."
While depicting his perfectionist, hypochondriac side, the film doesn't attempt to address recent speculation that he had Autism or Asperger's Syndrome, nor does it dwell much on the cause of his early death. But it does shine light on what made his pianism so striking; for example, his sharp attack on the keys was derived from teacher Alberto Garcia Guerrero. And we also see what a charismatic figure Gould was -- a prolific writer and arts commentator whose opinions were heard in lectures, interviews, convocation speeches and radio and television documentaries. While his (acoustic) performances are his most enduring legacy, he was also a forerunner of today's media-saturated environment.
"The minute you think you've got him pegged he does something contradictory and he slips away," said Hozer.
Genius Within is playing at Lincoln Plaza Cinemas and Quad Cinema.
Watch the Trailer: