12 Questions for Bryn Terfel
The Welsh bass-baritone Bryn Terfel has appeared on the world's major stages for the better part of two decades. But only this fall is he singing his first Wotan at the Metropolitan Opera. His role is part of the Met's new high-tech staging of Wagner's Das Rheingold, directed by Robert Lepage. Bryn Terfel stopped by WQXR recently and we asked him about his "troubled" character, his love of Pink Floyd, and why he's finally releasing a Christmas album.
You're now three performances into Das Rheingold, with one more to go this fall. How does it feel at this point?
I'm sitting on the fence a little because I want to see how this will develop. Maybe this machinery might spread its wings in Die Walküre. Robert Lepage's thoughts might blossom also. He said in his original talk that Rheingold was going to be architecturally very sparse and therefore this huge machine that everyone's talking about hasn't really opened up mechanically and therefore it's been more about the visual effect and having the singers very close to the audience. There's lots of colors, lots of stillness in a way. So hopefully by the time the spring comes there might be fireworks on stage during rehearsals.
"The Machine" is a central element in this production and got a lot of discussion because it experienced some glitches in the premiere. How do you react when something like that happens?
I think the machinery at the moment is rather troublesome in the fact that you think 'what's going to happen next?' Especially after the dress rehearsal when a certain thing didn't surface towards the end of Das Rheingold. But in the last two shows everything's worked – they've crossed the T's and dotted the I's. We have one more left, which is the HD performance that's going to be seen everywhere. I'm guessing everyone's going to be crossing their fingers and eyes after this performance.
What kind of character is Wotan to you?
For me Wotan is a figure that reacts in this opera – to the giants, to Loge, to Freia, to Fricka, to Erda, to his kingsmen as well – to Donner and Froh. So I leave the action mainly to Loge. Wotan is a troubled god who doesn't really know the outcome of the day. He knows he's made certain mistakes, he knows the giants are right in the ending. There's a weight off his shoulders when he decides to go down to Nibelheim. Then of course, all of the sudden, the stealing of the ring is something he accepts. Only on that particular day this gold and this boundless power and endless wealth is something he's maybe accepting.
Die Walküre, the next installment in the Ring, features a much meatier part for you than in Das Rheingold. How do you prepare for that?
Going into Walküre you need to pace yourself more than in Das Rheingold. Then of course comes all the wonderful scenes, especially Leb' wohl [Wotan's Farewell] where he goes to that fiery rock. It's such a monumental piece of music and it really takes you over wholeheartedly, completely. You throw yourself into Wagner's endless melody.
What is it like have a stunt double in this production? Did you work with your double much?
I asked Robert if we could do it ourselves but it would have been strategically very difficult to place harnesses and wires on us. But as a performer, as usually is the case, I haven't seen the scenes happen.
Do you plan to watch a repeat of the Met's HD broadcast?
Maybe someday I can see a video of the HD. They're screening it somewhere in North Wales. There's a theater in there. I hope the whole of North Wales will go and fill that little theater just to see how things work. The interesting aspect of those performances is that they are televised and you see what happens backstage. We're all normal. All we try to do is do our best and we can't do anything more.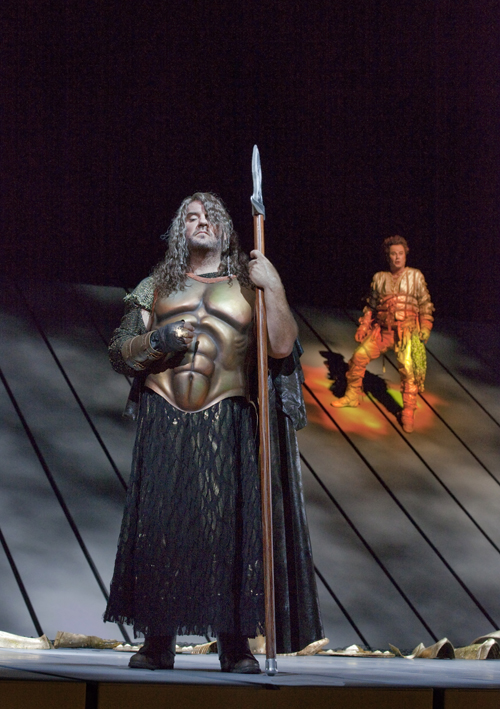 The costumes seem to hark back to designs from the earliest Wagner productions, complete with a bionic breastplate. How does that impact your approach?
Well, it's a mini-kilt in a way. [Robert Lepage] has derived many pictures from old Bayreuth productions, hence the way my hair falls and covers one of Wotan's defective eyes. There's been lots of talk about that but maybe his look will change to the god we see in the beginning of Act II in Die Walküre. But I have to be pliable and most likely Robert will go back to Montreal and perhaps his thoughts will change a little on how things worked on stage. I've had certain initial costume fittings for a new breastplate and a new coat so maybe the look will change. Maybe there will be a barber in Valhalla and he'll have a haircut as well.
It seems like Lepage took some inspiration from 80's hair metal bands too?
I just walked out of [Pink Floyd bandleader] Roger Waters' concert in Madison Square Garden last night of The Wall. Terrific. Wagnerian in proportion. It was a wonderful counterbalance having just sung Rheingold and then going to hear The Wall with half of Pink Floyd. It's music, isn't it? You can see connections and you can see where things would have worked in the Ring – the building of Valhalla, for example.
You recorded Roger Waters' opera Ça Ira. Is he a classical music fan?
Definitely. He's tried to put on this work in different cities and sadly I've been busy as usual. But hopefully I can do one somewhere.
So you attend a rock concert at Madison Square Garden. What else does a Wotan do on his days off in New York City?
I'll usually go to some art collection or some museums or some plays. This particular time was so intense with rehearsals and the performances were so close together. With Wagner, one should look after oneself and not really burn the candle on both sides. The Wall last night was a welcome break in a four-day break between shows.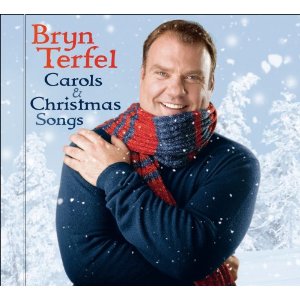 Your last album, "Bad Boys," was a collection of arias and scenes from operatic villains. In November, you'll release "Carols and Christmas Songs." What made you decide it was time for a holiday album?
I've done Lerner and Loewe, I've done two operatic discs, I've done some lieder -- Schumann, Schubert. So there was bound to be the question of what's next. Deutsche Grammophon gave me the green light to record whatever. I recorded in Welsh on this disc as well.
Some musicians seem to have a love-hate relationship with Christmas music. But not you?
Christmas music is very in evidence in my house. It's always playing in my house from morning, noon till night. I have three boys and they keep on listening to their music and their iPods also. So I brought over some repertoire that I particularly enjoy. For instance, there's a wonderful carol from Austria called Still, still, still ("Hush, Hush, Hush") which I first sang with the Mormon Tabernacle Choir in Salt Lake City and absolutely fell in love with this music. I needed a platform to record these. This was my chance. So, "Come all Ye Faithful!"
Interview has been edited and condensed