Hildegard's Striking Music Comes to Life in "Vision"
Not many individuals in history have as many claims to originality as Hildegard of Bingen.
The 12th-century German abbess was the first female composer to create music that survived until our time. She ran monasteries, advised popes and emperors, went on preaching tours, wrote about theology and sketched luminous works of art.
She was a mystic who experienced visions, detailed in some 70 poems and nine books. Her interest in ecology and holistic health has won admirers around the world -- as seen in numerous international societies and fan pages on Facebook.
Because Hildegard accomplished so many things despite the obvious gender taboos of medieval Europe, it's no surprise that she has become a symbol to disparate groups -- feminists and theologians, musicologists and new-age medicine practitioners. Her chants have been set to techno rhythms; her writings on nutrition have yielded countless cookbooks (even though she never left behind a single recipe).
Against this backdrop comes Vision: From the Life of Hildegard Von Bingen, a film biopic by the German director and actress Margarethe Von Trotta now playing at Film Forum. Arriving almost fifteen years after the last wave of interest in Hildegard, it is an effort to present a fuller, more humanistic portrait, divorced from pop-culture mythology.
"For me it was the interest in this multi-talented person," said Von Trotta in a phone conversation. "She had such widespread talent in every direction. She not only had faith, which was commonplace in the Middle Ages, but she was so curious. Today, perhaps she would have been a scientist because she did so much research on healing people, on plants and animals."
Among the film's chief preoccupations are the visions that Hildegard is said to have experienced from a young age. Born in 1098 to an aristocratic family and sent to live with a small community of nuns in a Benedictine monastery, she was sickly and prone to odd spiritual and psychic experiences -- seeing dazzling lights, faraway lands and so forth. She described these in enough detail to arouse the interest, in modern times, of the neurologist Oliver Sacks, who diagnosed her as a migraine sufferer.
"She believed the visions came from God," noted Von Trotta. "From my perspective, it came from her subconscious and the vision was given to her by her own desire to go there."
Hildegard's fame as a visionary allowed her to accomplish many things that exceeded the bounds of medieval Catholic society, especially once she was elected magistra, or head teacher, of the nun community at age 38. She began to protest the failings of Church and State and pushed for reform. She also churned out her extraordinary array of creative treasures: more than 70 musical works, medical texts filled with 2,000 remedies, writings presenting feminine archetypes for the divine. She died peacefully in 1179 at the age of 81.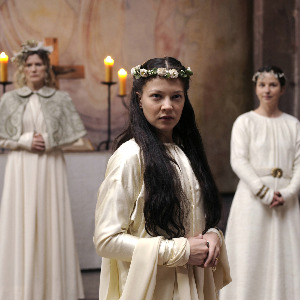 While Vision makes a strong case for Hildegard's political clout – we see her acquire enough property to build a convent on the bank of the Rhine River – it also gives a sample of her music. One telling scene shows the staging of Ordo Virtutum, Hildegard's morality play that recounts a battle for the soul between good and evil. The "good" is represented by a group of female Virtues who spin florid chant-like melodies as they attempt to persuade the Soul to choose them over Satan. All are dressed in white outfits, there flowing hair unencumbered by habits.
"She was fond of nice clothes and beauty," Von Trotta said, noting that this scandalized conservative members of the church. "She believed that in paradise there is beauty."
One of the film's more forceful storylines involves Hildegard's intense attachment to Richardis von Stade (right), a young nun who becomes her assistant but eventually leaves the convent for what amounts to a promotion. Some feminist scholars have pointed out that Hildegard's public anguish over the nun's departure suggests that she was a lesbian, a claim supported by her passionate letters and musical paeans to women. Von Trotta believes that her intense reaction stemmed from her own separation from her mother at a young age.
Vision is the first major film about Hildegard but hardly the first biographical treatment of her life. She burst into fame in the late 1970s with the advent of women's studies in musicology and the increased scholarly focus on women in the medieval church. Several of her treatises on medicine as well as her songs and correspondence were published in English translations in the 1980s.
In the early 1990s, recordings of her work suddenly hit the pop charts, a time when medieval chant, new age music and meditative practices were enjoying a boom. The most popular recording, called Vision: The Music of Hildegard von Bingen, bathed Hildegard's spare chant melodies in electronic beats, selling nearly a million copies. Soon came cookbooks and various holistic interpretations.
Barbara Newman, a noted Hildegard scholar at Northwestern University, recalls how the 900th anniversary of Hildegard's birth in 1998 brought out a wave of products of varying quality and relevance that contributed to her popularity. She remembers, for instance, attending a conference and being pitched Hildegard-branded spice cookies.
With that in mind, Newman calls Vision "a remarkably accurate film and very moving one," adding, "It only focuses on the first half of her public career. It's interesting that it ends where it does. She became even more famous, giving preaching tours throughout Germany. The film ends at just the point where she became a celebrity."
Official Trailer: