The megastar soprano Anna Netrebko readily admits that the stage of the Metropolitan Opera can be a difficult place to sing.
"Sometimes we cannot hear the orchestra well, and sometimes we cannot see the conductor well," she writes in an e-mail. "However, we always see the prompter, and he or she is the first person we look to when we run into problems!"
As Netrebko returns to the Met this month as Norina in Donizetti's Don Pasquale -- the role in which she made her company debut in 2006 -- she will be assisted at every step of the way by Carrie-Ann Matheson, a prompter who works in little closet-sized box just below center stage.
"If we mess up the music or the rhythm, the prompter is the one we are looking to first to help us get back on track," explains Netrebko.
Reigning in singers who are out of sync with the orchestra is only part of this unheralded and truly hidden talent. Matheson describes her job as part-safety net, supplying the first few words of every line a second or so before the singer is to sing it; and part-coach, letting them know if they're too sharp or too flat, or reminding them of a rhythm that they have a tendency to miss.
"You never know what might happen," says Matheson. "Someone might trip on their skirt or a piece of scenery might not be where they expect it to be. The line can just go. It can disappear out of their heads."
Air-Traffic Controllers of Opera
During rehearsals Matheson discerns which singers need the most prompting. Some like to have every line supplied just before they sing it like a running soundtrack; others find it distracting and only look to her for cues on rare occasions.
"It's a very interesting psychological game to get to know people's mannerisms and their habits so you can almost predict a problem before it happens," says Matheson, who is one of five full-time prompters at the Met. "Ideally we like to prevent things like that -- where nobody forgets a line. But if something happens and they do forget then you're able within two words to get them back on track."
The job of a prompter combines a number of skills. Like a linguist, they have to know multiple languages, including Italian, French, German and Russian. Like an air-traffic controller, they must be hyper-alert, keeping track of several performers across the stage. At times, two singers need simultaneous prompts, which means the prompter must know the full score cold.
For that reason, prompters have to be calm in the middle of chaos. Matheson says that as soon as something goes wrong, she must be able to identify the problem and find the most efficient solution. That means getting a singer's attention through hand gestures, whispers or clicking noises – signals that can't be picked up by the broadcast microphones.
But even this elaborate sign language isn't always enough.
"There was one time that somebody in a Wagner opera had turned around and walked upstage and I completely lost contact with him," says Matheson. "I tried all the normal subtle noise-making things I do to get attention and just didn't pick up on it. My torso was almost out of the box and I was slamming my hand on the stage."
The audience normally hears none of this. They see only a flat, unobtrusive hump at the front of the stage, which is sometimes camouflaged as a rock, treestump or other part of the scenery (the box is accessed by a small ladder to a hydraulic chair that lifts the prompter up). Performers, however, see a narrow window framing the prompter's lit-up face and gesticulating hands.
This location has its perils. "I get a little bit nervous when there's a sword fight and there's a sword being pointed at me," says Matheson. "I get ready to duck just in case."
In Aida, she cranes her neck to see around animal legs. In a performance of Hamlet last year the baritone Simon Keenleyside would pour fake blood all over himself in the scene where he goes mad. "He rolled off the stage and he landed and it splashed and it was all over me," she recalls, laughing. "I would walk out of the prompt box and my face would be covered in blood."
At times, actual sweat and saliva comes from singers delivering impassioned lines. "A hat came rolling in the other night," notes Matheson. "I sort of held it up so the audience couldn't see my hand until the singer could come and pick it up."
An Uncertain Future
While prompters are employed at companies in Chicago, Los Angeles and San Francisco, they are a rarity elsewhere in the U.S. New York City Opera, for one, does not have one.
And there is growing evidence that the positions are being eliminated as directors and designers find the boxes obtrusive and clunky looking. In recent years, companies in San Diego, Houston and Dallas have cut them out, as has London's Covent Garden. Some directors maintain that prompters give singers an excuse to be lazy.
"In my mind there couldn't be anything further from the truth," says Matheson. "There's not one singer we have here that wants to get up here and not do well. It's just an insurance policy. And in performances I've noticed, if there's not a prompter, it's together. But it's not as together as it would be if there were someone in there saying 'the rhythm is this.'"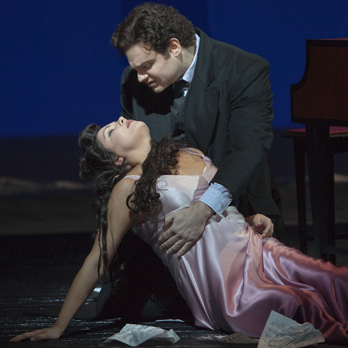 There is no formal school for prompting. Matheson came to the company as a pianist and coach for its Lindemann Young Artist Development Program before taking on her first prompting job in 2007. Each year, she is assigned to four or five operas, and often works on two at any given time. With rehearsals she may spend up to eight hours a day in the box. Prompters tend to be on the same contract as other music staff at opera companies; the Met declines to comment on their compensation.
A confident personality is a crucial trait, says Carol Isaac, another prompter at the Met. "In certain repertoire, singers will get nervous because there's a lot of expectation," she says. "It's important to give them confidence -- smile at them, wink at them. Sometimes I look in those eyes and they're full of fear. Then they get their feet under them."
Even as the profession faces an uncertain future, divas are known to sing prompters' praises. "Good prompters like Carrie-Ann Matheson can be as helpful and as important as a conductor," says Netrebko (above, right). "We rely on them a lot."