Anonymous 4 Sings Medieval Christmas Music
2016 Schedule: Airs at 9 pm on Dec. 19 at 10 pm on Dec. 21 on WQXR.
Sunday, December 20, 2015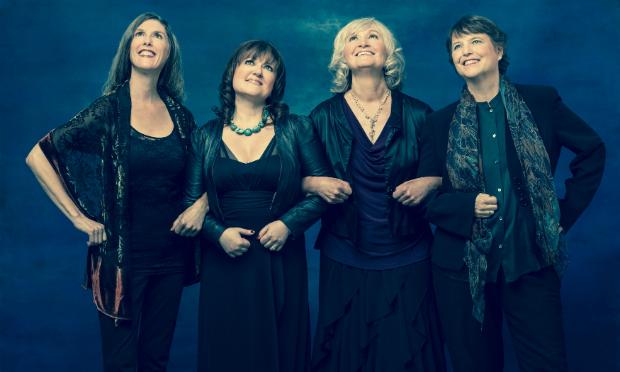 (Dario Acosta)
Recorded live at Corpus Christi Church in New York, the veteran vocal ensemble Anonymous 4 sings medieval and traditional Christmas songs that praise the Virgin Mary. The repertoire stretches from England, France and Spain to the United States.
The concert, recorded on Dec. 15, 2013, is part of the early-music series Music Before 1800.
Anonymous 4 are: Ruth Cunningham, Marsha Genensky, Susan Hellauer and Jacqueline Horner-Kwiatek.
Program playlist:
Antiphon: Que es ista
Song: Gabriel, fram heven-king
Carol: Ecce quod natura
Motet: Mater dei plena/Mater virgo pia/EIUS
Hé mere Diu/La virge Marie/APTATUR (Mo146)
Motet: Marie assumptio/Huius chori suscipe 
Canson: J'ai un cuer trop lait (solo: Jacqueline Horner)
Conductus: Ave maris stella
Conductus-Motet: O Maria virgo/O maria maris stella/[IN VERITATE]
Cantiga 340: Virgen madre groriosa (solo: Ruth Cunningham)
Motet: Ave regina celorum/Alma redemptoris mater/[ALMA]
Benedicamus domino: Claustrum pudicicie/Virgo viget/FLOS FILIUS
Carol-ballad: The Cherry Tree Carol English, 15th century; this version, Kentucky, 1917
Carol: A Virgin Unspotted William Knapp
American version, Wyeth's Repository of Music, Part Second, 1813
Carol: Judea William Billings
Fuging tune: Bethlehem William Billings
ENCORE: Beautiful Star of Bethlehem arranged by anonymous 4
More in: