Behind the Scenes of Daniela Mack's ROH Debut
Thursday, September 15, 2016 - 05:50 PM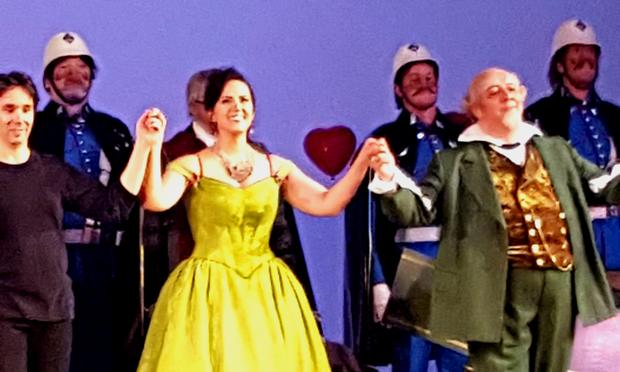 (Courtesy Royal Opera House)
Since 2009, American mezzo-soprano Daniela Mack has been traveling the world with her husband, tenor Alek Shrader, and daughter Eva, singing starring roles on opera stages. Most recently, she made her Covent Garden debut on Sept 13 as Rosina in Rossini's The Barber of Seville. We caught up with her in London to see how she planned for the big day.
My daughter Eva dictates the time that I wake up. Before she was born, my warming up process was very different because I would be quiet for most of the morning and then just do a little physical activity in the early afternoon. But with her, since I'm up in the morning and talking a lot, I find that my warm up is a little bit easier once I get to the theater — as long as I'm not screaming or doing baby voice too much.
Coffee is a big deal for me. I love coffee and I always have, but now it's kind of a necessity. I did give it up for a while a few years ago, and I was totally fine after the two weeks of headache. But I love the smell ... So there's this cool little coffee shop in my neighborhood. I always thought — and this is a total generalization — that England equals tea and tea houses, but this is a fairly new place. I drink lattes and cappuccinos. I like to lighten it up a bit.
There's something magical when you put a costume on I think. You've been creating this character for, I don't know how many weeks, and then you put the costume on and the makeup on and all of a sudden it's complete it's really a cool experience. I love not having to worry about how I look at all because it's all in the hands of other professionals who do their jobs very well. I just get to sit back and let it happen. The one thing about the costume that happens inevitably, that under the lighting it can get quite hot.
I travel with my iPad these days so I don't need to pack score upon score upon score. Most are available online, and if they aren't I just scan my own and that's what I did with this one because it had all my markings from before. I also have an Apple pencil — it's revolutionized the way I work. It's very very handy.
I make my entrance from underneath the stage. It's kind of a long trek, because this opera house is so huge. To get there one of the tech guys escorts me down and helps me into to the trap because it's small — I bumped my head the first time — you really have to crouch to get in there. It's one of those keep your arms and legs inside the vehicle moments, too. When the trap starts moving, I have to gather my skirts until I come up and everything's fine.
I really have done only pretty traditional shows of The Barber of Seville. In terms of aesthetic I would say that this is the most different, but I would love to do a totally off-the-wall weird one just for the sake of change — as long as it remains true to the opera. The thing about this production in particular is there's no playing anything for the audience, when no one's playing any gags or anything like that it's absolutely serious, which is a change from a lot of productions.
More in:
The WQXR e-newsletter. Show highlights, links to music news, on-demand concerts, events from The Greene Space and more.