Buke & Gase on Finding Perfect Musical Moments
This Mixtape originally streamed September 11, 2013
Wednesday, March 26, 2014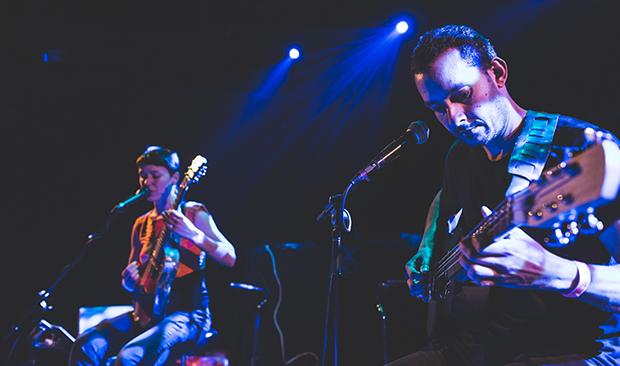 (Loren Wohl for NPR)
A Brooklyn-based duo that performs on instruments of their own design, Buke & Gase create an impressive amount of sound. Coloring "traditional technique" with pedals, amplifiers, foot percussion and various DIY inventions, members Arone Dyer and Aron Sanchez have developed a unique approach that's at once jolty pop and abrasive experimental music. The band performs tonight at 7:30 as part of the Ecstatic Music Festival.
Buke & Gase member Aron Sanchez writes the following of the band's Mixtape:
Living Music. Living Composers.

More
One of my professors at art school recommended Arvo Part's Tabula Rasa and I wore out this cassette on many late night work sessions. The second track on that album is like a pure emotive force, simple overlapping descending lines that hold enough power to affect emotional state. Similarly with Tim Hecker's Chimeras or Glass's The Unutterable, they demand attention not because they beat you over the head with an idea, rather they slowly reveal themselves over time and grab you. 
I'm including several pieces that I feel hold perfect musical moments: the main theme of the 3rd movement of Prokofiev's 5th Symphony, the dark and light contrast of Stravinsky's Spring Rounds, and the staccato section of Ravel's Quartet in F Major. These completely stop me in my tracks when I hear them.
I love how Reich's music translates to the guitar in Electric Counterpoint and this piece definitely influenced my approach to playing stringed instruments, both rhythmically and by attempting to do something unique with instruments as a process toward finding new music. Nancarrow has certainly done this with player pianos and I'm excited by the outcome of this craftsmanship.
As a big Gould fan I particularly enjoy these Schonberg and Krenek pieces.
Arone (my bandmate) is really into Satie, and the Cinquième Gnossienne. Modéré is amazing in how it seems to melodically rejuvenate itself as if it has no beginning or end. It's also just totally beautiful.
Playlist
Arvo Part - Cantus in Memory of Benjamin Britten (State Orchestra of Stuttgart; Dennis Russell Davies, conductor)
Sergei Prokofiev - Symphony No. 5, Op. 100: III. Adagio (Los Angeles Philharmoinc; André Previn, conductor)
Conlon Nancarrow - Study for Player Piano #22
Steve Reich - Electric Counterpoint: III. Fast (Pat Metheny)
Maurice Ravel -String Quartet in F Major: II. Assez vif. Très rythmé (Tokyo String Quartet)
Arnold Schoenberg- Suite for Piano, Op. 25: VI. Gigue (Glenn Gould)
Igor Stravinsky - The Rite of Spring: The Adoration of the Earth: Spring Rounds (Columbia Symphony; Igor Stravinsky, conductor)
Philip Glass - The Unutterable (Michael Riesman, conductor)
Ernst Krenek - Sonata for Piano No. 3, Op. 92, No. 4: IV. Adagio (Glenn Gould)
Erik Satie - Cinquième Gnossienne: Modéré (Daniel Varsano)
Tim Hecker - Chimeras
The WQXR e-newsletter. Show highlights, links to music news, on-demand concerts, events from The Greene Space and more.