Café Concert: Anne Akiko Meyers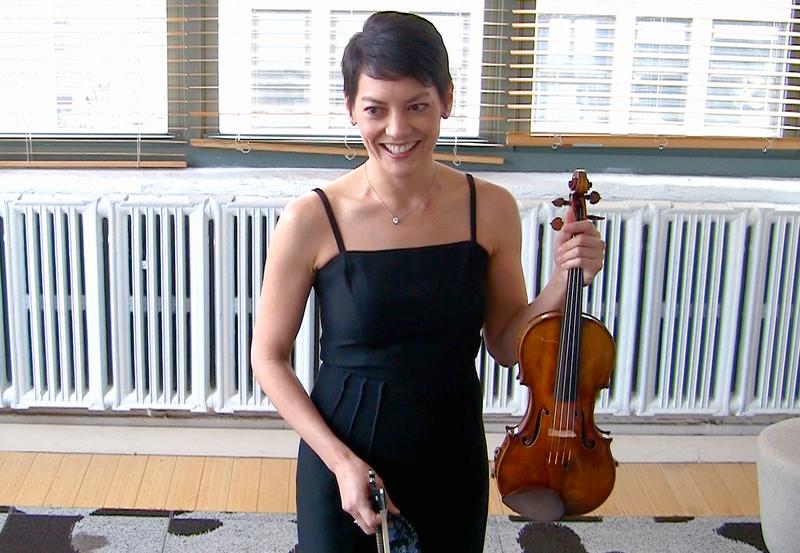 Anne Akiko Meyers plays a centuries-old Guarneri del Gesu violin once used by Itzhak Perlman, Henri Vieuxtemps and Yehudi Menuhin, but it doesn't reveal its beauty easily.
"It definitely doesn't play itself," Meyers said. "When you have such a powerful instrument you want to dig in deeper and soak in the juice. But with this instrument, almost less is more. It's counterintuitive.
"You have to really finesse it in a certain way," she added, noting how she is learning how to find the sweet spots and bring them out.
The 1741 Guarneri, known as the Vieuxtemps, was sold in 2012 for what was reported to be more than $16 million and its anonymous owner has loaned it to Meyers for life. She recently put the instrument to the test with a recording of Vivaldi's Four Seasons with the English Chamber Orchestra. Days after the album's release she brought the instrument to the WQXR Café to offer repertoire in a somewhat more unusual vein.
The internationally known Meyers, who is performing this spring with the Chicago Symphony and Orpheus Chamber Orchestra, demonstrated its lyrical qualities with an arrangement of Charlie Chaplin's "Smile."
One of the salient features of the Vieuxtemps is its enormous, rich sound, which Meyers attributes to its excellent state of preservation.
"It doesn't have one crack on it and it doesn't even have the normal sound post patch, which almost every violin has," Meyers explained. "And it's a muse for so many violin makers and violinists because nobody knows why it's in such pristine condition. And this condition has helped the sound of the violin just soar."
For one thing, the wood inside the violin was thicker, owing to the fact that previous owners did not alter it in a (misguided) attempt to draw out a deeper sound. Meyers added that the instrument had been mostly sitting under a bed for the past 50 years and as a result, "Even now, it's still growing." A Japanese folk tune arrangement revealed its tone in more virtuosic passagework.
Certainly, there has been ongoing debate over the relative merits of old and modern violins, and whether Guarneri and Stradivarius models are really better than the new ones. Blind tests have even suggested that experts couldn't tell the difference between the two. Meyers notes, however, that contemporary makers still look to the centuries-old instruments for inspiration and guidance.
"There was one Monet, there was one Picasso, there was one Guarneri del Gesu," she said. "We try to emulate these incredible makers but they were artists that were transcendent. It's so important to cherish these instruments as much as we can."
Below: Meyers introduces and performs the "Star-Spangled Banner."
Video: Amy Pearl; Sound: Norko Okabe; Text & Production: Brian Wise; Interview: Jeff Spurgeon