Dawn of Midi on Tightropes and Intelligible Shapes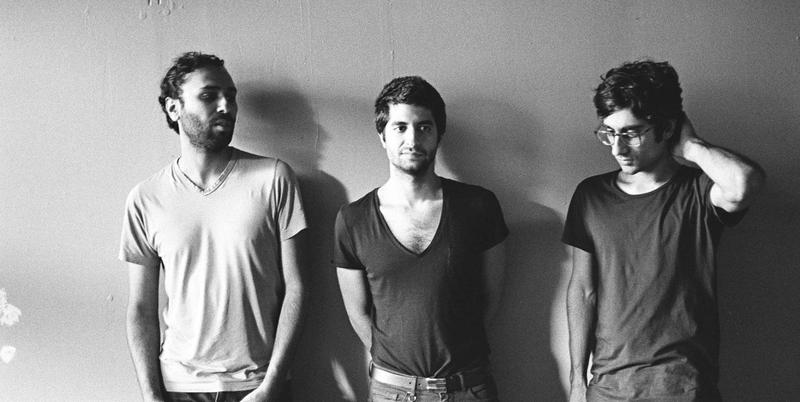 Though New York City's Dawn of Midi resembles a jazz trio, their mechanical, textured music has more in common with post-rockers Tortoise or the pensive electronica of Squarepusher than, say, Miles Davis. Blending elements of free jazz, IDM and contemporary classical with the occasional house beat, pianist Amino Belyamani, drummer Qasim Naqvi and bassist Aakaash Israni have developed a sound uniquely their own. Their latest album, "Dysnomia," was released in August last year and the trio performs at this month's Bang on a Can Marathon.
The members of Dawn of Midi write the following of their Mixtape:
Amino Belyamani
One of the hardest tasks as human beings is the comprehension of the chaotic structure in nature. The more rules and patterns one learns, the more you are repelled by them and want to break them. Some instead see through the chaos a gentle, unusual, yet intelligible shape, which is ubiquitous throughout all dimensions. This fractal can be felt, heard, and seen in these four pieces I have selected. 
Bela Bartok - Music for Strings, Percussion, and Celesta, BB 114: I. Andante tranquillo (Chicago Symphony Orchestra; Sir Georg Solti, conductor)
Olivier Messiaen - Vingt Regards sur l'Enfant- Jesus: V. Regard du Fils sur le Fils: Tres lent (Pierre-Laurent Aimard, piano)
Claude Debussy - Preludes Premier Livre: VI. Des pas sur la neige (Alexei Lubimov, piano)
Dmitri Shostakovich - String Quartet No. 2, Op. 68: III. Valse: Allegro (Pacifica Quartet)
Qasim Naqvi
Johnny Greenwood has a penchant for turning the orchestra into a broken machine.
This [Stravinsky's Orpheus: Pas de Deux] is one of my favorite and perhaps lesser known pieces by I.S. He always walks a tight rope between lightness and darkness and his ability to dynamically shift between these two spheres is unmatched.
When it comes to a symphony, Strauss 's power of orchestration is a great inspiration to me.
Takemitsu is one of the great self-taught composers of the 20th century. His sound is the perfect mash-up of European Impressionism and traditional Japanese Aesthetics. Hearing his music is like walking through a forest, encased in fog.
Jonny Greenwood - Proven Lands (BBC Concert Orchestra; Robert Ziegler, conductor)
Igor Stravinsky - Orpheus: Pas de Deux - Andante sostenuto (Royal Concertgebouw Orchestra; Neeme Jarvi, conductor)
Richard Strauss - Four Last Songs: Im Abendrot (Renee Felming, soprano; Houston Symphony Orchestra; Christoph Eschenbach, conductor)
Toru Takemitsu - Garden Rain (London Brass)
Aakaash Israni
Technically completed in December 1899, Nuages opens the door to the 20th century. Debussy's treatment of the orchestra as a 3 or 4 small chamber groups perforates what is normally a heavyset entity with air.
Ligeti beautifully demonstrated how the end of tonal writing did not necessarily mean the end of narrative, lyrical music.
Lang's extending a short verse through rhythmic repetions of each word while harmonizing in a baroque manner is such a beautfiul juxtaposition; it's like the glass pyramids at the louvre, it shouldn't have worked but it did and it's beautiful. 
What can be said about this [Feldman's Rothko Chapel]? One simply must listen.
Claude Debussy - Nocturnes: I. Nuages (Cleveland Orchestra; Pierre Boulez, conductor)
Gyorgy Ligeti - Etudes for Piano, Book 1: No. 5 Arc-en-ciel (Pierre-Laurent Aimard, piano)
David Lang - The Little Match Girl Passion: When It Is Time For Me To Go (Theatre of Voices; Paul Hillier, conductor)
Morton Feldman - Rothko Chapel: III. (UC Berkeley Chamber Chorus; Philip Brett, conductor)
*Not all compositions from the original streaming playlist appear on Spotify.