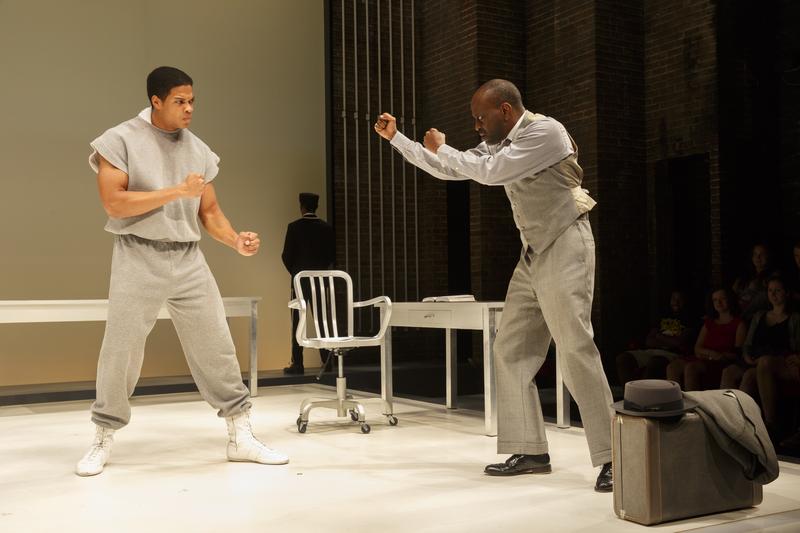 A relationship between two prominent African-Americans with markedly different profiles is at the heart of "Fetch Clay, Make Man," a new play by Will Power at New York Theater Workshop. The two central characters are the celebrated boxer Muhammad Ali, born Cassius Clay, and the actor Lincoln Perry, better known to the world as Stepin Fetchit.
Muhammad Ali and Stepin Fetchit are figures charged, respectively, with such positive and negative energy that they might as well be the two ends of a battery. Ali, born Cassius Clay, is an emblem of African-American power, perseverance, triumph, and grace; Fetchit, the vaudeville and film character created by actor Lincoln Perry, is a black stereotype of humiliation and degradation.
When playwright Will Power saw a photograph of Ali and Perry together, he wanted to know the occasion of their seemingly unlikely meeting. That photograph planted the seed of Power's new play, "Fetch Clay, Make Man,' which brings Ali and Perry together as Ali prepares for his 1965 rematch against heavyweight Sonny Liston. New York Times theater critic, Charles Isherwood, offers his reflections on the play and on the players who bring these iconic characters to life on stage. "Fetch Clay, Make Man" is now playing at the New York Theater Workshop.