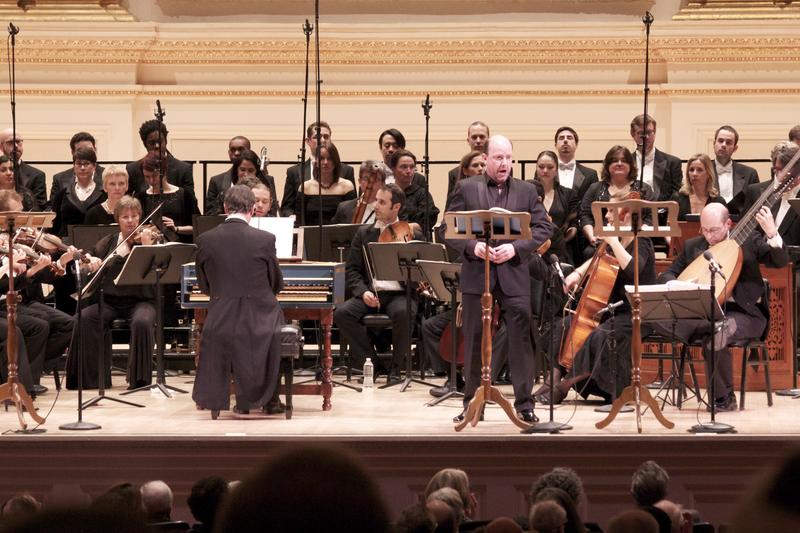 Last month, early-music specialist Harry Bicket came to Carnegie Hall with the English Concert for the latest installment in their Handel project—the rarely heard oratorio Theodora.
Tune in Sunday at 7 pm to hear that performance featuring an all-star lineup of soloists: soprano Dorothea Röschmann, mezzo-soprano Sarah Connolly, countertenor David Daniels, tenor Kurt Streit and bass-baritone Neal Davies.
On choral duties is the Choir of Trinity Wall Street led by Julian Wachner. (Read along with the libretto here.)
Theodora was "Handel's biggest flop and the piece he was most proud of," according to Bicket. But then one could look at other works that "perhaps didn't have such a great reception the first time around and we now appreciate as the masterpieces that they are." Bicket called it a social-political story, influenced by Thomas Paine, among other thinkers, and also an introspective work. Listen to the full interview:
Please note that, due to time constraints, two Act I arias were cut from this broadcast: "Bane of virtue, nurse of passions" (sung by Irene) and "Dread the fruits of Christian folly" (Septimius). Cuts were made in consultation with conductor Harry Bicket.
Performers
The English Concert
Harry Bicket, Artistic Director and Conductor
Dorothea Röschmann, Soprano (Theodora)
Sarah Connolly, Mezzo-Soprano (Irene)
David Daniels, Countertenor (Didymus)
Kurt Streit, Tenor (Septimius)
Neal Davies, Bass-Baritone (Valens)
The Choir of Trinity Wall Street
Julian Wachner, Director of Music and the Arts