Prepared Pianist Hauschka on Friends and Influences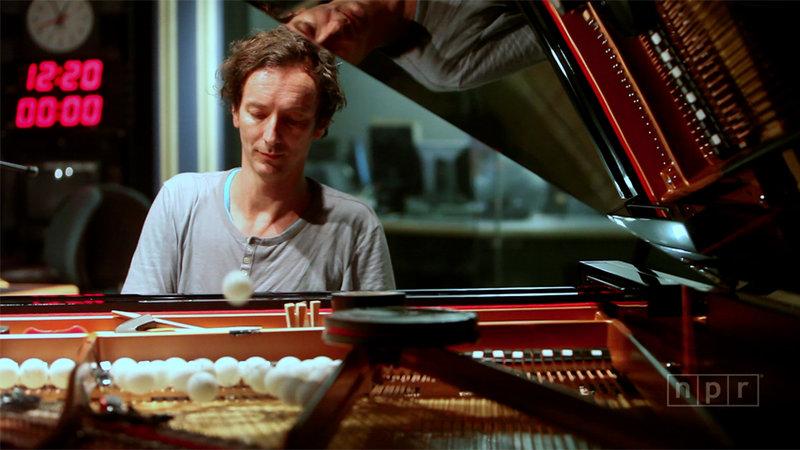 Berlin-based pianist and composer Volker Bertelmann, aka Hauschka, uses prepared piano as a vehicle for layered, mesmerizing improvisation-colored pieces that often incorporate electronic elements.
In addition to numerous solo releases, he's collaborated with violinist Hilary Hahn and producer Valgeir Sigurðsson. On April 15, Hauschka appears at Le Poisson Rouge with the ambient duo itsnotyouitsme and electroacoustic trio Sontag Shogun.
Hauschka writes the following of his Mixtape:
Rachel Grimes – The Herald
Rachel's music has always been interesting and creative, starting with her early band Rachel's, which was my first introduction to independent rock that incorporated classical elements.
John Tilbury – Trace
John Tilbury is a part of the improv duo AMM and simply a wonderful person. He actually premiered [English composer] Howard Skempton pieces at Dusseldorf, Germany's Approximation Festival.
Gregor Schwellenbach – Oxia's Domino (feat. Infansonido)
Two years ago, Gregor released a kind of homage to the great tech label Kompakt from Cologne/Germany. I am big fan of its releases and it was a pleasure to see that [electronic] music arranged for classical instruments.
Phyllis Chen – East Broadway
Phyllis Chen's 2010 performance at the Approximation Festival was one of my favorite performances: she made bold, experimental music out of glass bowls and toy piano.
Ben Frost & Daniel Bjarnason – Solaris: Saccades
Ben Frost is one of the guys I met quiet early in my Hauschka years. We played a festival in Italy together: he built a wall of sound out of a guitar and many amplifiers. With Daniel Bjarnason he's created a special world out of his drone-like soundscapes and classical influences.
My Brightest Diamond – "This is My Hand"
Shara Worden is My Brightest Diamond and she is one of the few singers that combines a kind of classical arrangement and singing with independent pop music.
Bryce Dessner – Little Blue Something (performed by Kronos Quartet)
Kronos Quartet and Bryce Dessner is a wonderful collaboration.
Cory Smythe – Blue Curve of the Earth (performed by Hilary Hahn)
Hilary Hahn is for me a very interesting and outstanding person: she creates her own artistic environment for growth and inspiration, which i think is important in our days where a lot of things are customized and similar worldwide.
Missy Mazzoli – Isabelle Eberhardt Dreams of Pianos (performed by Kathleen Supove)
I met Kathleen Supove for the first time in New York and I thought she was a very interesting person but seeing her live is another pair of shoes: her energy is outstanding and her repertoire is very inspiring. I like Missy Mazzoli's music, which is why I have chosen her composition.
Hildur Guttnadotir – Whiten
Hildur and I made a record together. Her dark cello music is for me always a pleasure to listen to as it pushes me into a different headspace.
Owen Pallett – Chorale
Owen Palett is definitely one of the most interesting musicians out there. He creates beautiful songs and compositions without ever losing his edge.

Gonzales – Freudian Slippers
The music of Gonzales is incredibly diverse, more so than nearly anyone I can think of. This new chamber pieces have an interesting mixture of pop elements.