Hospitality's Nathan Michel Shares Music for Man and Machine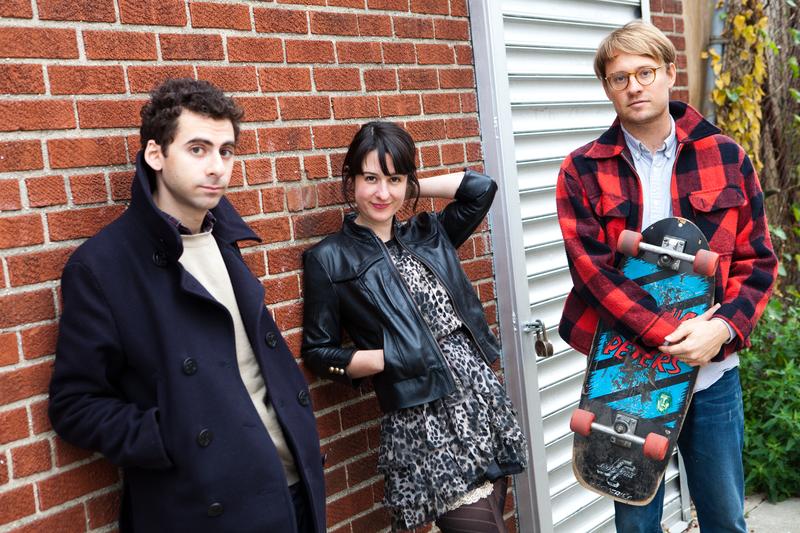 The music of Brooklyn-based trio Hospitality melds elements of pop, 60's psychedelia, post punk and dance music into a sound at once eclectic and invitingly accessible. Their latest album, "Trouble," was released this week and on Friday, they join youth ensemble Face the Music to kick off the 2014 Ecstatic Music Festival.
In addition to drumming for Hospitality, Nathan Michel composes and performs electronic music – he holds a PhD in composition from Princeton and has released numerous solo albums under his own name. Friday's Ecstatic Music performance will feature his new composition for string quartet. Given the duality of his "day job" and solo electronic work, Michels's Mixtape fittingly alternates music for man and machine.
Playlist
1. Louis Andriessen – Le Voile Du Bonheur
Louis Andriessen, the romantic. Actually, there's more Ravel in this one. And a little Bacharach in the B section. Written in 1971. Beautiful music and performance. (Louis Andriessen, piano ; Vera Beths, violin and voice)
2. Frank Zappa – The Beltway Bandits
I'm a sucker for this kind of Rube Goldberg machine music. Originally written on Synclavier for the Jazz From Hell album, this version of "Bandits" is an instrumental arrangement for Ensemble Modern. Filled with what Andriessen (by way of Stravinsky) calls the "right wrong notes." (Ensemble Modern; Jonathan Stockhammer, conductor)
3. Bernard Parmegiani – "Faire..." and "Défaire..." from Pour en finir avec le pouvoir d'Orphée
I only recently discovered Parmegiani. I've included the first two parts from his 1972 piece To end the power of Orpheus. These parts, translated, are called "Do..." and "Undo...." It takes him six minutes to "do" and two minutes to "undo." Not sure what that's all about. Pretty bad ass piece, though. It kind of sounds like Game of Thrones at the end.
4. Igor Stravinsky – Septet: 1. Quartet Note = 88
I wanted to get back to some instrumental music after the Parmegiani. In 1951, right after Schoenberg died, Stravinsky started messing around with serial techniques. The Septet is one of the first examples of this. The piece also has that mechanical music vibe I've been talking about, and Stravinsky's the king of "right wrong notes."
5. Gilius van Bergeijk – BAC (part 1)
And now we have some real mechanical music. Ever wonder what the Bach Double Concerto for Violin and Oboe would sound like if you cut the last beat of every bar off, and then played it on barrel organ? Dutch composer Gilius van Bergeijk gives the answer in this piece called, appropriately, BAC.
6. Mamoru Fujieda – Patterns of Plants (pattern IX)
Mamoru Fujieda hooked up electrodes to the leaves plants to observe "slight changes to the surface electric potential" in the plants (quote is from the liner notes; not sure exactly what it means). He then pumped the data into MAX and converted it to melodic patterns, which he notated for Koto. So it's like translating something about the plants into music. (Yoko Nishi, koto; Miki Maruta, 20-stringed koto, 17-stringed koto)
7. Morton Feldman – Routine Investigations
This piece is from my favorite Feldman period, in the 1970s, when Feldman was writing conventionally notated music, but before he became interested in the patterns and large scale forms of his late work. I can really hear a Beckett vibe in this piece: an instrument will go off on a long-winded statement, which is then met with an indifferent, staccato chord from the piano. It's as if the instruments are trying to communicate with each other, but not quite succeeding. (Ensemble Recherche)
8. Michael Nyman – The Draughtsman's Contract: Chasing Sheep is Best Left To Shepherds
I had to change it up a bit after the Feldman. More mechanical music. I'm a big Peter Greenaway fan. (Michael Nyman Band)
9. Captain Beefheart – Flavor Bud Living
Sweet guitar playing by Gary Lucas. There's a Thelonious Monk vibe to the harmony in this track (more "right wrong notes"), and an angularity to the rhythm. It ends with a Stravinsky-like question mark harmony. (Gary Lucas, guitar)
10. Daniel Lentz – O-KE-WA
Beautiful piece from 1974. I wanted to start winding it down with something you can live in and drift off with.
11. Scott Walker – Rawhide
This is how you disappear.