WQXR's Instrument Drive Ends With More Than 2,500 Donations
WQXR listeners were extra generous in helping to bring the station's 10-day instrument drive to a strong finale on Monday night. The drive has netted more than 2,500 instruments, smashing the initial goal of 1,000.
Along with scores of flutes, guitars and clarinets, there were numerous offbeat bequests: a xylophone, a Chinese pipa, several accordions and mandolins. Family heirlooms and never-used items arrived in equal number.
The end of the collection period marks the start of the next phase, of refurbishing the instruments and distributing them to music programs in New York City public schools. Sam Ash Music Stores and the Mr. Holland's Opus Foundation will continue to partner with WQXR in this process.
Graham Parker, WQXR's general manager, said he was surprised by the level of excitement behind the program. "I have been humbled by the personal stories that have accompanied many of the donations," he said. "It becomes very real for people to think of their once-used instrument making its way into the hands of a student who can create new memories."
At a time when news coverage about classical music has often been dominated by financial turmoil and audience troubles, the drive inspired a number of encouraging stories, in the New York Times, Wall Street Journal and in several television reports.
"It's amazing the memories and personal weight people put on these instruments," said Jeff Spurgeon, speaking on WNYC's Soundcheck. The show hosted a call-in segment in which listener "Lee" talked about donating an electric guitar he found in Central Park; another listener, "Hal," gave an electric keyboard that was a Christmas present from his ex-wife:


Social Media response was also encouraging, with a daily outpouring of Tweets, according to WQXR.org producer Kim Nowacki. Below is a small sampling:
Thanks to you, we've collected over 130 instruments for #NYC public school kids: http://t.co/LuKnmWrLfp #GiveMusicNYC pic.twitter.com/P13lfUIz3V

— 92nd Street Y (@92Y) April 6, 2014
Great fun at yesterday's @WQXR drop-off event! Today's the last day of the drive! #givemusicnyc #musiceducation pic.twitter.com/8MIa8nTELq

— Flutronix (@Flutronix) April 7, 2014
Added my old horn to this pile of used instruments @WQXR is collecting for NYC school kids! @WNYC #givemusicnyc pic.twitter.com/HFZOOkFjyl

— Sean Basinski (@SeanBasinski) April 7, 2014
Couldn't afford lessons/instrument as child so in light of #GiveMusicNYC I've donated my first bass to NY Pub Schools pic.twitter.com/P8WOZluM8z

— Martin Bashir (@MartinBashir) April 4, 2014
Music uplifts! Bring music to a kid's life. Donate your gently used musical instrument to @WQXR today! http://t.co/KvIc8HSkrM #GiveMusicNYC

— Bette Midler (@BetteMidler) March 31, 2014

WQXR will continue to provide updates on the collection and distribution process in the months ahead. Below is a slideshow of listeners donating instruments at Rosamund Bar & Grill in Williamsburg, Brooklyn on Sunday.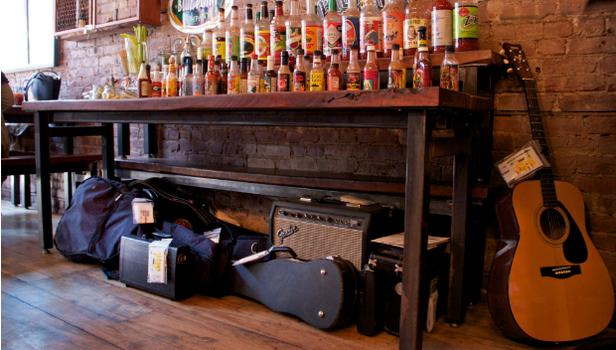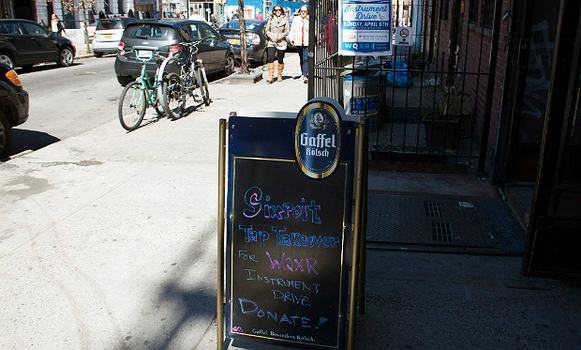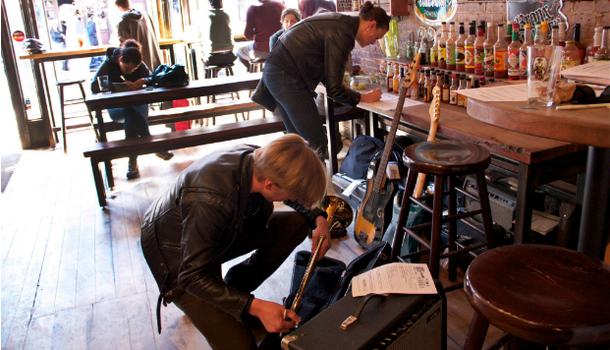 of