Jacob Cooper on Songs, Cycles & Lieder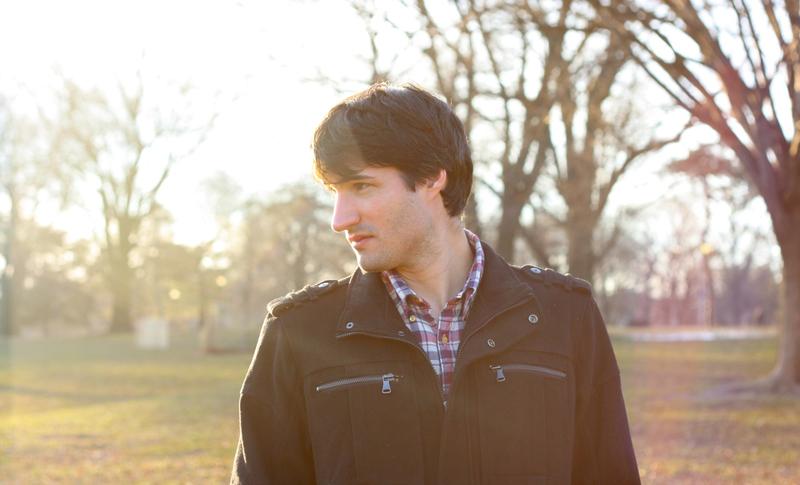 The music of composer Jacob Cooper draws omnivorously from the worlds of multimedia art installations, electroacoustic music, pop and contemporary classical. Silver Threads, Cooper's new song-cycle for electronics and soprano Mellissa Hughes was released this year on Nonesuch Records. Both Hughes and Cooper are featured in our Best of 2014 in New Music party in the Greene Space. Tickets are available now.
Jacob Cooper writes the following of his Mixtape:
In self-involved celebration of my Silver Threads album release this week, each of the selections on this mixtape is in some way a "song"—as in, a composition for the voice. Traditional lieder bookend the set: First we have an excerpt from Beethoven's An Die Ferne Geliebte, which seemed a fitting launch point, as the opus is often cited as originating the whole concept of the integrated song cycle. I've always loved the second song in the set for its second verse, where the melody (sung here by Matthias Goerne) lingers on a single pitch for the entire stanza, with the text "stilled are suffering and sorrow." At the mixtape's close, we circle back to a traditional lied with Schumann's Mondnacht from his Eichendorff Liederkreis (Barbara Bonney sings) to hear the sky "silently kiss the earth."
But fear not, fellow new music nerds, everything in between is much more recent! After the Beethoven, the next five works are all by contemporary "composers" (four young, one recently deceased) and all, to varying degrees, owe a debt to popular songwriting. Robert Ashley's opera Dust concludes with four beautiful numbers (including "Don't Get Your Hopes Up") that are arguably closer to pop songs than anything else he wrote.
Corey Dargel is one of the most successful challengers to the performer-composer/singer-songwriter boundary, and I really love this song from his Hold Yourself Together cycle, which will be released by New Amsterdam soon. Nico Muhly's The Only Tune recruits singer Sam Amidon to help fluidly merge "classical" timbres and form with folk melodies and instruments. Du Yun's "Stay" is from her totally whacky and awesome album Shark in You, which is worlds different from some of her works for traditional classical ensembles. Like Du Yun, Maja Ratkje is a composer-vocalist who brings a pop immediacy to much of her work while simultaneously indulging in the experimental.
The next two songs are by artists whose work is otherwise usually instrumental. The German group Oval became famous in the '90's for helping invent glitch music, with extended composition built out of skipping compact discs and the like, but their debut album also boasts some more traditional songs, including the ethereal Allesin Gedanken. "Homesick" is on DJ Koze's latest release, and I love how it reminds me of Simon and Garfunkel's "Homeward Bound," but is so much hipper than that.
Following this are two songs that are "covers" of a sort. Fennesz takes on the Beach Boys' "Don't Talk (Put Your Head On My Shoulder)," dismembering the tune with his distinctive crackles and pops. Little of the original work is recognizable (and, having ditched the voice, this technically isn't a song), but Fennesz does retain the idea of a two-chord vamp at the end, and to great effect. Carl Stone's Shing Kee is a kind of cover because it is built around a sample of Schubert's "Der Lindenbaum" (sung by a Japanese pop singer in English). Stone essentially applies two consecutive processes in the piece: incrementally expanding from a microsample to a phrase, and then, starting around 8:30, incrementally slowing a three-second phrase way down. I'm always humbled when I remember that Stone created this piece way back in the '80's.
The category for the remaining two pieces is, well, "Russian." "Play Skomoroshek" is technically a choral piece—I came across it on an album featuring Russian folk tunes that Stravinsky reportedly listened to while writing Les Noces, and was immediately blown away by its vibrancy and (to my Western-centric ears, at least) its individuality. Mussorgsky's "Darling Savishna" takes us back towards the world traditional lieder, but features a brusque vocal style (Sergey Yakevenko performing) that is undeniably Mussorgskian and far removed from what we hear in the earlier German songs. 
Playlist
Beethoven – An Die Ferne Geliebte, Op. 98: II. Wo Die Berge So Blau
Robert Ashley – "Don't Get Your Hopes Up," from Dust
Corey Dargel – "Do You Have Any Reactions At All," from Hold Yourself Together
Nico Muhly, with Sam Amidon – The Only Tune, Pt. 3
Du Yun – "Stay," from Shark in You
Maja Ratkje – Intro
Oval – Allesin Gedanken
DJ Koze, with Ada – Homesick
Fennesz – Don't Talk (Put Your Head on My Shoulder)
Carl Stone – Shing Kee
Trad'l Russian – Play, Skomoroshek
Mussorgsky – Darling Savishna
Schumann – Liederkreis, Op. 39: Mondnacht