The Living Earth Show on Progressive Heroes
Mixtapes streams Wednesdays at 3 pm and Saturdays at 8 pm on Q2 Music
Wednesday, June 03, 2015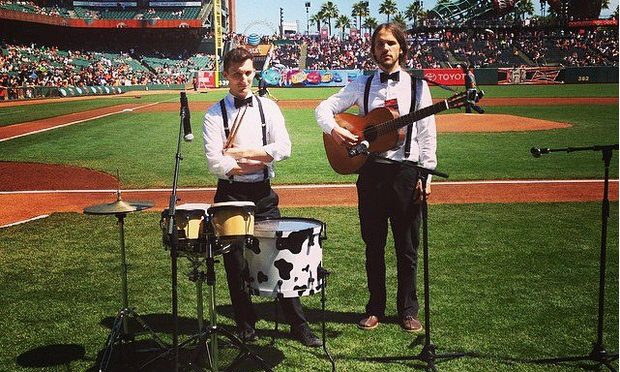 (Courtesy of the artist)
Living Music. Living Composers.

More

The Living Earth Show is a San Francisco-based extreme new-music duo and rhythm section for hire. Comprised of guitarist Travis Andrews and percussionist Andrew Meyerson, the band has commissioned works by Ted Hearne Adrian Knight and Ken Ueno. Their Mixtape highlights oppression-fighting, musical activists from John Luther Adams to Julius Eastman.
The Living Earth Show writes the following of its Mixtape:
[The Artists On This Playlist] Can Be Your Heroes, Baby
When WQXR was nice enough to contact us and ask us for a playlist of classical music we liked, we were admittedly having something of a crisis of faith about our art form. We've been dismayed to find that all too often, we classical musicians and the institutions in which we exist function in the service of predatory capitalism and colonialism, systems of oppression responsible for genocide, sexism, racism, and environmental destruction on a global scale.
We'll take money from anyone, regardless of how that money was acquired or the damage to the world that came with its acquisition. We'll celebrate "glamor," "high culture," and other racist, classist, gendered systems of exclusion. We'll fetishize the 19th century, without the historical context of that century's colonialist and capitalistic violence and the lingering effects of it today. We'll champion Christian hymnody as the foundation of our art form without recognition of the myriad ways in which that music has historically been weaponized by missionaries as colonial tools of genocide and suppression, notably of indigenous populations. We'll pride ourselves in our exclusivity, celebrating and perpetuating barriers of entry rather than breaking them down.
All that said, we still firmly believe that classical art music has the capacity to be one of the most powerful forms of creative expression humans can produce. The artists on this playlist give us faith in the art form, and are making some of the most moving, vital, and important art we've ever heard. They are also directly fighting these systems of oppression by creating equally virtuosic work in musical composition and activism. For us, they represent a response to and a recontextualization of classical music's oft-problematic history and status quo. Hopefully, they represent the future of the art form as well.
Playlist
Beast Nest – Judgement//Rebirth
Postcommunity – Chacoma
Diamanda Galas – Confessional (Give Me Sodomy Or Give Me Death)
Black Spirituals – BODY
Tanya Tagaq – Fracking
M. Lamar – Trying To Leave My Body
John Luther Adams – Drums of Winter
Raven Chacon – Hastaa'
Julius Eastman – Gay Guerrilla
*Not all of this Mixtape appears on Spotify. To hear Mixtapes in their entirety, as the artists intend them to be heard, listen Wednesdays at 3 pm and Sundays at 8 pm.
The WQXR e-newsletter. Show highlights, links to music news, on-demand concerts, events from The Greene Space and more.