March Madness: The Maddest Scenes in Opera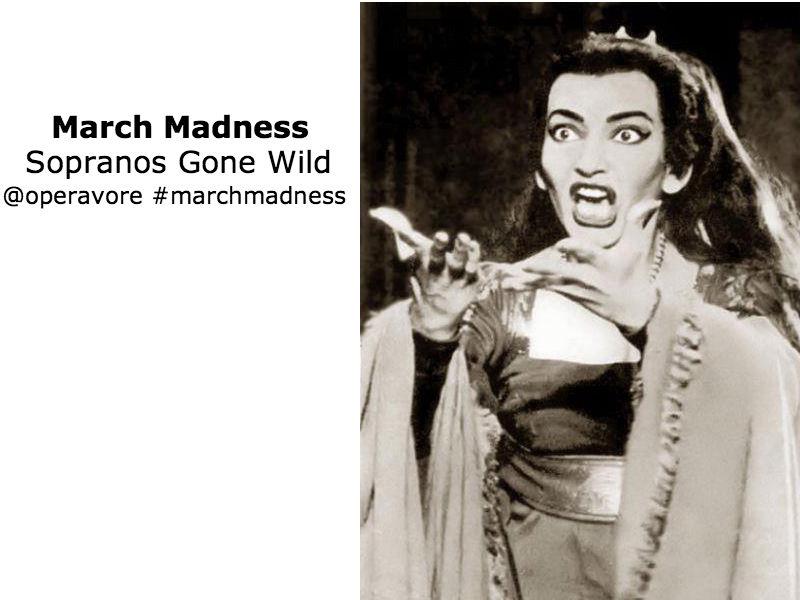 • Listen to the Operavore stream
It's the March Madness Matinee. This week March Madness comes to Operavore with a full length opera every day at 2 pm on the Operavore Stream. 
We aren't talking about tall men, three point shots, and slam dunks. We are talking about women, high notes and drama: Lucia's breakdown in "Il dolce suono…Spargi d'amaro pianto" and Opheliée's unraveling in Hamlet ("Pale et blonde"), or Strauss Elektra— basically one long mad scene in itself. So, are you ready to hear some sopranos gone wild?
Check out the schedule below (and consult the playlist for full times and cast details). Also, let us know what your favorite mad scene is in the comment box below.
Monday:
Idomeneo
Wolfgang Amadeus Mozart
Idomeneo: Placido Domingo
Idamante: Cecilia Bartoli
Elettra: Carol Vaness
Arbace: Thomas Hampson
Gran Sacerdote di Nettuno: Frank Lopardo
La Voce: Bryn Terfel
Due Cretesi: Joyce Guyer
Due Troiani: Paul Groves
The Metropolitan Opera Orchestra and Chorus
Conducted by James Levine

Tuesday:
Hamlet
Ambroise Thomas
Hamlet: Sherrill Milnes
Ophélie: Joan Sutherland
Claudius: James Morris
Gertrude: Barbara Conrad
Läerte: Gösta Winbergh
Marcellus: Keith Lewis
Horatio: Philip Gelling
Le Spectre: John Tomlinson
Polonius: Arwel Huw Morgan
Premier fossoyeur: Peyo Garazzi
Second fossoyeur: Joseph Rouleau
Orchestra and Chorus for the Welsh National Opera
Conducted by Richard Bonynge
Wednesday:
I Puritani
Vincenzo Bellini
Elvira: Joan Sutherland
Arturo Talbo: Luciano Pavarotti
Riccardo: Piero Cappuccilli
Giorgio Valton: Nicolai Ghiarov
Chorus of the Royal Opera House
London Symphony Orchestra
Conducted by Richard Bonynge
 
Thursday:

Lucia di Lammermoor
Gaetano Donizetti
Lucia: Maria Callas
Edgardo: Giuseppe di Stefano
Enrico: Tito Gobbi
Arturo: Raffaele Arié
Alisa: Anna Maria Canali
Normanno: Gino Sarri
Orchestra e Coro del Maggio Musicale Fiorentino
Conducted by Tullio Serafin
Friday:
Candide
Leonard Bernstein
Candide: Jerry Hadley
Cunegonde: June Anderson
Dr. Pangloss/Martin: Adolph Green
Old Lady: Christa Ludwig
Governor/Vanderdendur/Ragotski: Nicolai Gedda
Paquette: Della Jones
Maximilian/Captain: Kurt Ollmann
London Symphony Orchestra
Conducted by Leonard Bernstein