Month of Mozart Specials on the Operavore Stream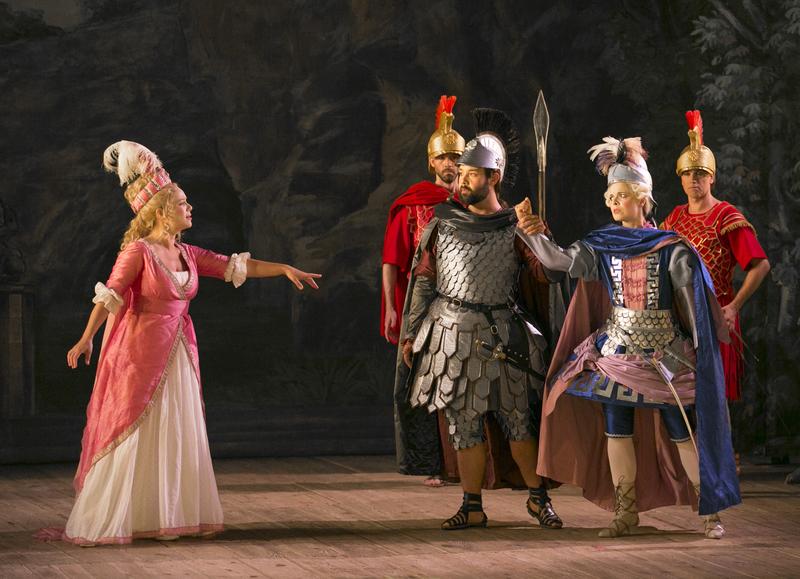 As WQXR devotes November to life and career of Mozart, the Operavore stream will present a wide assortment of the composer's vocal works including his pivotal operas.
The festivities kick off with an all-Mozart day on Friday, Nov. 1. Throughout the month, we'll feature full-length Mozart opera recordings from the world's top companies and orchestras. The stream will have complete operas each weekday, and on "Wall-to-Wall Wednesdays," the stream will feature Mozart operas exclusively.
Below is the full monthly calendar. On non-marathon days, the daily Mozart opera will be heard at 1 pm.
| | | |
| --- | --- | --- |
| Nov. 4 | La finta Giardiniera | Concentus Musicus Wien/Harnoncourt  |
| Nov. 5 | Figaro | Vienna Philharmonic /Karajan |
| Nov. 7 | Magic Flute | Academy of Anciet Music/Jacobs |
| Nov. 8 | Cosi fan tutte | Berlin Philharmonic/Barenboim |
| Nov. 11 | Lucio Silla | Concentus Musicus Wien/Harnoncourt  |
| Nov. 12 | Don Giovanni | Scottish Chamber Orchestra/Sir Charles Mackerras |
| Nov. 13 | FIGARO MARATHON | |
| Nov. 14 | Abduction from the Seraglio  | Les Arts Florissants/William Christie  |
| Nov. 15 | Magic Flute  | German Symphony Orchestra/Fricsay |
| Nov. 18 | Don Giovanni  | New Philharmonia Orchestra/Klemperer |
| Nov. 19 | Idomeneo | English Baroque Soloist/John Eliot Gardiner |
| Nov. 20 | MAGIC FLUTE MARATHON | |
| Nov. 21 | Figaro | London Philharmonic/Solti  |
| Nov. 22 | Ascanio in Alba | Concerto Armonico/Jacques Grimbert |
| Nov. 25 | Cosi fan tutte | Philharmonia Orchestra/Bohm |
| Nov. 26 | Il re pastore | Concentus Musicus Wien/Harnoncourt  |
| Nov. 27 | DON GIOVANNI MARATHON  | |
| Nov. 28 | Mitridate  | Les Talens Lyriques/Christophe Rousset |
| Nov. 29 | Figaro | Concerto Koln/Rene Jacobs |
Marathon Programming:
All-Mozart Day Friday, November 1
 
Die Entfuhrung aus dem Serail
 
Selim – Hans-Peter Minetti
Belmonte – Stanford Olsen, tenor
Konstanze – Luba Orgonasova, soprano
Blonde – Cyndia Sieden, soprano
Pedrillo – Uwe Peper, tenor
Osmin – Corenlius Hauptmann, bass
 
The Monteverdi Choir
The English Baroque Soloist
Sir John Eliot Gardiner, conductor
 
Die Zauberflote
 
Tamino – Nicolai Gedda, tenor
Pamina – Gundula Janowitz, soprano
Papageno – Walter Berry, baritone
Konigin der Nacht – Lucia Popp, soprano
Sarastro – Gottlob Frick, bass
Sprecher – Franz Crass, bass
Erste Dame – Elisabeth Schwarzkopf, soprano
Zweite Dame – Christa Ludwig, mezzo
Dritte Dame – Marga Hoffgen, contralto
Monostatos – Gerhard Unger, tenor
 
Philharmonia Chorus
Philharmonia Orchestra
Otto Klemperer, conductor
 
Mitridate
 
Mitridate – Giuseppe Sabbatini, tenor
Aspasia – Natalie Dessay, soprano
Sifare – Cecilia Bartoli, mezzo
Farnace – Brian Asawa, countertenor
Ismene – Sandrine Piau, soprano
Marzio – Juan Diego Florez, tenor
Arbate – Helene Le Corre, sorano
 
Les Talens Lyriques
Christophe Rousset, conductor
 
Cosi fan tutte
 
Fiordiligi – Renee Fleming, soprano
Dorabella – Anne Sofie von Otter, mezzo
Ferrando – Frank Lopardo, tenor
Guglielmo – Olaf Bar, bass
Despina – Adelina Scarabelli, soprano
Don Alfonso – Michele Pertusi, bass
 
London Voices
Chamber Orchestra of Europe
Sir Georg Solti, conductor
 
Idomeneo
 
Idomeneo – Placido Domingo, tenor
Idamante – Cecilia Barolti, mezzo
Ilia – Heidi Grant Murphy, soprano
Elettra – Carol Vaness, soprano
Arbace – Thomas Hampson, baritone
Gran Sacerdote di Nettuno – Frank Lopardo, bass
La voce – Bryn Terfel, baritone
Due Cretesi – Jane Bunnell, mezzo; Joyce Guyer, soprano
Due Troiani – Paul Groves, tenor; Yanni Yannissis, baritone
 
The Metropolitan Opera Orchestra and Chorus
James Levine, conductor
 
Don Giovanni
 
Commendatore – Martti Talvela, bass
Don Giovanni – Dietrich Fischer-Dieskau, baritone
Don Ottavio – Peter Schreier, tenor
Donna Anna – Birgit Nillson, soprano
Donna Elvira – Martina Arroyo, soprano
Leporello – Ezio Flagello, bass
Masetto – Alfredo Mariotti, bass
Zerlina – Reri Grist, soprano
 
Czech Philharmonic Chorus
Prague National Theatre Orchestra
 Karl Bohm, conductor