A Musical Thanksgiving Day Parade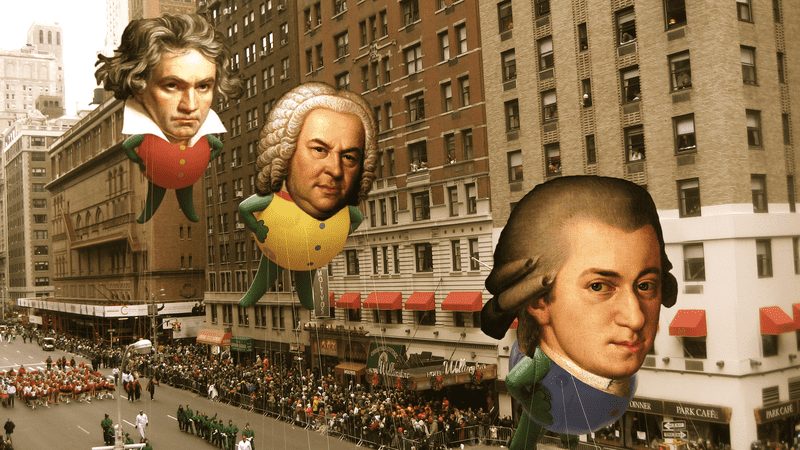 The feast is almost ready, he table is set, the company is coming and all you need is the perfect soundtrack for a happy (and hopefully civil) Thanksgiving. Let WQXR take care of that.
From the time you put the bird in the oven in the morning to when the last relative nods off in front of the TV, we will have the giant composers of classical music parading through your radio all day long. Our Thanksgiving Day musical parade is the perfect accompaniment to food, family and football, so turn it on and leave it on all day.
Here's the musical parade schedule. All times are approximate.
7:30 am — J.S. Bach's Brandenburg Concerto No. 4 in G, BWV 1049
8:07 am — Haydn's Cello Concerto in D Major
8:36 am — Tchaikovsky's Swan Lake Suite
9:22 am — Mozart's Symphony No. 41 in C, K. 551, "Jupiter"
10 am — Rimsky-Korsakov's Scheherazade
10:50 am — Schubert's Piano Quintet in A, Op. 114, D. 667, "The Trout"
11:29 am — Copland's Rodeo
12:11 pm — Dvorak's Symphony No. 9 in E Minor, "From the New World"
12:58 pm — Beethoven's Piano Concerto No. 5 in E-Flat Major, Op. 73, "Emperor" 
1:37 pm — Bernstein's "Symphonic Dances" from West Side Story
2:19 pm — Mussorgsky's "Pictures at an Exhibition"
3:37 pm — Gershwin's "Rhapsody in Blue"
4:10 pm — Brahms' Symphony No. 2 in D, Op. 73
5 pm — Copeland's "Appalachian Spring"
5:43 pm — Debussy's Children's Corner Suite 
6 pm — Beethoven's Symphony No. 5
7:18 pm — Tchaikovsky's Violin Concerto in D, Op. 35