Opening Concert: New York Philharmonic with Evgeny Kissin
Wednesday, October 07, 2015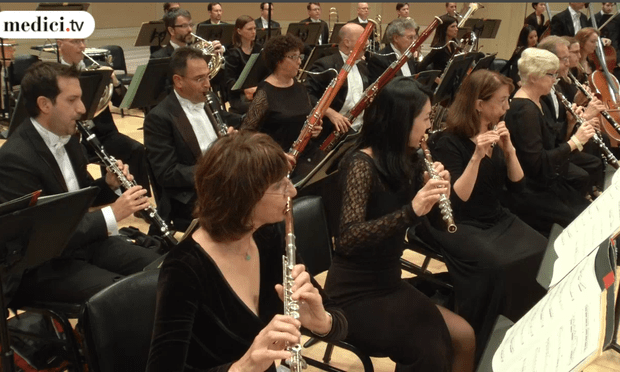 (Medici.TV)
On Wednesday, Oct. 7, WQXR brought you Carnegie Hall's opening-night gala concert featuring the New York Philharmonic, led by Alan Gilbert. Listen to the full broadcast at the top of this page.
The concert opened with the premiere of Magnus Lindberg's Vivo. Subtitled "Concert Opener for Orchestra," the piece is described by the composer as "definitely linked to [Ravel's] Daphnis et Chloé … [a] score which I love so much." The program appropriately ended with the Suite No. 2 from Ravel's impressionistic ballet score.
Tchaikovsky's First Piano Concerto, the middle work on the program, is a cornerstone of Evgeny Kissin's repertoire. The program helped kick off a "Perspectives" series that Kissin is organizing this year at Carnegie.
Program:
New York Philharmonic
Alan Gilbert, Music Director and Conductor
Evgeny Kissin, Piano
MAGNUS LINDBERG Vivo (World premiere, co-commissioned by Carnegie Hall)
TCHAIKOVSKY Piano Concerto No. 1
RAVEL Daphnis et Chloé Suite No. 2
---
More about this program
By Brian Wise
To open its 125th season, Carnegie Hall is bringing back the New York Philharmonic, an orchestra that presided there from 1891 until 1962 in more than 5,000 concerts — the most of any ensemble in the venue's storied history.
The program, which WQXR and NPR Music will broadcast Wednesday at 7 pm, features Tchaikovsky's First Piano Concerto — a piece the composer himself conducted during the hall's five-day inaugural festival in 1891. Joining the Philharmonic is Evgeny Kissin, a pianist who made his Carnegie Hall debut 25 years ago, at age 18, and who still draws intensely loyal, even rabid, fans to his recitals there.
But the gala concert is not all retrospective. It opens with the world premiere of Finnish composer Magnus Lindberg's Vivo, one of 125 new works the hall is unveiling over the next five seasons. Concluding the evening is Ravel's Daphnis et Chloé Suite No. 2, music Lindberg had in mind while writing his own.
The Philharmonic's ties to West 57th Street go back to 1887 when Walter Damrosch, the conductor of the New York Symphony Society, met steel magnate Andrew Carnegie on board a ship to Europe. Damrosch made his pitch for a new building. "The city very much needed a hall for orchestral playing," says Barbara Haws, the Philharmonic's chief archivist. "Fast-forward a couple years and lo and behold, here's this great hall."
The inaugural concert, on May 5, 1891, featured Damrosch leading the Symphony Society. In 1928 the orchestra merged with its better-regarded rival — the Philharmonic Society of New York, founded in 1842 — into what we know today as the New York Philharmonic. It eventually left for Lincoln Center in 1962 though it has returned periodically since, most recently in 2011 (a planned merger between the Philharmonic and Carnegie in 2003 fell through).
Kissin brings his own ties to both Carnegie and the Philharmonic — he made his U.S. debut with the orchestra in 1990. It also doesn't hurt that he embodies a Russian Romantic tradition that is well-suited for the Tchaikovsky concerto. This concert begins a season-long Perspectives series featuring Kissin, in which he will give recitals, recite Yiddish poetry and play chamber music.
We asked listeners to share their thoughts during the broadcast using #CHLive. Here is a collection of those tweets and photos:
The WQXR e-newsletter. Show highlights, links to music news, on-demand concerts, events from The Greene Space and more.