Paula Matthusen on Sounds, Artists & Americans in Rome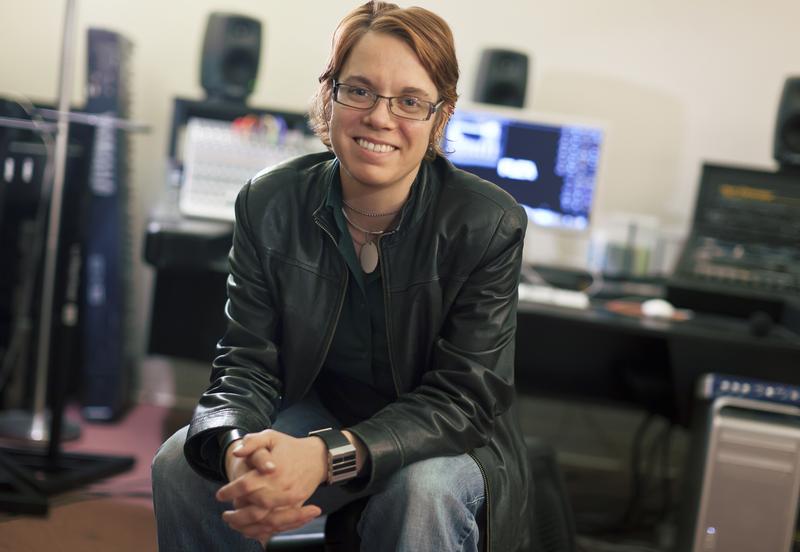 The New York composer Paula Matthusen is a 2014 winner of the Rome Prize, a fellowship which allows her to study at the American Academy in Rome. She's collaborated with a slew of American and European ensembles, including Alarm Will Sound, International Contemporary Ensemble and the Estonian National Ballet. She's also on faculty at Wesleyan University.
She writes the following of her Mixtape:
In the past two months I've had the good fortune to work at the American Academy in Rome, where I've come in contact with a wide range of composers and artists, each of whom work with sound and music technology idiosyncratically. Each of the tracks featured as part of this Mixtape draw from this diverse group of artists' work, using the varying connections to Rome as a starting point. Intriguingly, each of the pieces featured involves some contact with electronics, electronic instruments, or both, though the manifestations of these relationships vary widely.
Andy Akiho (Luciano Berio Fellow in Composition) begins this mix with his darkly playful and virtuosic piece for snare drum and electronics (performed by Chris Lamb). The electronics derived from Apple's Text to Speech modules, in this case "Vicki," rhythmically trip and jockey with the snare drum, each sounding equally communicative and glitchy.
Chaya Czernowin will be coming to the Academy later this year as the Paul Fromm Composer in Residence. "The Memory of Water" is the middle movement from her stunning large-scale work, Maim. The entire work for is orchestra, live-electronics, and five soloists. The actions of water (droplets, gushes, freezing, etc.) are spectrally analyzed and transcribed for this striking instrumentation, creating differing layers of color and density.
I was excited to learn that one of the fellows this year in visual arts, filmmaker Cynthia Madansky, collaborates regularly with stellar composers, performers, and improvisers, two of which are Zeena Parkins and Ikue Mori. Elle is a  16mm dance film with music composed by Parkins and choreography by Katy Pyle and Eleanor Hullihan. The piece, briefly described, is about "every day movements of falling and getting up" and was filmed along the Gowanus in Brooklyn. The alluring instrumental sections are striking as they emerge from ambient sounds. Ikue Mori's film score for Dear, shot on Super 8 film, presents a crystalline sonic world, both intriguing and inviting. The film features the interior world of two young Chinese girls in New York City, whose diary entries reveal their concerns related to growing up as immigrants amidst the ever-gentrifying landscape of Chinatown.
Recently, Andy and I have been inviting colleagues here and friends passing through town to perform in bite-size, informal concerts – what we playfully call Rustik Haus Musik, as our studios are in the complex known as Casa Rustica. We were both excited that filmmaker, live-electronicist, and fellow in the visual arts Abinadi Meza recently agreed to perform Machine to Sea as part of this series, and an excerpt of this live performance is featured as part of this mix. Meza draws many of his sounds from physically interacting with his laptop, using the internal mic of the computer to generate feedback while he scrapes and drops various materials across its surface.
In terms of physical performance and live-electronics, seeing live-electronics guru, longtime Rome-insider, and founding member of Musica Elettronica Viva, Alvin Curran perform earlier this year at the 90dB festival was revelatory. Intense and playful, the music was a wild ride that kept the audience perpetually on the edge of their seats. I am so grateful that he has contributed this version of an older piece, The Works, for this Mixtape. Curran began by playing on Czech composer Leoš Janáček's piano at his home in Brno, which was fairly well out of tune, and then processed "beyond recognition" electronically. The electronic textures accumulate and recede, drawing its colors from the detuned instrument.
The mix continues with some pleasantly dark, ambient, layered vocals in Telos from Lykanthea. At the Academy, Lykanthea is also known as Lakshmi Ramgopal, and her work in ancient studies has her studying Roman merchant communities living beyond the Italian peninsula. Ramgopal trained as a Carnatic vocalist as a child and eventually added to her vocal practice with the guitar, synth, and looped samples. Telos comes from a recent cassette release of the album "Migration."
Returning to the theme of water, for which Rome is famous, the mix finishes with a brief field recording from Bill Fontana, who passed through Rome recently to install his beautiful sound installation Sonic Mappings, which opened recently at the MAXXI as part of their sound art exhibition "Open Museum Open City." The installation, as well as this excerpt, features recordings conducted inside the Aqua Virgo, the only of the eleven ancient aqueducts of Rome that has run continuously and feeds the Trevi Fountain. More full-length recordings, both of the original recordings and of the installation are available through http://www.resoundings.org.
Playlist
Andy Akiho – Stop Speaking (2011)
Chaya Czernowin – The Memory of Water [from Maim, mvt. 2] (2010)
Zeena Parkins – Elle [from film dir. by Cynthia Madansky] (2007)
Ikue Mori – Dear [from film dir. by Cynthia Madansky] (2014)
Abinadi Meza – Machine to Sea (live excerpt) (2014)
Alvin Curran – The Works (1979)
Lykanthea – Telos (2014)
Bill Fontana – Sonic Mappings [excerpt] (2014)