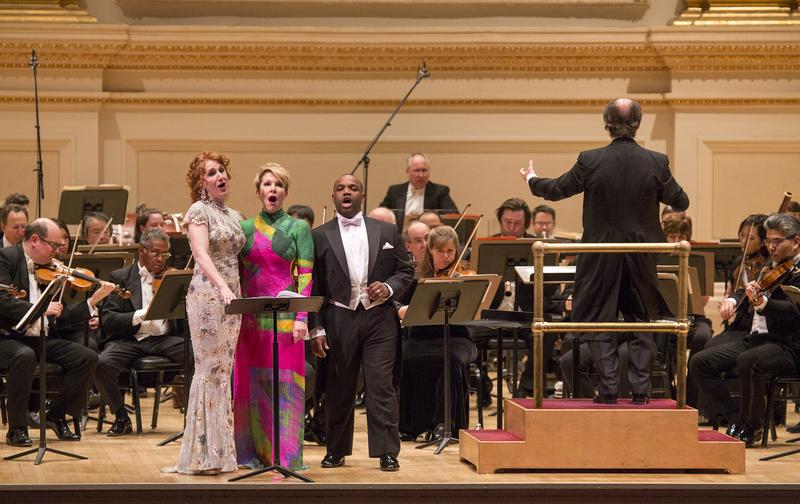 Every Tuesday night, we're re-broadcasting a concert from the 2014-15 season of Carnegie Hall Live. Tonight at 9 pm, hear the Philadelphia Orchestra along with a powerhouse cast of opera singers – mezzo-soprano Joyce DiDonato, soprano Laura Claycomb and tenor Lawrence Brownlee – in an evening of bel canto arias, scenes and orchestral selections. Claycomb replaced Nicole Cabell, who has cancelled due to illness.

The musical focus of the evening combines explosive vocal fireworks, soaring melodies and sprightly orchestral textures. Music from Donizetti's Maria di Rohan and L'elisir d'amore, Bellini's I Capuleti e i Montecchi, and Rossini's Zelmira will be performed, along with other pieces. The program marks the conclusion of DiDonato's season-long Carnegie Hall Perspectives series.


Note: Due to artist permissions, Rossini's Overture to Aureliano in Palmira is not included in the archived broadcast.

WQXR's Jeff Spurgeon and soprano Deborah Voigt co-host the broadcast. Listen to Spurgeon's interview with DiDonato:

 

Program Details (with select arias for on-demand listening):

The Philadelphia Orchestra
Maurizio Benini, Conductor
Joyce DiDonato, Mezzo-Soprano
Lawrence Brownlee, Tenor
Laura Claycomb, soprano


ROSSINI Overture to Aureliano in Palmira (*Not included in archived broadcast)
CARAFA "L'amica ancor non torna ... Oh, di sorte crudel" from Le nozze di Lammermoor
DONIZETTI "Una furtiva lagrima" from L'elisir d'amore


DONIZETTI "Prendi, per me sei libero" from L'elisir d'amore
PACINI "Ove t'aggiri, o barbaro" from Stella di Napoli
BELLINI "Oh! quante volte" from I Capuleti e i Montecchi
BELLINI "Oh! mia Giulietta" from I Capuleti e i Montecchi
DONIZETTI "La maîtresse du roi... Ange si pur" from La favorita
ROSSINI "Reidi al soglio" from Zelmira

 

We asked you to share your thoughts during the concert on Twitter and Instagram using the hashtag #CHLive. Below is a collection of your tweets and photos.