Spektral Quartet's Point of Entry Playlist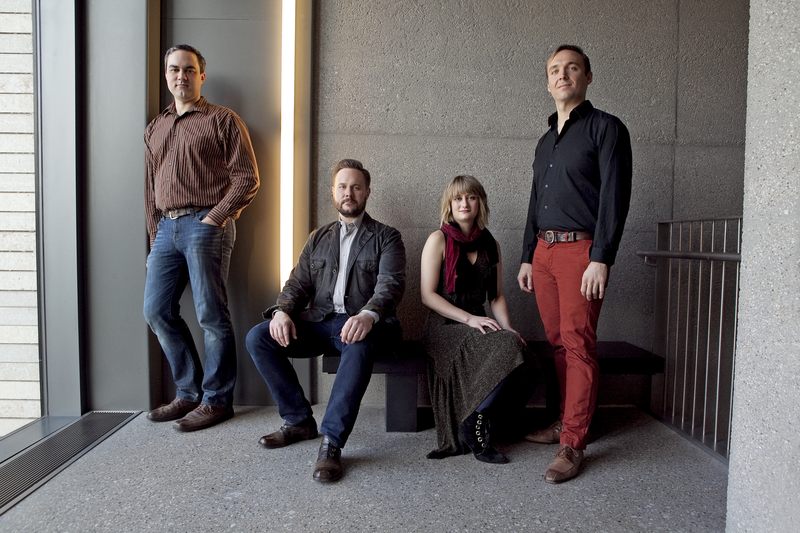 2014 has been a busy one for Chicago's Spektral Quartet. Their excellent debut "Chambers" was released in February and since then, they've repeatedly defied expectation. This summer, they released 'Mobile Minatures,'  a collection of ringtones commissioned from 47 composers, from David Lang to Julia Holter. Spektral's latest release pairs the ensemble with accordion and bandoneon virtuoso Julien Labro.
Violist Doyle Armbrust on his Mixtape choices:
As omnivores of music, most of us seem to be able to point to a handful of seminal experiences that shaped our tastes, and more importantly, our ravenous curiosity in music. I wish I could claim new-music fluency in my childhood, but the truth is I was a late-bloomer in this regard.
I do recall excavating the Glassworks cassette from my mother's otherwise traditional collection, housed in an antique card catalogue I still plan on stealing from her, and grinding that tape down to near white-noise. Then there was Kronos Quartet's Black Angels album, which I probably bought because the title sounded totally Metal. 
As a trepidatious undergrad at Northwestern, my aural skills TA invited us all to her performance of George Crumb's Ancient Voices of Children. That TA's name is Tony Arnold and to this day I remember how outside my body I remained for days, after being introduced to how transportive the human voice and a piano could be. Adès's Living Toys CD was pressed into my hand by a conducting student while in grad school, and I remember feeling as though my cerebral cortex was being realigned by the fluidity, and exactitude, of the writing. Carter's A Mirror on Which to Dwell was perhaps the first new music piece I practiced with any semblance of rigor, and the New World Symphony offered me the opportunity to meet Luciano Berio in Rome, performing his Schubert Rendering, a piece which literally, and compellingly, draws the connection between traditional and contemporary musics.
In Spektral Quartet, we are always seeking out a newcomer's point of entry, so I try to keep myself immersed in this younger mind…the hungry and sometimes self-conscious one.
Violinist Austin Wulliman on his Mixtape choices:

I came across Elliot Carter early on in my ventures into 20th century music.  I heard A Symphony of Three Orchestras on a Boulez/Varese disc that I hunted down and quickly realized there was a lot happening in Carter's music that I didn't understand, but I wanted to learn about it.  So, I picked up the recording of his four quartets at the time by the Juilliard Quartet and did with them what I had so recently done with Bartok's quartets: I listened to them over and over until I began to hear some of the shifting characters, from rhythmic outbursts to melancholic espressivo, and saw what a long path toward understanding it would be for me with that music through my life.
The defiant individualism and heaving emotionality of Alfred Schnittke's music spoke to my teenage ears with unbridled immediacy.  The third movement of his Piano Quintet teems with anxiety and roars with fury.  One of my first encounters with microtones in classical-sounding music made me imagine a fire slowly starting and suddenly engulfing an old house in flames, taking the physical objects with it, but not the memories.
Terry Riley's mystical improvisations provided my mind room to wander through unexpected landscapes of harmonic rumination.  There is space in this music that I didn't know existed until I heard it.  This is the music that taught me how to open my ears to longer forms of sonic meditation and exudes its freedom from notation.
Playlist
Elliott Carter – A Mirror on Which to Dwell: III. Sandpiper, IV. Insomnia
Thomas Adès – Living Toys, Op. 9: III Militiamen
Luciano Berio – Schubert – Rendering: Allegro
Philip Glass – Glassworks: Closing
George Crumb – Black Angels: God-music
Elliott Carter – String Quartet No. 2
Alfred Schnittke – Piano Quintet: Movement III
Terry Riley – Across the Lake of the Ancient World from Shri Camel