Theodore Roosevelt and the Gold Steinway
Thursday, October 27, 2016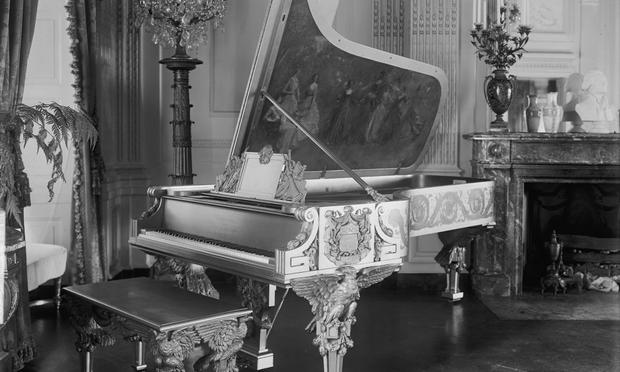 (White House Historical Association)
Music in the White House is a five part-series from WQXR that explores the history and significance of classical music at the White House.

More

Recommended Links
When Theodore Roosevelt took office in 1901, America was in an era of great technological and industrial growth. Within the previous half-decade, Alexander Graham Bell had invented the telephone, Thomas Edison had invented the modern light bulb and railroads connected the country from coast to coast.
Classical music was also flourishing, and the dawn of the 20th century brought a musical revolution in the nation's capital. The White House was embarking on what Elise K. Kirk, author of "Music at the White House," calls a "golden age," in large part as a result of the generosity and interest of Steinway & Sons.
In 1903, on the occasion of its 50th anniversary, Steinway donated its 100,000th piano (built in a factory in Queens) to the White House. The concert grand piano was installed in the East Room, which had become the musical heart of the executive mansion under Chester Arthur. Affectionately named the "gold" Steinway, the presidential piano was gilded with gold leaf and decorated with the coats of arms of the 13 original states.
Hundreds of pianists played the Gold Steinway during the 35 years that it was in the East Room, including such greats as Josef Hofmann, Ferruccio Busoni, Ignacy Jan Paderewski and Sergei Rachmaninoff. International virtuosi of other instruments flocked to Washington as well. Spanish cellist Pablo Casals made his White House debut at the age of 28, playing a Boccherini sonata and "Le Cygne" by Camille Saint-Saëns. Ensembles and vocalists also performed regularly for the president and his guests, and both chamber music and German lieder resounded in the East Room.
Musical life in the White House was richer — and performances were scheduled with greater regularity — than ever before. The Roosevelts hosted eight musicals every year, each attended by more than 300 people.
While many noted musicians (and musical styles) from abroad graced the White House, Theodore and Edith Roosevelt were also active proponents of the growing canon of American classical music. Their concerts featured the works of many American composers, including Amy Beach, John Alden Carpenter, Arthur Foote and Edward MacDowell. In fact, more of MacDowell's music was performed in Teddy Roosevelt's White House than anywhere else in the United States at that time.
This wealth of beautiful music in the White House all started with that 1903 gold Steinway, which remained in the East Room for 35 years. The piano was donated to the Smithsonian Institution in 1938, when Steinway & Sons replaced it with its 300,000th piano, presented to Franklin D. Roosevelt. Roosevelt dedicated the White House's second Steinway "to the advance of music in every city, town, and hamlet in the country." In doing so, he made it clear that music in the White House is music for the American people.
More in:
The WQXR e-newsletter. Show highlights, links to music news, on-demand concerts, events from The Greene Space and more.