Trumpet Player Peter Evans on Improvisation as Thought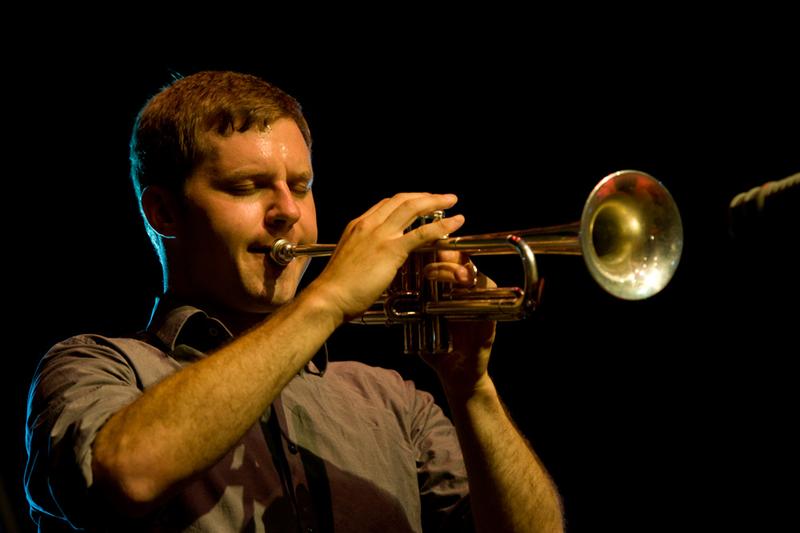 The music of New York-based trumpet player and composer Peter Evans draws freely from traditions of free jazz, contemporary classical and electro-acoustic music. Torrential downpours of notes recall pioneering saxophonists Albert Ayler and Peter Brötzmann; granular processed sounds show clear influence from his time in Evan Parker's Electro-Acoustic Ensemble. In addition to leading his own trio, quartet and quintet, Evans is a member of the International Contemporary Ensemble (ICE). "Measure from Zero," his recent album with pianist Raleigh Dailey, was released in December.
Peter Evans writes the following of his Mixtape:
This music is a combination of influences and inspirations both from my past as well as my current life as a musician in NYC. There is so much great music being made here – hardworking, inspired bands based in the city as well as great people just passing through.  
Looking over what I've picked for a common thread I think the most obvious connection is that all of these musicians/composers have pursued a highly individual voice – something unmistakable, physical and passionate.  They're not wearing anyone else's skin. Most of the tracks are heavily improvised even if using fixed materials as well.  There is a great line from Cecil Taylor: "Improvisation is thought, informed by passion and conditioned by knowledge"... which pretty much sums it all up for me.
Extra Life - Blackmail Blues
An epic, highly detailed piece from Charlie Looker's band Extra Life.  Charlie is an inspiring presence in my musical community and I've been following his music since his time in the Zs.
Fieldwork - After Meaning
This trio of Steve Lehman, Vijay Iyer and Tyshawn Sorey has completely blown me away live several times and I believe the record this is from, Door, is the only one of the band featuring this lineup.  Super tight but still loose and mysterious. 
Matt Maneri, Joe Maneri and Barre Phillips - Angels of Repose No.1
This record is an affirmation of the power and beauty totally improvised music can posses when performed by strong personalities who can listen.  This is one of the albums that made me want to pursue the art of free improvisation more seriously.
McCoy Tyner - Enlightenment Suite Part 3: Inner Glimpse
McCoy Tyner only got better in the decades after he left Coltrane's band.  By the mid 70's he was making some of the most vicious, aggressive and dark music in his scene.  The combination of laser precise technique and a volcanic physicality has made McCoy a big influence, much like Coltrane. The piano lines on this hardly sound real to me.  
Gyorgy Ligeti - Piano Concerto Movement 3, Vivace cantibile
The tempo marking says it all.  The lyrical, "pixellated" textures of Ligeti's post piano etude music has been a huge influence on me as well as a window in the music that must have influenced it, xylophone music from Uganda in particular.  
Don Cherry - Malkauns
From his classic "Brown Rice".  The Soubiran brothers used to play this on the stereo a lot at Zebulon before my gigs, during the time when I was putting together my own trumpet-bass-drums trio (which I ended up naming after the club).  Don Cherry's spaced out reverb-y soloing on top of Charlie Haden and Billy Higgins with a tambura player named Moki droning behind at all... the 1970's produced the best Jazz, I'm convinced!
Evan Parker - Two of Six
Evan was an enormous early influence and like the Maneri record, an affirmation that improvisation needed to be an essential component of my music making. Over the years he has become a mentor, bandmate and friend. This is from Six of One (1981), my favorite of all his solo albums.

*Not all compositions from the original playlist appear on Spotify.