Vocal Music of the Northern Baltic with the Latvian National Choir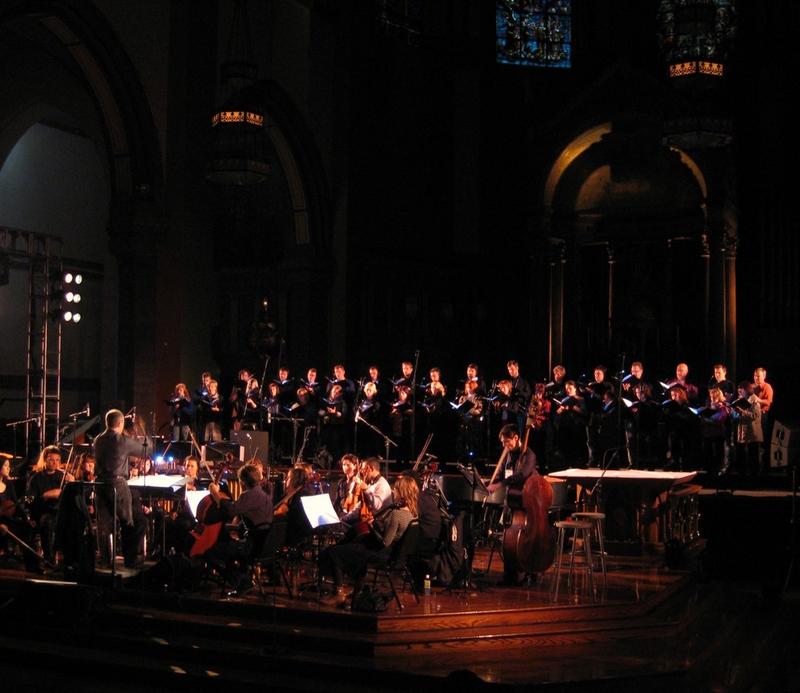 The Latvian National Choir returns to New York for the first time since performing at Lincoln Center's White Light Festival in 2010, giving concerts at Lincoln Center's Alice Tully Hall on April 9 and at Baryshnikov Arts Center on April 11, 2015.
For this week's Mixtape, conductor Maris Sirmais shares music from the Choir's upcoming programs.
Vytautas Miškinis – O salutaris hostia
The leader of Lithuanian choral culture Vytautas Miškinis is a strong, extremely energetic and versatile figure. Miškinis' compositions are loved around the world – their message warms the hearts, their melodies stay with you and are rich in color. Miškinis' sacred music includes O salutaris hostia – a beautiful ode to humanity and faith.
Eric Whitacre – Lux aurumque
Lux aurumque is probably one of the best known and most beautiful works by American choral music star Eric Whitacre. His music is also known in Latvia, and the popularity of his Virtual Choir is rising all over the world.
Arvo Pärt – Deer's Cry
Arvo Pärt – Which was the Son
Estonian Arvo Pärt is among the few contemporary who can be called a living classic. Is it his music's hovering stasis, transparency of line, or the ability to speak some universal language that so transfixes us? A magical alchemy of all of these, it seems, serves as a shelter for everybody exhausted by the wheel of capitalism all around the world. Deer's Cry is a testimony to Christ's presence in every moment of our life. The opus was first performed by the Latvian National Choir in 2007 in Ireland, commissioned by Louth New Music Society. It is the Book of Luke, Chapters 23–38 that inspired his Which Was the Son.
Vaclovas Augustinas – Cantata Domino
Lithuanian Vaclovas Augustinas is a versatile personality successfully working in various musical fields. He has been a member of art rock band in 1980s. He leads the Vilnius' municipal chamber choir Jauna muzika and is regularly invited to various international seminars of choir conductors and festivals. Augustinas also is popular as a choir music composer and arranger; various choirs and music publishers eagerly include in their repertoire his modal, repetitive, contemplative or ecstatic compositions. His Cantata Domino is a vital panegyric to the power of God.
Ugis Praulins – First and last part from the cycle of motets Veni, Sancte Spiritus
Uģis Prauliņš is a significant and interesting figure in today's Baltic music scene. His works are deeply rooted in folklore and ethnographic music of Latvia. He has also been a member of various rock and electronic music projects. This is a recording from the world premiere of this work. It was commissioned by Latvian National Choir and conducted by great British composer Stephen Layton in Riga, August 2013. Grammy nominees composer Prauliņš and conductor Stephen Layton are good friends and musical soul mates.
Jekabs Janchevskis – Odplyw
Odplyw comes from the Latvian National Choir's recent project Amber Vein, which brought twelve of the best European poets and Latvian composers together to meditate on the beauty of amber – the jewel of the Baltic Sea. It is written, in Polish, by Jēkabs Jančevskis, a bright and talented Latvian composer who at his young age (he is 22) is already welcome and loved by many. His music is a beautiful enigma – an emotional and powerful message without any intellectual filters, still shrouded in honest and inviting soulfulness.
Raimonds Tiguls – Nyari gianta
Raimonds Tiguls is one of the most prominent Latvian composers and performers of ambient and electroacoustic music. He is interested in the "archaeology" of music and its origin in the folk music. Tiguls' work is a peculiar meditative fusion of the Latvian historical mentality and modernity. He is inseparable from his hang – a percussion instrument recently invented in Switzerland.  This piece is also part of the Latvian National Choir's Amber Vein album.
Ēriks Ešenvalds – Northern Lights
The musical flights created by Latvian Ēriks Ešenvalds are currently winging their way around world and being performed on almost every continent. In Northern Lights, the composer uses photographically colorful sound scales to bring to life the experience of two Arctic explorers, seeing the Aurora Borealis with their own eyes. Ešenvalds has been a tenor in Latvian National Choir for nine years. This piece was recorded as part of the Latvian National Choir's album, At the foot of the sky.
Veljo Tormis – Three parts from Ingrian Evenings
Prominent Estonian composer Veljo Tormis is mostly known for his masterly, folk-inspired choral compositions. Almost all his choral works are based on Estonian folk songs, not only thematically but often harmonically. Ingrian Evenings are based on Ingrian-Finnish dance songs. Yet the title of the cycle has more symbolic meaning: it is a farewell song to the whole Ingermanland the former population of which has been scattered or assimilated as a result of two World Wars and as the result of a criminal policy of genocide carried out by the Soviet Union.