Canadian Brass Plays Christmas Music in The Greene Space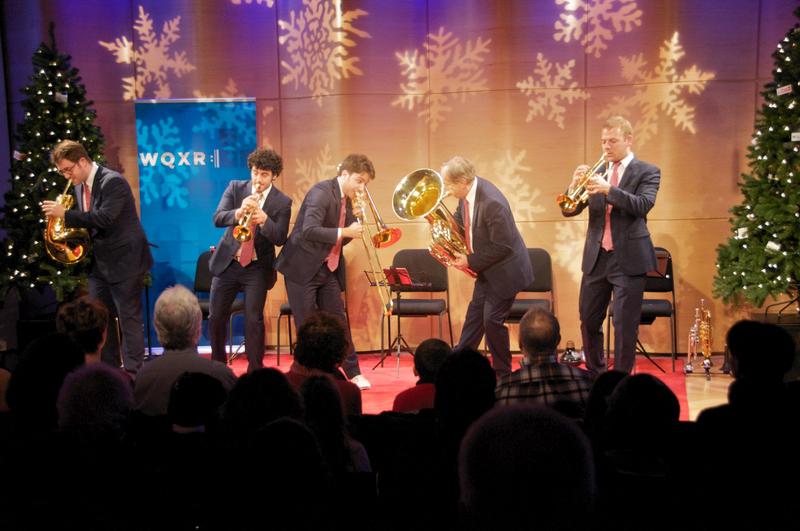 The Canadian Brass recently made an exclusive New York appearance in The Greene Space for a festive and nostalgic program of holiday music. The event was video webcast on WQXR.org.
Tune in for an hour-long radio special derived from the event.
→ Watch the Archived Video Webcast
Hosted by WQXR's Jeff Spurgeon, the program features arrangements of music by Vince Guaraldi and Luther Henderson as well as traditional favorites from "A Charlie Brown Christmas," "The Grinch Who Stole Christmas," "Rudolph the Red-Nosed Reindeer," "Frosty the Snowman" and more – timeless classics infused with jazz and lush harmonies.
Program details:
Anthony Holburne: "Muy Linda"
Michael Pretorius: "Lo How a Rose 'Er Blooming"
Samuel Scheit: "Galliard Battaglia"
J.S. Bach: Fugue in G Minor
Traditional (arr. Vince Guaraldi): "O Tannenbaum"
Traditional: "What Child is This?"
Vince Guaraldi: "Christmas Time is Here"
Mendelssohn: "Hark the Herald Angels Sing"
Christopher Dedrick: "The Angel Choir and the Trumpeter"
Mel Torme and Robert Wells: "The Christmas Song"
J.S. Bach (arr. Chris Colett): Bach's Bells
Traditional: "I Saw Three Ships"
Johnny Marks: "Rudolph the Red Nosed Reindeer"
Walter "Jack" Rollins and Steve Nelson: "Frosty the Snowman"
Hugh Martin and Ralph Blaine: "Have Yourself a Merry Little Christmas"
Theodor "Dr. Seuss" Geisel and Albert Hague: "You're a Mean One, Mr. Grinch"
The selections on this program are featured on the quintet's latest album, "Christmas Time is Here." Watch the archived webcast below.