WQXR's 2016 Holiday Programming
Friday, December 09, 2016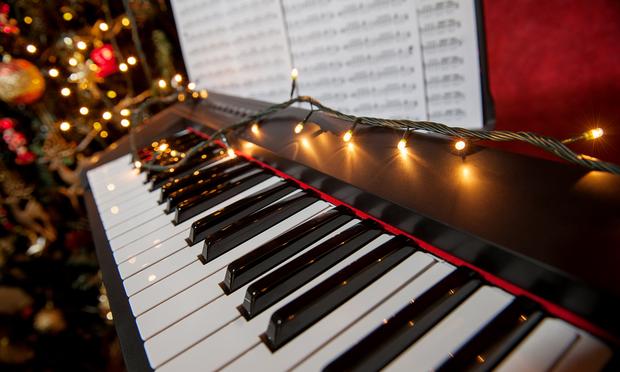 (Shutterstock/Christos Siatos)
WQXR has you covered with special programming throughout the 2016 holiday season. Here is the full calendar of the Chanukah and Christmas specials planned for December. All programming can be heard on 105.9 FM and WQXR.org, unless otherwise noted.

Dec. 1-Jan. 6: WQXR Holiday Channel
WQXR is getting into the holiday spirit with an all-classical holiday channel. Online or through the WQXR app, stream continuous seasonal favorites and heartwarming carols from classic recordings, as well as new releases.
Dec. 27-28 & Dec. 30-31: WQXR's Classical Countdown
Every year WQXR asks its listeners, "What is your favorite piece of classical music?" Based on your responses we'll close out 2016 by counting down the 100 most-requested pieces. Four days of competitive classical countdown action!
Spread the word using #WQXRhappyholidays.
WQXR Holiday Programs:
Jan. 1, 2017, at 11 am: New Year's Day Live from Vienna
Waltz — and polka — into the New Year with the Vienna Philharmonic and a live broadcast from the Golden Hall of the Musikverein.
Past shows:
A Chanukah Party for Families in The Greene Space at WQXR (on-demand video available)
WQXR celebrates the Festival of Lights with three outstanding groups performing a wide variety of music geared towards the younger set for the Chanukah season.
Young Artists Showcase Chanukah Special (on-demand audio available)
Bob Sherman features string players who completed the Keshet Eilon String Mastercourse program in Israel. Founded in 1990 at a kibbutz, Keshet Eilon trains and promotes young string players from all over the world, providing them with a special atmosphere in which to hone their musical craft. 
Itzhak Perlman's Chanukah Radio Party (on-demand audio available)
Join violinist Itzhak Perlman as he tells the story of the Jewish festival of lights and shares his favorite recordings for the holiday — some serious, some silly. This special features music from Perlman's radio-addicted childhood in Israel, including evocative songs in Yiddish and Ladino, classical music that revolves around the Maccabee heroes of the Chanukah story and gems by American folk singers. Perlman also shares jokes and memories, plus tales of three classic Chanukah symbols: the menorah, the latke and, of course, the dreidel.
Brooklyn Youth Chorus Holiday Celebration (on-demand video available)
Celebrate the spirit of the holidays with the Grammy Award-winning Brooklyn Youth Chorus, recorded live in The Greene Space at WQXR. The program features Benjamin Britten's timeless "Ceremony of Carols" and more seasonal works by Daniel Brewbaker and others.
An A Cappella Christmas Songbook With The King's Singers (on-demand video available)
In this exclusive New York appearance at The Greene Space at WQXR, The King's Singers perform selections from their new album, Christmas Songbook, which features a mix of traditional carols and modern-day classics with a hint of swing.
An Anonymous 4 Christmas (on-demand audio available)
Recorded live at Corpus Christi Church in New York, the veteran vocal ensemble Anonymous 4 sing medieval music from England, France and Spain that praises the Virgin Mary.
Christmas with the King's Singers (on-demand audio and video available)
It's an a cappella Christmas from England with the King's Singers, one of the world's most celebrated vocal ensembles. In an exclusive New York appearance recorded at The Greene Space, this male sextet perform timeless carols, Christmas classics and new arrangements in their impeccable vocal blend. WQXR's Jeff Spurgeon hosts.
The Canadian Brass: Christmas Time is Here (on-demand audio and video available)
Jeff Spurgeon hosts an hour with the Canadian Brass featuring arrangements of music by Vince Guaraldi and Luther Henderson as well as traditional favorites from "A Charlie Brown Christmas," "The Grinch Who Stole Christmas," "Rudolph the Red-Nosed Reindeer," "Frosty the Snowman" and more — timeless classics infused with jazz and lush harmonies.
"A Christmas Carol" Radio Drama live from the Greene Space (on-demand audio and video available)
Produced and directed by WQXR's Elliott Forrest, join us for this beloved holiday masterpiece featuring your favorite public radio personalities and Tony Award-winning actor David Hyde Pierce as Scrooge.
Trinity Church Choir Performs Handel's The Messiah (on-demand audio available)
Music director Julian Wachner conducts Handel's classic oratorio, which received its New World premiere at Trinity Church in 1770. Our annual broadcast is hosted by David Garland with guest commentator Kent Tritle. 
More in:
The WQXR e-newsletter. Show highlights, links to music news, on-demand concerts, events from The Greene Space and more.