Planet Opera: Following Beethoven's Footsteps in Vienna
VIENNA —
One of the pleasures of this city is how its illustrious past cozily coexists with its vibrant present. For many, the received notion of Vienna is of a well-upholstered dowager who lives on her memories while listening to waltzes and nibbling at pastries. But Vienna, which has seen many glorious times as well as some of the darkest eras of human behavior, is quite cutting edge. For centuries, the best and the brightest have come here to work.
It is usually said that the ambitious Beethoven (1770-1827) came to Vienna in 1792. In fact, he got there in 1787 with a stipend from archbishop Maximilian Ferdinand of Bonn and the goal of meeting Mozart and Haydn. Soon after his arrival, news came that his mother was dying and he went right back to Germany.

He returned to Vienna in 1792 and stayed for most of the rest of his life. He saw Papa Haydn (whom, in fact, he had first met in Bonn), but thought that the senior composer had little to offer him. By this point, Emperor Joseph II had died (1790) and was replaced by Leopold, for whom Mozart had written La Clemenza di Tito in 1791, an opera intended as part of the celebration of Leopold's ascension to power. A few months later, on December 5, Mozart died. This cleared the path for a new musical genius in Vienna: Beethoven.


In the early 1790s, the hearing loss and other troubles that would besiege him were not present. He worked hard to hone his craft, often crossing out an idea and penciling in a new one. Music such as the the String Quartet Op. 18, No. 1 (1792) suggest that his style and voice were assured but he was not yet encumbered by the traumas that would come. It would be a few more years before his hearing started to fade.

And yet Beethoven soon began to draw into himself and his ideas. He so focused on his music that he paid less attention to his appearance. The culinary blandishments of Vienna were of little interest. He saw eating as necessary for sustenance rather than a source of pleasure. He did, however, like to drink and often went deep into the wine cup. Vienna, then as now, had more terrain planted with vines than any capital city in Europe.

The restless Beethoven moved more than sixty times, and liked to spend the summer months in the northern districts of the city, near the vineyards. The air was cooler and the leafy setting more conducive to composing. In the evenings he went to the Heurigen (wine taverns) that served simple dishes to accompany fresh wine. The preferred Viennese wine is a white blend known as Gemischter Satz. This is not a defined blend but one that changes from year to year based on which grapes grew well during the recent vintage.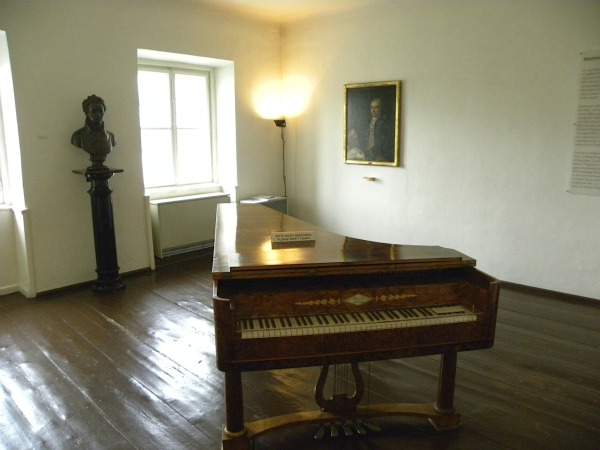 Symptoms of hearing loss appeared by 1795 and he deteriorated radically. By 1802, Beethoven was almost deaf and he contemplated suicide. His wish to end his life became more frequent, and yet he felt that his sense of responsibility to his art and to God prevented him from following through.

He came very close to killing himself in the early fall of 1802 while in Heilegenstadt, close to the vineyards. On October 2, he wrote a document called the Heilegenstadt Testament. It was addressed to his brothers Karl and Johann and would have served as an explanation for why he killed himself. He hid the document and it was not found until after his death. Here is a portion of it:
"O ye men who think or say that I am malevolent, stubborn or misanthropic, how greatly do ye wrong me, you do not know the secret causes of my seeming, from childhood my heart and mind were disposed to the gentle feelings of good will, I was even ever eager to accomplish great deeds, but reflect now that for six years I have been a hopeless case, aggravated by senseless physicians, cheated year after year in the hope of improvement, finally compelled to face the prospect of a lasting malady (whose cure will take years or, perhaps, be impossible), born with an ardent and lively temperament, even susceptible to the diversions of society, I was compelled early to isolate myself, to live in loneliness, when I at times tried to forget all this, O how harshly was I repulsed by the doubly sad experience of my bad hearing, and yet it was impossible for me to say to men speak louder, shout, for I am deaf.

Ah how could I possibly admit such an infirmity in the one sense which should have been more perfect in me than in others, a sense which I once possessed in highest perfection, a perfection such as few surely in my profession enjoy or have enjoyed - O I cannot do it, therefore forgive me when you see me draw back when I would gladly mingle with you, my misfortune is doubly painful because it must lead to my being misunderstood, for me there can be no recreations in society of my fellows, refined intercourse, mutual exchange of thought, only just as little as the greatest needs command may I mix with society.

I must live like an exile, if I approach near to people a hot terror seizes upon me, a fear that I may be subjected to the danger of letting my condition be observed - thus it has been during the past year which I spent in the country, commanded by my intelligent physician to spare my hearing as much as possible, in this almost meeting my natural disposition, although I sometimes ran counter to it yielding to my inclination for society, but what a humiliation when one stood beside me and heard a flute in the distance and I heard nothing, or someone heard the shepherd singing and again I heard nothing, such incidents brought me to the verge of despair, but little more and I would have put an end to my life - only art it was that withheld me, ah it seemed impossible to leave the world until I had produced all that I felt called upon me to produce, and so I endured this wretched existence - truly wretched."
He wrote this statement soon after finishing the Second Symphony and, when he resolved to live, began work on the Third (Eroica) Symphony here. The house is comfortable and has a linden tree in the courtyard (below). In the absence of sound, he must have found some solace in the tranquility. He came back in 1808 and worked on the Sixth (Pastoral) Symphony.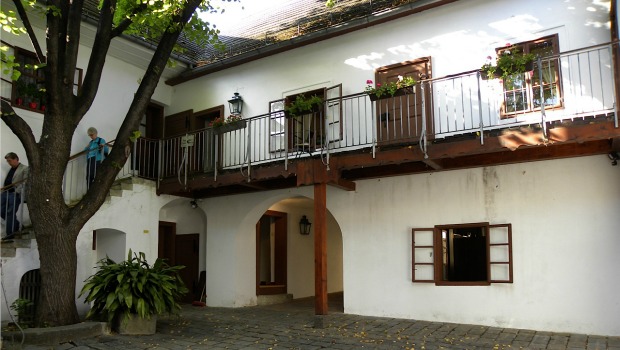 I confess that when I walk through the heart of Vienna, it is more likely that the music of Mozart or Schubert will ring in my ears. Inevitably, Strauss waltzes take over my mind's eye and fill it with images of dancing, whipped cream and Royal Lippizaner horses. But when I am in residential Vienna, far from tourist districts, my mind will hear the hushed silence of Beethoven's late string quartets. The Utopian Ninth Symphony will take over and I gain a sense that his music is a defiant argument for the will to live in the face of the kind of horror and desolation that Beethoven faced. It is a good metaphor for Vienna, and for us all.

Beethoven in Vienna: Some Addresses
Pasqualatihaus; 8 Mölkerbastei. Open Tuesday-Saturday 10 am-1 pm; Sunday, 2 pm-6 pm (Tel 43-1-535-8905). A city apartment near the Ringstrasse up four flights of stairs. It is airy, has good views and there is a piano and some scores to study. 

Theatre an der Wien. This illustrious theater has recently had a renaissance, with important musical performances to rival the Vienna State Opera. Many Beethoven works, Fidelio, the Eroica Symphony, piano concertos and other works premiered here at a time when it was the most important public (as opposed to royal) theater in Vienna. It is right in front of the beguiling Naschmarkt, the city's most important food market. One can picture Beethoven buying food here to munch on as he worked.

Mayer am Pfarrplatz. Pfarrplatz 2 (tel 43-1-370-1287;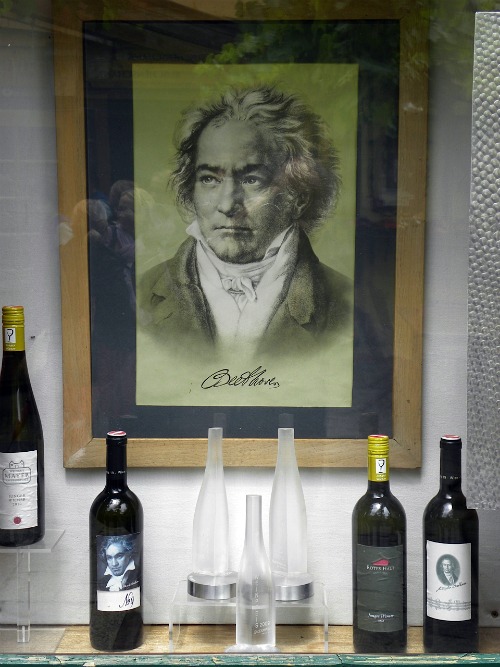 mayer@pfarrplatz.at) is in the grape growing zone of northern Vienna. Beethoven lived here for a while in 1817 while working on the Ninth Symphony. He is known to have enjoyed the wine. In fact, they have capitalized on this by putting him prominently on their labels.  It is not open to music travelers as a Beethoven site, but one can experience the place by arranging a wine tasting or booking a table for a meal. There is good food and wine here, certainly worth a visit. In Beethoven's time, it was called Schlöglisches Haus.

Eroica Haus. Döblinger Hauptstrasse 92 (tel 43-1-369-1424) is where he wrote his Third Symphony.

Schwarzspanierstrasse 15. This is probably the site where he died. The building is no longer here, having been replaced by a larger edifice belonging to the University of Vienna.
Photo credits (all photos by Fred Plotkin):
1) Detail of Beethoven's corrections on a score; 2) Beethoven's Piano, Pasqualatihaus, Vienna; 3) Beethoven's House, Heilegenstadt, Vienna; 4) Beethoven Wine at Mayer am Pfarrplatz