The Pros and Cons of Returning to a Role
One of the many vexing issues that face general managers and artistic directors of opera companies is how to get the best from treasured singers but also present audiences with the best exponents of a particular role.
In the past, a singer such as Lily Pons would "own" the role of Lucia di Lammermoor or Marie in La Fille du Régiment. The Met had other artists available who could step in, if necessary, but it was almost accepted as gospel that the Lucia you wanted to see could only be Lily Pons. In the 1950s, Zinka Milanov was said to "own" certain Verdian roles, even if other sopranos (including Renata Tebaldi) were around to sing them.
Things changed in the 1960s, when General Manager Rudolf Bing could show the depth of the Met's roster by presenting many sopranos as Tosca, including Milanov, Leontyne Price, Martina Arroyo, Leonie Rysanek, Birgit Nilsson, Tebaldi and Regine Crespin.
Sometimes unusual repertory is produced to suit the interests and gifts of a particular singer, such as Zandonai's Francesca da Rimini for Renata Scotto or Handel's Rodelinda for Renée Fleming (currently at the Met through December 3, when it can be heard on WQXR as the opening of the Met's annual radio broadcast season).
Opera managers and audiences are of two minds about whether artists should return to a role with the same company. If it is a rare role (such as Francesca or Rodelinda) there are not too many quality singers around to perform it. Also, managers hope that big stars will sell tickets because these operas probably will only attract hard-core opera lovers. 
I think that audiences are less willing nowadays than in the past to attend a work they have never heard of, especially after its initial season. My favorite performance at the Met so far this season was the wonderful revival of Philip Glass's Satyagraha. While it attracted a lot of attention at its premiere in 2008 thanks to considerable promotion and press coverage, it has not gained the attention and audiences it deserves this time around. From a ticket sale standpoint, it probably does not help that there is no big star in the cast, though Richard Croft is marvelous as Mahatma Gandhi.
I speak with many regular operagoers who complain that they do not want to see the same opera two seasons in a row, especially if it has the same star. Subscribers are especially vocal on this topic, saying that they are wasting their money seeing the same opera again.
Years ago, I had a fascinating conversation (one of many) with Ardis Krainik, then general director of the Lyric Opera of Chicago. I asked her what her philosophy was on how to cast great singers to their best advantage and for the good of her opera company. She used as an example the outstandingly versatile Bulgarian soprano Anna Tomowa-Sintow. Ardis said that she wanted to build a following for Tomowa-Sintow in Chicago and would present her in many roles, but would never have her repeat a role.
In effect, the attraction was the singer more than the role and, if she had a success as Aïda or Tosca, you built on that by presenting her in roles such as Leonora in Il Trovatore or the Marschallin in Der Rosenkavalier. Ardis felt that audiences would not want to see an opera again so soon, and certainly not with the same singer in a role (the Lyric did eight works per season, less than a third of the Met's annual offering). One of Tomowa-Sintow's finest roles in Chicago was as Madama Butterfly in 1985. Here she is in the closing scene of the opera from her Chicago engagement.
I meet other managers, singers and audience members who come to love an artist in a role and like to watch her evolve and change her interpretation as she matures. At the Met, you could have seen Anna Tomowa-Sintow as the Marschallin in 1979, 1986 or 1993. Other Marschallins appeared in those years, and hers was part of the mix. At that time, the Met proudly said that anyone they presented in a role was worthy of the price of a ticket. In general, I think they were right. In those years, we might have seen Elisabeth Söderstrom or Kiri Te Kanawa in the role too. All three were lovely and quite distinct. 
Many opera lovers say, in effect, "If only we had Anna Tomowa-Sintow now!" She had a remarkably large repertoire in which she excelled. Among her major roles were Mozart's Donna Anna and most of the great Verdi parts including Elvira in Ernani, the Leonoras of Il Trovatore and La Forza del Destino; the Amelias of Un Ballo in Maschera and Simon Boccanegra; Violetta, Aïda and Desdemona (for which she was enshrined on a postage stamp). She also sang most of the heroines of Puccini and Strauss.
Tomowa-Sintow, in the US, was probably a great artist more than a great star.  Only cognoscenti or those who followed the European opera scene had a sense of her importance. In the 1980s, she was a favorite of Herbert von Karajan and they had many collaborations in Salzburg. Here he conducts her, in 1984, in the final trio from Der Rosenkavalier, with Agnes Baltsa as Octavian and Janet Perry as Sophie. 
I wonder if Ardis Krainik would feel differently now about having great artists return to a company in the same role. I'll bet she would not. She made box office sales and sound financial footing among the hallmarks of her tenure (along with developing and presenting more new works than most opera companies), and her philosophy worked quite well.
Been There, Done That 
I do find it pleasurable to hear singers in the same role over the course of years. Deborah Voigt was a wonderful Chrysothemis in Elektra, Sieglinde in Die Walküre and in the title role of Ariadne auf Naxos. I reveled in the beauty of her voice, the deepening interpretations she gave musically and dramatically, and the fact that she could light up an audience with a kinetic performance. But I know many opera lovers who, with equal justification, had a "been-there, done-that" attitude toward hearing Voigt more than once in a role.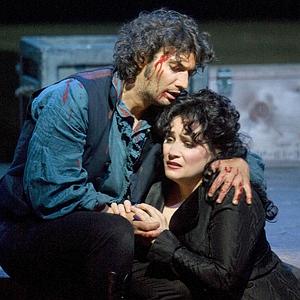 Patricia Racette thrilled me as Madama Butterfly and Tosca and I will be glad to see and hear her again in these roles later this season at the Met. In fact, I am taking people new to opera to see these performances because I know I can guarantee that they will come away wanting to go to the opera again. If I did not know Racette's skills in these roles I could not invite people with confidence. I could say the same about Dolora Zajick as Azucena (in Il Trovatore) or Amneris in Aïda.
There is a sad truth that many singers continue to do roles well after they should be removed from their active repertoire. There are only so many Otellos most tenors can do. If Plácido Domingo defied the odds, then he was the exception to the rule. But he too knew that one day he would have to decide to retire Otello and pursue new roles more congenial to his current vocal estate. Sopranos who sing leading roles face the toughest challenge. They love the characters and the music and the adulation they receive. Audience members love these artists and acknowledge that with ticket sales and applause.
This is a delicate situation all around. We want singers to be happy but many audiences now crave variety in the operas they attend and, especially, the singers they hear. But with opera less central to the daily cultural conversation in most of the world, anyone who seems capable of selling tickets is more likely to be hired for a role, no matter what her vocal estate.
Do you like hearing favorite singers return in familiar roles? Would you rather see these roles assumed each time by new singers? Please comment below on your preferences on this topic.
Photo: Patricia Racette with Jonas Kaufmann in the Met's Tosca (Cory Weaver/Metropolitan Opera)