The Wound That Does Not Heal
In Parsifal, Wagner's last opera, there is a character named Amfortas who has an affliction, the wound that does not heal. A metaphor that is both poignant and relevant to our lives in so many ways. We are told the wound -- a stab to the heart -- can only be healed "by an innocent youth made wise through compassion." In fact, Parsifal does heal the wound at the end of the opera by touching it with his spear. Listen to Hans Hotter sing Amfortas's monologue and try to receive it purely on musical terms. Wagner was ill with heart disease as he wrote Parsifal.
Last weekend I gave the pre-concert lectures at the New York Philharmonic before the orchestra delivered splendid performances of Gustav Mahler's Tenth Symphony, led by the outstanding Daniel Harding. The young British conductor, who made a splash by leading the 2005 opening night of La Scala, has established an important symphonic and opera career in Europe and I hope the Met takes note of him soon. Immersing myself in the Mahler Tenth to prepare my talks deepened my consideration of something I have been thinking a lot about lately: How does illness or disability affect creative and performing artists?
On January 1, 1908, Mahler made his Met debut conducting Tristan und Isolde. Soon after, Mahler was informed that he had heart disease which, if not carefully managed, could lead to a sudden and early death. And yet, between his debut and his final Met appearance (March 21, 1910) he worked tirelessly in leading many performances of Don Giovanni, Le Nozze di Figaro, Die Walküre, Siegfried, Fidelio, The Bartered Bride and Queen of Spades.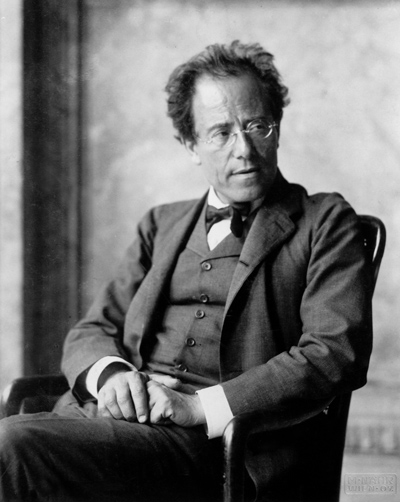 Each spring, at the end of the opera season, Mahler would journey back to Europe to spend time in isolation to compose. He had a small hut near Toblach, now called Dobbiaco, high in the Alps just on the Italian side of the border with Austria. There he produced the Eighth and Ninth symphonies along with Das Lied von der Erde which is, for all intents and purposes, a symphony although it was not given a number. In the summer of 1910, he worked on what we call the Tenth Symphony. He did not finish before returning to New York to work at the Philharmonic. His last concert, at Carnegie Hall, was on February 21, 1911, after which he was afflicted with bacterial endocarditis. He died, in Vienna, on May 18, 1911.
Mahler, despite his illness -- or, perhaps because of it? -- did protean work as a composer and conductor after learning he had heart disease. Many musicologists attempted to "complete" the Tenth but Deryck Cooke (1919-1976) chose instead to create a "performing version," saying that no one could complete Mahler's work. Cooke spent about 15 years working on this version, refining and changing it constantly even when he too was given a diagnosis of a disease that would kill him if he did not take care. Cooke left us not only a performing version of the Mahler Tenth but had a great hand in the musicology behind the famous Georg Solti recording of Wagner's Ring Cycle. And Cooke left, incomplete, a book that would be his magnum opus about the cycle. What there is exists in a volume called I Saw the World End.
Learning from Illness
There probably was not too much that I shared with Pope John Paul II. His my-way-or-the-highway approach to church doctrine is completely antithetical to my belief in freedom and self-determination for each person so long as no harm is done to anyone else or to the Earth. But the pope was undoubtedly charismatic and persuasive. I was impressed by his insistence that capitalism was not the natural response to the fall of communism, but that we should seek a certain kind of inclusive humanity and sharing of resources and gifts. 
One thing that fascinated me about John Paul II was his approach to his very public and prolonged battle with infirmity and his belief that life must continue and meaning be found in illness. On this subject I also believe in self-determination -- it takes as much courage to end one's life as it does to fight a terminal illness -- but I also respect and agree with the idea that many of us can still learn from adversity, gain new understanding about life, and find ways to savor each moment. Two people very dear to me continued to have new and meaningful experiences to the very ends of their lives, even though both knew they had fatal illnesses. They lived to the last moment and then died, rather than relent when they got sick.
Susan Sontag was sick for much of her life and famously wrote about illness as metaphor.  Here is an excerpt. In her writing about her cancer and many diseases, she tried to separate the clinical fact of a disease (cancer is an illness "that does not knock before it enters) from the societal response to the person who is ill. HIV/AIDS is a more recent example of this. With all frightening diseases it seems there is an arc from hysteria and isolation of patients to prejudice to some degree of humanity. With cancer and AIDS we have come a long way but have a long way to go.
Sickness as a Creative Wellspring
There are beloved musicians who publicly or privately wage a battle with illness and injury and they are in our thoughts. I know of some, but would never reveal their conditions as that would be a horrible betrayal of confidence. They fear being denied work and, moreover, do not want to be judged through the filter of illness. Any creative person draws on a great and complex wellspring of wisdom and experience. If illness (mental as well as physical) is part of that mix, it should be respected.
There are, of course, artists who have publicly contended with illness or disability (please note that these are not the same thing!). Three of my favorite conductors, Claudio Abbado, Leonard Bernstein and James Levine, are obvious examples. Abbado was diagnosed with stomach cancer in 2000, though has since recovered. Bernstein (1918-1990), an unrepentant smoker, kept working to the end. His very last performance, at Tanglewood, included the Beethoven Seventh Symphony and the Sea Interludes from Britten's Peter Grimes. He was worn out, but his characteristic passion was there, as was his devotion to music. Listen to one of the interludes, which is fresh and spontaneous and in no way valedictory. Britten (1913-1976) too had years of heart disease but kept working. His last opera, Death in Venice (1973), is drawn from the Mann novella that has more than a touch of Mahlerian influence.
James Levine has battled and surmounted illness and also deals with the effects of injuries. I and countless music lovers think of him often and are rooting for him to get well soon. While I do not know for certain, I think it is a safe bet that he is studying scores, thinking about music, and remaining fully engaged. Trite though it may sound, music does indeed have properties that heal or, at least, provide a balm. Listen to his wry, humane leadership of  the conclusion of Falstaff and you will know that Levine has it in him to come back.
Lorraine Hunt-Lieberson (1954-2006) had cancer for many years. Her devoted audience was aware of it while others did not know. Her illness informed but did not overwhelm her artistry and she was one of the greats. Her performance of Bach's cantata Ich habe genug ("I have enough") resonated for its beauty and text both in those who knew and did not know she was sick. This segment from Handel's Theodora gives you a better sense of her artistry that might have been informed by, but not cognizant of, illness.
I know audience members who, when aware that a singer or instrumentalist might be ill or is disabled, will add that information to the perception of the performance. Thomas Quasthoff was born in 1959 with birth defects caused by his mother having taken the widely-prescribed Thalidomide during pregnancy. He was denied admission to the Hannover music conservatory because he could not play the piano. 
While he can be a profound artist when doing some of the great song literature repertory, we as audiences would limit him if we only expected him to sing music of pain and darkness. He is a splendid musician, and we should expand our vision of his potential just as he does. It is an obvious, but important, lesson about our own potential. Here Thomas Quasthoff sings jazz. Where there is life there is hope.